As a Portuguese woman living in the US, I often find myself longing for the flavors of my homeland. While I enjoy exploring the diverse culinary landscape of America, there are times when only the taste of Portugal will do.
So when my American husband expressed an interest in trying a traditional Portuguese appetizer, I knew exactly what to prepare: "ameijoas à bulhão pato," or Portuguese clams in white wine.
For those unfamiliar with this dish, ameijoas à bulhão pato is a classic Portuguese recipe that combines fresh clams with white wine, garlic, and coriander to create a symphony of flavors that is both delicate and bold. It is a dish that evokes memories of sun-drenched beaches and lively markets, and it is sure to impress even the most discerning palate.
As someone who grew up in Portugal, where seafood reigns supreme and every meal is an opportunity to gather with loved ones around the table, I have a deep appreciation for the simple yet sophisticated flavors of ameijoas à bulhão pato. And I was delighted to share this taste of my heritage with my husband.
But ameijoas à bulhão pato is more than just a delicious appetizer. It is also a dish that tells a story – the story of Portugal's rich culinary heritage and its enduring love affair with the sea. From the bustling fish markets of Lisbon to the sun-kissed shores of the Algarve, seafood has always played a central role in Portuguese cuisine. And ameijoas à bulhão pato is a testament to this enduring tradition.
If you are looking for an appetizer that is both elegant and satisfying, I highly recommend giving ameijoas à bulhão pato a try. It is a dish that is sure to delight and surprise, and it offers a window into the rich culinary traditions of Portugal.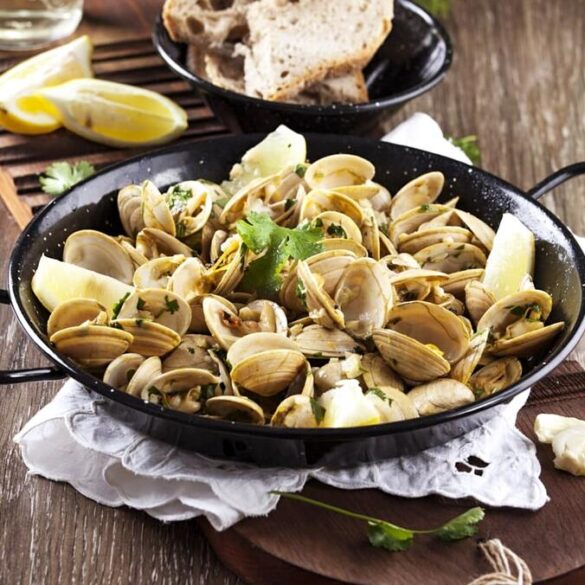 Ingredients
3.3 lbs of purged clams
1 onion
6 cloves of garlic
4 tablespoons of olive oil
1 bunch of coriander
3 tablespoons of white wine
1 lemon
Instructions
First things first: make sure your clams are well purged. Give them a good wash in running water and let them drain in a colander.
Next, take your onion and garlic cloves and chop them up nice and fine.
Heat up some olive oil in a pan and add the onion and garlic until they start to brown.
Now it's time to add some flavor! Chop up the coriander stems and add them to the pan along with the clams.
Give everything a good stir and then drizzle with white wine.
Cover the pan and cook over moderate heat for about 5 minutes or until the clams open.
Make sure to shake the pan from time to time so that all the clams receive heat evenly.
Finally, sprinkle with coriander leaves and drizzle with lemon juice.
And voila! You've got yourself a delicious dish of Clams in Bulhão Pato Sauce.
Notes
One way to enhance the flavor of this dish is to use high-quality ingredients. Choose fresh clams from a reputable source and make sure they are well purged before cooking. Use a good quality olive oil and white wine, and fresh coriander and lemon.
Another way to add depth of flavor is to sauté some diced chorizo or bacon with the onion and garlic. The smokiness of the chorizo or bacon will complement the briny flavor of the clams.
You can also experiment with different herbs and spices. Try adding a pinch of smoked paprika or red pepper flakes for a bit of heat, or some fresh thyme or rosemary for an earthy flavor.
To make the dish even more indulgent, you can finish it with a knob of butter or a splash of cream. This will add richness and creaminess to the sauce.
Serve the clams with some crusty bread to soak up all the delicious sauce. You can also serve them over pasta or rice for a more substantial meal.
When it comes to purging clams, there are a few things to keep in mind. First, make sure to buy fresh clams from a reputable source. To purge them, soak them in salted water for at least an hour, changing the water every 20 minutes or so. This will help remove any sand or grit from inside the shells. Before cooking, discard any clams that are open and do not close when tapped.
When choosing clams for this recipe, look for ones that are tightly closed and feel heavy for their size. Avoid any that have cracked or damaged shells. Fresh clams should have a clean, briny smell.