As a food blogger and mother of a toddler, I'm always on the lookout for healthy and tasty recipes that my little one will actually eat. And let me tell you, it's not always an easy task. But one thing I've learned is that soup is a great way to sneak in some veggies and get my son to appreciate healthy food.
That's why I've been cooking up a storm in the kitchen, trying out different soup recipes from my grandmother, a Portuguese woman who knew her way around the kitchen.
I have such fond memories of her cooking for me when I was a child. The smells and flavors of her dishes are forever etched in my mind.
One recipe that has been a hit with my son (and with me!) is this beet and carrot soup. It's a recipe that my grandmother used to make for me and it brings back so many happy memories.
I remember sitting at her kitchen table, watching her chop the vegetables and stir the pot. The anticipation of that first spoonful was almost too much to bear.
Now, I know what you're thinking. Beets? In soup? Trust me, I was skeptical too. But this soup is creamy, flavorful and packed with nutrients. Plus, it has a vibrant color that makes it fun for kids to eat.
So if you're looking for a healthy and tasty soup recipe that even the pickiest eaters will love, give this beet and carrot soup a try. It's easy to make and it's a great way to get your little ones to eat their veggies. Plus, it's a recipe that has been passed down from my grandmother, so you know it's going to be good.
In this blog post, I'll share with you the recipe for this delicious soup and some tips on how to make it even more kid-friendly. So grab your apron and let's get cooking!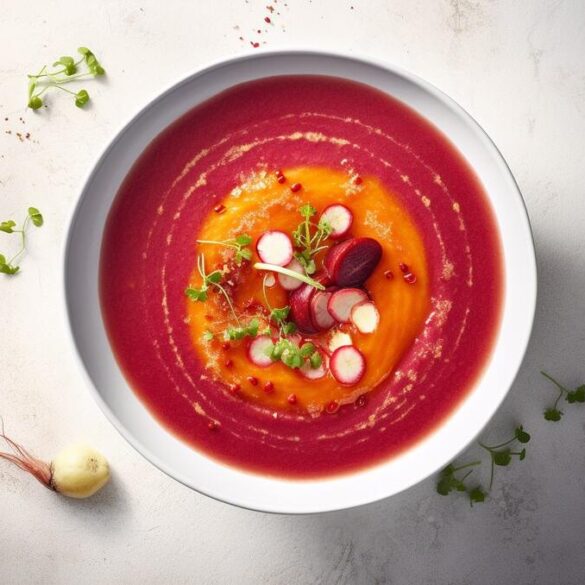 Ingredients
1.1 lb of beets
10.6 oz of carrots
2 cloves of garlic
2 tablespoons of olive oil
Chives to taste
1 oz of onion
7 oz of orange
1 tablespoon of salt
Pepper to taste
1.4 oz of toasted bread
7 oz of potato
Instructions
Start by peeling the beets and placing them in a pot of boiling water along with the garlic, onion, and peeled potato. Add in the carrots and orange juice.
Once everything is cooked through, season with salt, pepper, and olive oil (reserving a bit for later) and blend everything together with a hand blender until you have a smooth and creamy soup.
Serve it up hot, topped with toasted bread cubes, chopped chives, and a drizzle of the remaining olive oil.
Notes
One way to improve the beet and carrot soup recipe is by adding some spices. You can add spices such as cumin, coriander or ginger to give the soup an extra depth of flavor.
Another suggestion is to use vegetable or chicken broth instead of water to cook the vegetables. This will add more flavor to the soup.
You can also add some creaminess to the soup by adding some heavy cream or coconut milk. This will make the soup even creamier and richer.
If you don't have orange juice on hand, you can substitute it with lemon juice or apple juice for a slightly different flavor.
Finally, you can top the soup with some croutons, toasted nuts or seeds for some added texture and crunch. These toppings will add a nice contrast to the smooth and creamy soup.