Hello, my dear readers! I hope you are having a wonderful day and enjoying the fall season. Today I want to share with you one of my favorite recipes from my childhood: Portuguese chestnut soup.
This soup is very special to me because it reminds me of my grandmother, who taught me how to make it when I was a little girl. She was from Trás-os-Montes, a region in the north of Portugal that is known for its beautiful landscapes, rich culture and delicious cuisine.
Chestnuts are one of the most typical products of this region, and they are used in many dishes, from soups and stews to desserts and breads.
My grandmother used to make this soup every year in the fall, when the chestnuts were ripe and abundant. She would take me to the woods and we would collect them together, filling our baskets with these brown and shiny fruits. Then we would go back home and she would show me how to peel them and cook them in a big pot with potatoes, onion, milk and butter.
She would tell me stories about her life in Trás-os-Montes, her family and her traditions. She would also teach me some words and expressions in Mirandese, the second official language of Portugal that is spoken in some parts of this region.
I loved those moments with my grandmother, and I cherish them in my heart. She passed away a few years ago, but I still feel her presence whenever I make this soup. It's like she is with me in the kitchen, guiding me and smiling at me. This soup is more than just a dish for me, it's a way of honoring her memory and celebrating our heritage.
Now that I live in the US, I still make this soup every fall, using fresh or canned chestnuts that I find at the grocery store or online. It's not exactly the same as picking them from the trees, but it's close enough.
I also like to share this soup with my friends and family here, introducing them to a part of my culture and history. They always love it and ask me for the recipe.
That's why I decided to write this blog post and share this recipe with you. I hope you will enjoy it as much as I do, and maybe learn something new about Portugal and Trás-os-Montes.
This soup is easy to make, hearty and delicious. It's perfect for a cozy lunch or dinner on a cold day, served with some crusty bread and a green salad. It's also great for meal prep, as it keeps well in the fridge or freezer.
Are you ready to try this Portuguese chestnut soup? Let's get started!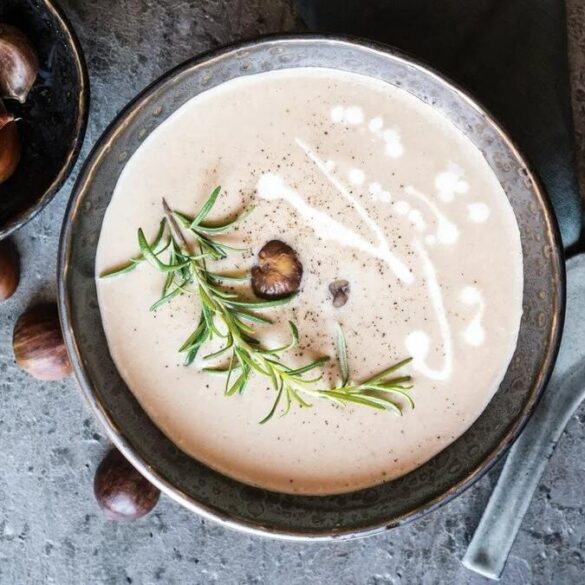 Ingredients
1.1 lb of chestnuts
3 potatoes
1 onion
1 cup of milk
butter, salt and pepper to taste
Instructions
Peel the chestnuts and put them in boiling water to make the inner skins come off easily.
Put the butter in a pot and heat it up. Add the chopped onion and let it brown.
Add the peeled and chopped potatoes and the chestnuts. Season with salt and pepper to taste and cover with enough water to cover the ingredients.
Let it cook until the potatoes and chestnuts are soft.
Puree everything with a blender or a hand blender.
Add the milk and bring it back to a boil.
Serve the soup hot, garnished with chopped chestnuts, herbs or croutons, if you like.
Notes
To enhance the flavor and aroma of this soup, you can sauté some garlic, leek, celery or carrot with the onion and butter. You can also replace the water with vegetable or chicken stock for more depth and richness.
To achieve a creamier and smoother texture, you can swap the milk for heavy cream. You can also stir in some cheese, such as parmesan, gruyere or cheddar, and blend it well. This will add some cheesiness and decadence to the soup.
To spice up this soup and give it a smoky touch, you can fry some bacon, ham, chorizo or sausage with the onion and butter. You can also season the soup with some paprika, cumin, cayenne or chili flakes and blend it well. This will create a savory and warming effect.
To brighten up this soup and make it more colorful, you can toss in some greens, such as spinach, kale, chard or parsley, and blend it well. You can also squeeze some lemon juice or zest into the soup and sprinkle some fresh herbs, such as thyme, rosemary or sage, on top. This will add some freshness and refreshment to the soup.
To simplify this soup and make it faster, you can use canned or vacuum-packed chestnuts instead of fresh ones. You can also cook the chestnuts and potatoes in a pressure cooker or an instant pot to save time. This will make the soup more convenient and quick.
The best way to boil chestnuts for this recipe is to score them with a sharp knife on the flat side before putting them in boiling water. This will help them peel easier and faster. You can also add some salt or vinegar to the water to prevent them from turning black. You should boil them for about 15 to 20 minutes, or until they are soft and tender. Then you can drain them and peel them while they are still warm.