Pão com Chouriço. Just saying the name of this traditional Portuguese bread makes my mouth water. Imagine biting into a warm, freshly baked roll stuffed with spicy chorizo sausage. The combination of the soft bread and the savory filling is simply irresistible.
If you've never heard of Pão com Chouriço before, let me introduce you to this delicious treat. Pão com Chouriço is a type of bread that originated in Portugal and is typically filled with chorizo sausage. It's a popular snack or appetizer and can be found in many Portuguese bakeries and restaurants.
But you don't have to travel to Portugal to enjoy this tasty bread. With just a few simple ingredients and some basic kitchen skills, you can make Pão com Chouriço at home. And trust me, once you try it, you'll be hooked.
In this blog post, I'll be sharing my favorite recipe for Pão com Chouriço. It's easy to follow and produces delicious results every time. Plus, I'll be giving you some tips and tricks for making the perfect Pão com Chouriço at home.
So let's get started! First things first: the ingredients. To make Pão com Chouriço, you'll need flour, water, yeast, salt, and chorizo sausage. That's it! Just five simple ingredients that you probably already have in your kitchen.
The key to making great Pão com Chouriço is to use good quality ingredients. Make sure to use fresh yeast and good quality chorizo sausage. Trust me, it makes all the difference.
Once you have your ingredients ready, it's time to start making the dough. This is the fun part! There's something so satisfying about kneading dough and watching it come together into a smooth ball.
After the dough has risen, it's time to add the filling. This is where you can get creative and add as much or as little chorizo as you like. I like to use a lot of chorizo because I love the flavor it adds to the bread.
Once the bread is filled and shaped, it's time to bake it in the oven. The smell of freshly baked bread wafting through your kitchen is simply heavenly. And when you take that first bite of warm Pão com Chouriço… pure bliss.
So there you have it: an introduction to Pão com Chouriço and how to make it at home. I hope this post has inspired you to try making this delicious bread for yourself. Trust me, once you try it, you'll be hooked.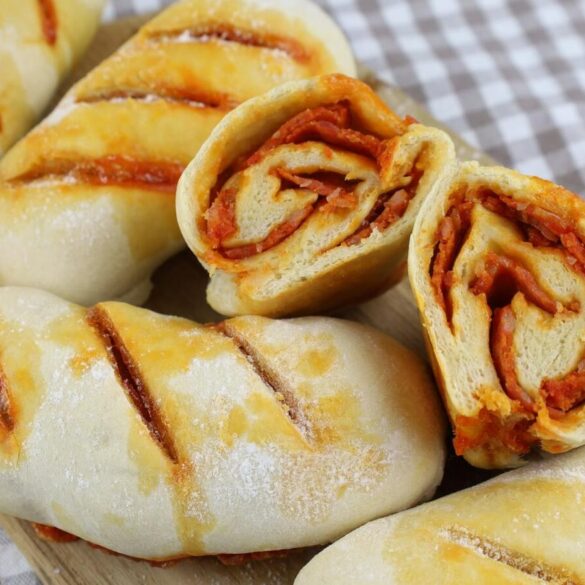 Ingredients
4 cups all-purpose flour
3/4 cup warm water
2 1/4 teaspoons active dry yeast (or baker's yeast)
2 teaspoons salt
Chorizo sausage, to taste
Instructions
In a large bowl, combine flour and salt. Add yeast and mix well. Pour in olive oil and some of the water. Knead everything together with your hands, gradually adding the rest of the water until you have a consistent dough.
Once the dough is ready, sprinkle it with flour and make a cross in the middle of the dough. This will serve as a reference point for when the dough has risen.
Cover the bowl with a towel and let it rest for about 1 hour in a place with a mild temperature (not too cold) so the dough can start to rise.
After 1 hour, uncover the bowl and start handling the dough. The dough should be quite fluffy, meaning it has risen.
Cut the chorizo into very thin slices or small pieces, whichever you prefer, and set aside.
Sprinkle some flour on your work surface to handle the dough better and prevent it from sticking to the surface.
To remove the dough from the bowl without it sticking to your hands, put some flour on your hands and sprinkle it around the dough in the bowl.
Once the dough is ready, divide it into 8 equal pieces.
Roll out each piece of dough into a rectangle shape and generously place thin slices of chorizo on top before rolling it up.
Preheat your oven to 425°F.
Sprinkle some flour on an oven-safe tray (you can also line the tray with aluminum foil sprinkled with flour).
Place the chorizo bread on the tray and put it in the oven at 425°F.
Wait for 30 minutes.
Remove from oven and wrap in a cloth until cooled down and enjoy your delicious chorizo bread!
Notes
You can get creative with the ingredients you use in this recipe! Instead of chorizo sausage, you could try using other types of sausage or cured meats such as pepperoni, salami, or ham. You could also add some cheese like mozzarella or cheddar for a cheesy twist.
Experiment with cooked and shredded chicken or ground beef. Just make sure to cook any raw meat before adding it to the dough. Have fun experimenting and finding what you like best!
Vegetables like bell peppers, onions, or spinach could also be added for some extra flavor and nutrition. The possibilities are endless, so feel free to experiment and find what you like best!