Are you looking for a new and exciting dish to add to your dinner rotation? Look no further than this delicious recipe for Spanish Clams with Chorizo. This dish combines the briny flavor of fresh clams with the spicy kick of chorizo sausage for a meal that is sure to impress.
One of the things I love about this recipe is how easy it is to make. With just a few simple ingredients and a little bit of prep work, you can have a restaurant-quality meal on the table in no time.
And the best part? The flavors in this dish are so bold and satisfying that it feels like a special occasion meal, even though it's easy enough to make on a weeknight.
Another great thing about this recipe is how versatile it is. You can experiment with different types of chorizo to find the perfect level of heat for your taste. And if you're feeling adventurous, you can even try adding other seafood like shrimp or mussels to the mix. The possibilities are endless!
But what really sets this dish apart is the sauce. Made with white wine, fish stock, and a pinch of flour, it's rich and flavorful without being heavy. And when you serve it with a side of crusty bread for soaking up all that deliciousness? Pure heaven.
In addition to being delicious, this dish is also packed with nutrition. Clams are an excellent source of protein and are low in fat, making them a great choice for anyone looking to eat healthily. And chorizo, while high in fat, is also a good source of protein and adds tons of flavor to the dish.
So if you're looking for a new and exciting dish to try, give this Spanish Clams with Chorizo recipe a shot. It's the perfect combination of spicy and savory, and it's sure to become a new favorite in your dinner rotation. Plus, it's easy to make and packed with nutrition – what more could you ask for?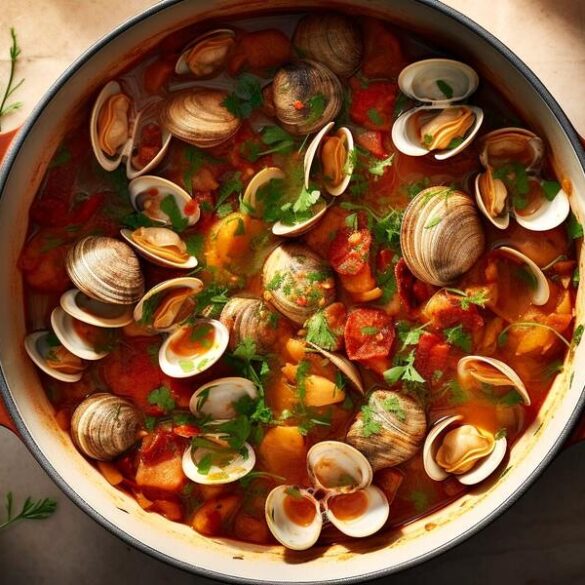 Ingredients
1.3 lbs of clams
7 oz of spicy chorizo
2 cloves of garlic
0.5 onion
A splash of white wine
A splash of fish stock
A pinch of flour
Extra virgin olive oil
Salt
Fresh parsley
Instructions
Start by giving your clams a good rinse and drain.
Next, peel and finely chop both the garlic cloves and the onion.
In a saucepan, pour a little oil and sauté the onion and garlic until they're nice and fragrant.
Add a pinch of salt, slice the chorizo, add it to the saucepan and give everything a good stir.
Add the clams, fish stock and white wine to the pan.
Cover and cook until the clams open up to reveal their deliciousness.
If you want the sauce to thicken slightly, add a little flour and mix well.
Finish by sprinkling with some chopped parsley and serve immediately.
Notes
One way to enhance the flavor of this dish is to use fresh, high-quality ingredients. When choosing clams, look for ones that are tightly closed and have a fresh ocean smell. Avoid any that have a strong, fishy odor or are open and don't close when tapped.
Another way to improve this recipe is to experiment with different types of chorizo. There are many varieties available, from mild to spicy, and each will add its own unique flavor to the dish. Try using a smoky chorizo for a deeper flavor or a spicy one for a little extra heat.
Adding additional herbs and spices can also enhance the flavor of this dish. Try adding a pinch of smoked paprika or a bay leaf to the sauce for added depth of flavor. Fresh herbs such as thyme or rosemary would also work well.
To make the sauce even richer and more flavorful, try using homemade fish stock instead of store-bought. Homemade stock is easy to make and adds an extra layer of flavor to any dish.
Another way to improve this recipe is to serve it with a side of crusty bread. The bread can be used to soak up the delicious sauce and adds an extra element of texture to the dish.
Finally, when choosing white wine for this recipe, look for one that is dry and crisp. A Sauvignon Blanc or Pinot Grigio would work well. Avoid using sweet wines as they can overpower the other flavors in the dish.