Portuguese horseshoe cookies, also known as "São Jorge Spices"espécies de São Jorge", are a traditional sweet from São Jorge Island in the Azores archipelago. Made with sweet herbs, cinnamon, and pepper, these little treats are perfect for satisfying your sweet tooth and transporting your taste buds to a whole new world of flavor.
In this blog post, we'll explore the rich history and flavors of Portuguese horseshoe cookies and show you how to make your own at home. Whether you're an experienced baker or just starting out in the kitchen, this recipe is easy to follow and sure to impress.
But first, let's take a closer look at the origins of these delicious cookies. Espécies de São Jorge have been a beloved treat on São Jorge Island for centuries. The recipe is thought to date back to the 15th century when the island was first settled. Over time, the recipe has been passed down from generation to generation, with each family putting their own spin on the traditional ingredients.
One of the key features of Portuguese horseshoe cookies is their unique shape. The dough is rolled out and cut into strips before being shaped into a horseshoe. This not only gives the cookies their distinctive appearance but also allows for the filling to be visible through small cuts in the dough.
And speaking of the filling, this is where the magic really happens. The traditional recipe calls for a mixture of toasted bread crumbs, sugar, water, cinnamon, butter, ground fennel, and lemon zest. This creates a sweet and spicy filling that perfectly complements the tender dough.
But don't feel like you have to stick to tradition – one of the great things about this recipe is how versatile it is. You can experiment with different spices or add a splash of liquor to the filling for an adult twist. You can also play around with different shapes or add a citrus twist by using orange zest instead of lemon.
In short, Portuguese horseshoe cookies are a delicious and versatile treat that everyone should try at least once. So why not give it a go and make your own batch at home? Follow our step-by-step guide below and get ready to impress your friends and family with your baking skills!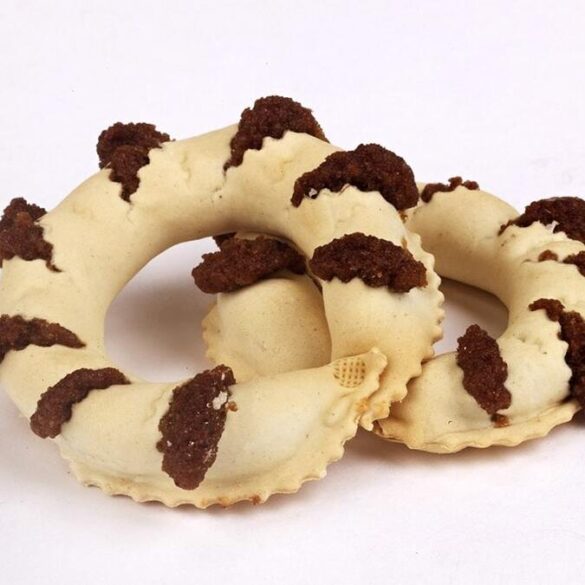 Ingredients
2.2 lbs of sugar
0.85 cups of water
0.88 oz of cinnamon
0.88 oz of butter
8.8 oz of toasted bread crumbs
1.05 oz of ground fennel
Zest of 1 large lemon
Instructions
Start by preparing the filling the day before. Bring the sugar and water to a boil until it reaches the thread point (the syrup lightly adheres to the spoon and, when removing a little, a thread is formed with which shapes can be made on a smooth surface).
Add in the breadcrumbs and remaining ingredients, stirring well until the mixture becomes consistent. Let it rest overnight.
On the day of preparation, make your tender dough (see recipe here). Cut it into strips about 1.5 to 2 inches wide using a pastry wheel.
Mark the middle of the dough lengthwise and make small horizontal cuts on one of the halves.
Place a roll of filling on the half of the dough that you left whole.
Cover it with the cut part of the dough and close the roll, wetting the ends of the dough.
Shape your spices into horseshoes (traditional presentation) or get creative with other shapes like rings, letters, or half-moons.
Bake in a medium oven until golden brown.
Notes
While the traditional recipe calls for sweet herbs, cinnamon, and pepper, you can try adding other spices such as nutmeg or cloves to give the filling a unique flavor.
The recipe already calls for lemon zest in the filling, but you can also try adding a bit of lemon juice or even orange zest to give the spices a fresh and zesty flavor.
The filling is traditionally made with toasted bread crumbs, but you can experiment with other ingredients such as ground nuts or crushed cookies to add some crunch to the filling.
For an adult twist on the recipe, try adding a splash of your favorite liquor such as brandy or rum to the filling mixture.
While the traditional shape for São Jorge Spices is a horseshoe, you can have fun shaping the dough into different forms such as hearts, stars or even letters to spell out a special message.