Hi there, foodies! It's your favorite food blogger here, and today I'm taking on a new culinary challenge: making tacos al vapor at home. Now, I know what you're thinking. "Tacos? That's easy!" But let me tell you, my friends, there's more to these delicious little pockets of goodness than meets the eye.
It all started when I was visiting Houston and stumbled upon a street food vendor selling the most amazing tacos al vapor. The smell alone was enough to make my mouth water, and after one bite I was hooked. I knew I had to try making them at home.
But what exactly are tacos al vapor, you ask? Well, they're similar to regular tacos in that they consist of a tortilla filled with various ingredients. The main difference is that tacos al vapor are cooked in a steamer, which gives them a soft and tender texture that's different from the crispy texture of regular tacos.
And the fillings? Oh, the fillings! There are so many delicious options to choose from. You can go traditional with beans or mashed potatoes, or get creative with shredded chicken, beef or pork. The possibilities are endless and it's really up to your personal taste.
So, armed with nothing but my trusty apron and a sense of adventure, I set out to conquer the world of steamed tacos. And let me tell you, it was quite the journey. From finding the perfect filling to mastering the art of steaming, it was a wild ride.
But fear not, dear readers! I have emerged victorious and am here to share my secrets with you. So grab a margarita and join me as we explore the delicious world of steamed tacos.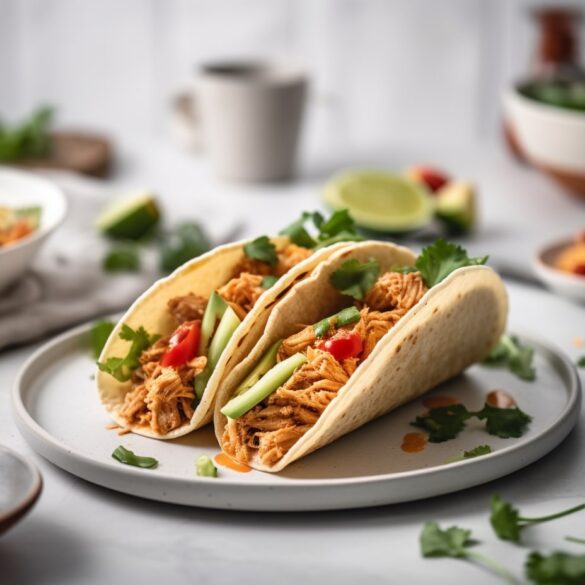 Ingredients
24 corn tortillas
10 chilies without seeds
1 cup of water
1 cup of beans
1 cup of mashed potatoes
1 clove of garlic
Oregano, salt and pepper to taste
Oil
Instructions
Start by boiling the chilies in water for 5 minutes.
Drain the water and blend the chilies with the cup of water, garlic, oregano, salt and pepper. Then strain the mixture.
Heat a tablespoon of oil over low heat and add the previously strained mixture. Let it cook for approximately 10 minutes.
After removing and letting this resulting sauce cool down, pass the tortillas through it.
Place two tablespoons of oil over medium heat to heat up and fry the tortillas previously soaked in the sauce. If the oil runs out you should add more.
Remove the tortillas when they start to toast, that is when the edge is taking on a brown color.
Fill the tortillas with the stews of your choice, in this case half with beans and half with mashed potatoes. Then fold them in half.
Find a large enough cloth napkin.
Pour enough water into the steamer pot, adjust the grill inside it and extend the cloth napkin there.
Place about 5 tortillas on the napkin and keep placing more on top.
You have to cover them all with the napkin you placed at the beginning of the grill, that's why it has to be large enough.
Cook in the steamer for approximately 20 minutes over medium heat.
Carefully remove the tacos and they will be ready to serve with any sauce of your choice.
Notes
There are many different types of sauces that you can use with steamed tacos. One popular option is a green sauce made with avocado, also known as guacamole.
There are several variations of this sauce, including a liquid guacamole that is made with avocado, water and salt. Another version is a green sauce with avocado that combines the classic green sauce with guacamole.
You can also try other types of sauces such as red salsa or salsa verde made with tomatillos. It's really up to your personal taste and preference.
You can add other ingredients to the steamed tacos recipe to customize it to your taste. Some common fillings for steamed tacos include shredded chicken, beef or pork, cheese, and various vegetables such as peppers or onions. You can also experiment with different spices and seasonings to add more flavor to the filling.
In addition to the traditional fillings of beans and mashed potatoes, you can use a variety of meats as a filling for steamed tacos. You can also use ground meat or diced meat if you prefer. Other options include chorizo, carnitas, barbacoa or al pastor.
You can cook the meat with spices and seasonings such as cumin, chili powder, garlic and onion to add more flavor. The possibilities are endless and it's really up to your personal taste.
You can experiment with different combinations of herbs and spices to find the flavors that you like best. You can also try adding other ingredients such as lime juice or hot sauce to add more depth of flavor. It's really up to you and your personal taste.