Hey there foodies!
I'm so excited to share with you one of my favorite recipes that I discovered during my last vacation in Greece – Kolokithakia Gemista! For those of you who don't speak Greek (don't worry, neither do I), that translates to stuffed zucchinis. And let me tell you, these little guys are packed with flavor and deliciousness.
I first tried Kolokithakia Gemista at a small taverna on the island of Crete. The sun was setting, the wine was flowing, and the scent of grilled meats and fresh herbs filled the air. And then, out came these beautiful stuffed zucchinis, smothered in a creamy avgolemono sauce. I took one bite and was instantly transported to foodie heaven.
Of course, being the food blogger that I am, I had to learn how to make these little gems myself. So I asked the taverna owner for the recipe and she graciously shared it with me (after making me promise to come back and visit her again – which I definitely will!).
So now, I'm sharing this recipe with all of you! Trust me, you're going to love it. It's the perfect combination of savory filling, tender zucchini, and tangy sauce. Plus, it's healthy and satisfying – what more could you want?
But before we get to the recipe, let me tell you a little bit more about my adventures in Greece. It was my first time visiting this beautiful country and I was blown away by the stunning landscapes, friendly people, and of course, the amazing food. I spent my days exploring ancient ruins, lounging on gorgeous beaches, and eating my way through every taverna I could find.
And let me tell you, the food did not disappoint. From fresh seafood to juicy souvlaki to sweet baklava – everything was delicious. But one dish that really stood out to me was Kolokithakia Gemista. Maybe it was the setting or maybe it was the wine (or maybe it was just that good), but this dish really made an impression on me.
So without further ado, let's get cooking! Here's how to make Kolokithakia Gemista – Greek stuffed zucchinis with avgolemono sauce.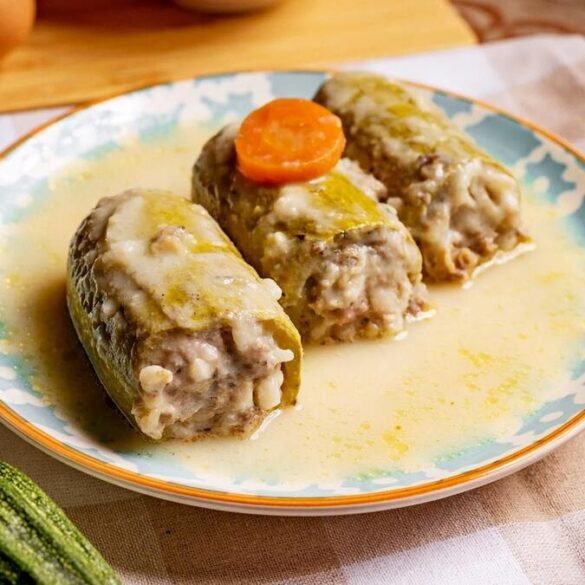 Ingredients
8 zucchinis
1 onion
1 garlic clove
1 carrot
5-6 tablespoons of olive oil
salt and pepper to taste
5.3 oz of risotto rice
1.8 oz of white wine
17.6 oz of water
14.1 oz of ground beef
parsley, spearmint, dill, lemon zest and lemon juice
Avgolemono Sauce:
2.8 oz of butter
2.8 oz of all-purpose flour
24.7 oz of water
1 chicken bouillon cube
lemon zest and lemon juice from 2 lemons
salt and pepper to taste
a pinch of nutmeg
2 egg yolks
Instructions
Cut off the ends of the zucchinis. Using a corer or a small spoon remove the flesh from the zucchinis and place them in a bowl.
Place a pan over high heat. Finely chop the onion and garlic and cut the carrot into small cubes.
Add 3 tablespoons of olive oil to the hot pan and add all the vegetables along with some salt and pepper. Sauté for 8-10 minutes until caramelized.
Add the rice and sauté.
Add the ground beef to the pan and sauté for another 3-4 minutes until well sautéed.
Deglaze with wine and add half of the water. Reduce heat to medium and boil for another 3-4 minutes until the liquids evaporate.
Remove from heat and add finely chopped herbs along with salt, pepper, lemon zest and juice. Mix well.
Fill each zucchini with a spoonful of filling and place them in a pot.
Add remaining water, 2-3 tablespoons of olive oil along with some salt and pepper.
Transfer pot over low heat and simmer for 40 minutes.
For the sauce:
Place a pot over medium heat.
Add the butter and let it melt.
Add the flour and whisk until toasted.
Pour in the water gradually while continuously whisking.
Add the bouillon cube and whisk until the sauce thickens.
Remove from heat and add lemon zest and juice from lemons along with salt, pepper, nutmeg and egg yolks.
Whisk well.
Serve zucchinis with sauce on top.
Notes
You can use other types of rice in this recipe. However, keep in mind that different types of rice have different cooking times and liquid absorption rates.
For example, if you use a long-grain white rice instead of risotto rice, you may need to adjust the amount of liquid and cooking time accordingly.
It's always a good idea to check the package instructions for the specific type of rice you're using to ensure that it cooks properly.
You can definitely add other ingredients to this recipe to make it your own! Some ideas could be adding other vegetables such as bell peppers or mushrooms to the filling, or adding some spices or herbs for extra flavor.
You could also try using a different type of ground meat or even a vegetarian protein source such as lentils or tofu. The possibilities are endless and it's always fun to experiment and see what you like best.