Have you ever heard of Queijadas de Sintra? If not, let me introduce you to these little bites of heaven. Queijadas de Sintra are traditional Portuguese pastries that originated in the town of Sintra. They're made with a sweet and creamy cheese filling encased in a thin and crispy pastry shell. And let me tell you, they're absolutely delicious.
I first discovered Queijadas de Sintra on a trip to Portugal a few years ago. I was wandering through the narrow streets of Sintra when I stumbled upon a small bakery selling these little treats. The smell wafting from the bakery was irresistible, so I decided to give them a try. And oh my goodness, I'm so glad I did.
The combination of the sweet and creamy filling with the crispy pastry shell was pure perfection. I knew right then and there that I had to learn how to make these at home.
So, after some trial and error (and lots of taste testing), I've finally perfected my recipe for Queijadas de Sintra. And today, I'm excited to share it with you!
In this blog post, we'll go through all the steps to make these delicious pastries at home. From making the dough to preparing the filling and assembling everything together. Trust me, it's easier than you might think.
But before we dive into the recipe, let's talk a little bit more about the history and tradition behind Queijadas de Sintra.
Queijadas de Sintra have been around for centuries and are deeply rooted in Portuguese culture. They were originally made by nuns in convents using leftover cheese curds from cheesemaking. Over time, they became popular throughout Portugal and are now enjoyed all over the world.
One of the things that makes Queijadas de Sintra so special is their unique flavor and texture. The filling is made with fresh cheese which gives it a slightly tangy flavor that pairs perfectly with the sweetness of sugar and cinnamon.
And let's not forget about that crispy pastry shell! It's thin and delicate but strong enough to hold all that delicious filling inside.
So now that you know a little bit more about Queijadas de Sintra, are you ready to give them a try? Let's get started!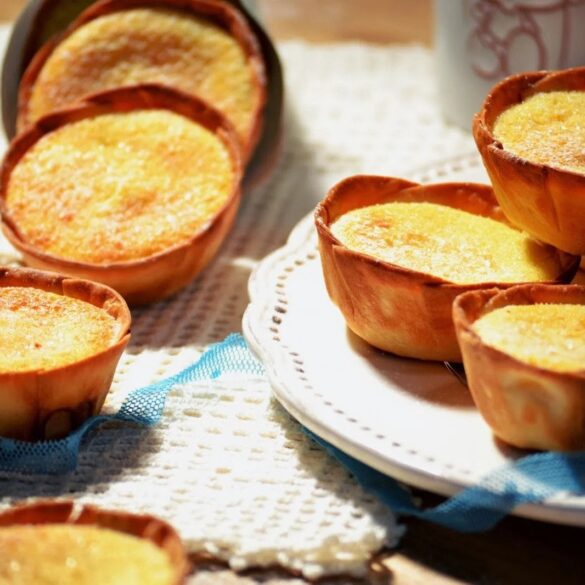 Ingredients
For the dough you'll need:
14 oz of flour
5 fl oz of water
Some butter for greasing
For the yummy filling you'll need:
17.6 oz of unsalted fresh cheese
10.6 oz of sugar
1.4 oz of flour
4 medium egg yolks
A teaspoon of ground cinnamon
Instructions
Let's make the dough:
Grab a bowl and mix the flour with water. Knead it well until it's nice and smooth.
Roll out the dough until it's about as thick as a penny.
Cut out circles from the dough and line small greased molds with them.
Now let's make the filling:
In another bowl, mix together the cheese, egg yolks, and sugar until well combined.
Add in the flour and cinnamon and give it another good mix.
Spoon the filling into your prepared molds without overfilling them.
Pop them in a preheated oven at 350ºF for about 25 to 30 minutes until they're golden brown on top. Let them cool down before taking them out of their molds.
Notes
There are many variations you can try with this recipe! Here are some ideas:
You could add some lemon zest to the filling for a citrusy twist.
You could also try using different types of cheese in the filling. Ricotta or cottage cheese would work well.
For a nutty flavor, you could add some ground almonds or hazelnuts to the filling.
You could also experiment with different spices like nutmeg or cardamom.
Feel free to get creative and make this recipe your own! 😊
You could try using whole wheat flour for a more rustic and hearty texture.
If you're looking for a gluten-free option, you could use a gluten-free all-purpose flour blend or almond flour.
For a more delicate texture, you could try using cake flour.
Keep in mind that different types of flour may absorb liquids differently and may require adjustments to the amount of water used in the dough. It's always a good idea to start with less water and add more as needed until the dough comes together.