This traditional Portuguese recipe combines two of my favorite things – salt cod and cornbread – into one delicious and satisfying meal. And the best part? It's super easy to make at home.
If you're not familiar with bacalhau (pronounced buh-kah-lau), it's dried and salted cod that's been rehydrated and desalted before use. It may not look like much in its dried form, but once it's been soaked and cooked, it transforms into tender, flaky fish with a mild flavor that pairs perfectly with the crunchy cornbread topping.
And speaking of cornbread – let's talk about broa (pronounced bro-ah). Broa is a type of Portuguese cornbread made from a mixture of cornmeal and wheat or rye flour. It has a dense texture and slightly sweet flavor that works so well with the saltiness of the bacalhau.
To make Bacalhau com Broa, you'll start by soaking your salt cod in water for 24-48 hours to rehydrate it and remove excess salt. Then you'll cook it until tender before layering it in a baking dish with sautéed onions and garlic. The final touch is a generous layer of crumbled broa on top, which bakes up into a crispy golden crust.
The result is a hearty and flavorful dish that's perfect for feeding a crowd or enjoying as a cozy weeknight dinner. Serve it with some roasted vegetables or a simple green salad for a complete meal.
But enough talking – let's get cooking! Follow along as I show you how to make Bacalhau com Broa at home. Trust me, once you try this dish, you'll be hooked!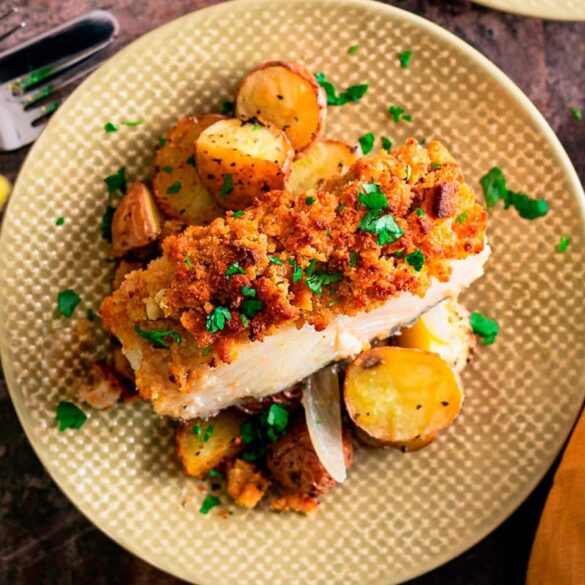 Ingredients
4 portions of desalted salt cod (without skin)
17.6 oz of cornbread
Garlic cloves (to taste)
Cilantro (to taste)
Salt (to taste)
Olive oil (to taste)
1 onion
Instructions
Boil the cod in a pot of water for 15 minutes over low heat.
In another pot, cook the onion in olive oil until golden brown for about 15 minutes over low heat.
Preheat your oven to 350°F.
Drain the cod and place it in the pot with the golden brown onion. Let them both brown together.
Crumble the inside of the cornbread into a container and mix it with garlic, olive oil and cilantro.
Place the cod on top of the onion in an oven-safe clay dish and cover it with crumbled cornbread mixture to form a crust on top.
Bake in oven for 20 minutes.
Notes
Some ingredients that could go well with this dish are sliced black olives, roasted red peppers or even some diced chorizo for an extra layer of flavor. Just make sure to balance the flavors and not overpower the taste of the cod. Have fun experimenting!
When choosing dry and salted cod, it's important to look for a few key things. First, make sure that the fish has a consistent color and texture with no discoloration or soft spots. The flesh should be firm and not slimy. Also, check for any unpleasant odors - good quality salt cod should have a mild smell.
There are different grades of salt cod available. Superior klippfisk (a Norwegian term for dried and salted cod) is salted fresh, whereas cheaper grades might be frozen first. Lower grades are salted by injecting a salt-water solution into the fish while superior grades are salted with dry salt.
Once you've chosen your dry and salted cod, it's important to prepare it properly before cooking. This involves soaking it in water for 24-48 hours to rehydrate it and remove excess salt. Make sure to change the water frequently during this process.