Aletria has always held a special place in my heart. As a young girl growing up in Portugal, I remember eagerly anticipating the holiday season when my grandmother would make this traditional dessert for our family's Christmas feast. The sweet aroma of milk and cinnamon simmering on the stove would fill the house and signal that something delicious was on its way.
Now, living in the US, I still cherish those memories and the taste of aletria. It's a dish that connects me to my roots and brings back fond memories of family gatherings and holiday celebrations. And even though I'm far from home, I still make it every year to keep the tradition alive.
For those who may not be familiar with aletria, it's a classic Portuguese dessert made with angel hair pasta cooked in milk and flavored with sugar, lemon peel and cinnamon. Egg yolks are added for richness and the dish is finished with a sprinkle of ground cinnamon on top.
Making aletria is surprisingly easy and requires only a few simple ingredients. But like many traditional dishes, everyone has their own way of making it. Some people like to add vanilla extract or orange blossom water for extra flavor while others prefer to keep it simple.
In my family, we've always followed my grandmother's recipe which she passed down to me before she passed away. It's a recipe that has been perfected over generations and one that I'm proud to carry on.
In this blog post, I'll share with you my grandmother's recipe for aletria along with some tips and tricks for making it perfectly every time. Whether you're new to this dish or an experienced cook looking to try something different, I hope you'll enjoy making (and eating!) this delicious dessert as much as I do.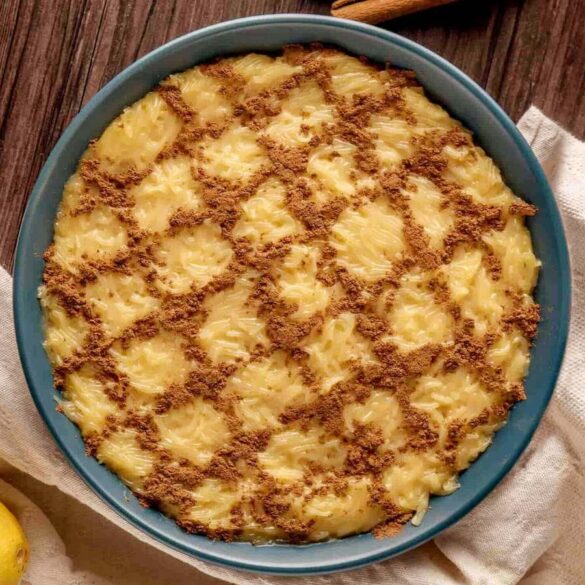 Ingredients
3.5 oz of angel hair pasta
0.9 oz of unsalted butter
2 cups whole milk
5.3 oz granulated sugar
Lemon peel
3 large egg yolks
1 cinnamon stick
Ground cinnamon for garnish
Instructions
In a medium saucepan, combine milk, sugar, lemon peel, butter and cinnamon stick. Bring to a simmer over medium-high heat.
Add angel hair pasta and cook until tender and milk has thickened slightly, about 7 to 8 minutes.
Remove from heat and let cool for about 10 minutes. Discard lemon peel and cinnamon stick.
In a small bowl, lightly beat egg yolks with a fork. Quickly stir into pasta mixture until well combined.
Transfer to a serving dish or individual bowls and sprinkle with ground cinnamon.
Serve warm or chilled.
Notes
You can add other ingredients to this recipe to make it your own! Some common additions include vanilla extract, orange peel or orange blossom water for extra flavor. You could also try adding raisins or other dried fruits for added texture and sweetness.
Use good quality ingredients: Fresh eggs, whole milk and real butter will make a big difference in the flavor and texture of your aletria.
Cook the pasta al dente: Make sure to cook the angel hair pasta until it's just tender but still has a bit of bite. This will prevent it from becoming mushy when mixed with the milk and egg mixture.
Stir constantly: Keep stirring the mixture while cooking to prevent the pasta from sticking to the bottom of the pan and burning.
Temper the egg yolks: To prevent the egg yolks from curdling when added to the hot milk mixture, it's important to temper them first. This means gradually adding some of the hot milk mixture to the beaten egg yolks while stirring constantly, before adding them back into the saucepan with the rest of the milk mixture.
Let it cool before serving: Aletria is best served chilled or at room temperature, so make sure to let it cool down before serving.