There's something special about biting into a warm, freshly baked piece of Venezuelan Pan Dulce. The soft and fluffy texture, the sweet and delicate flavor – it's a treat that's hard to resist.
If you're not familiar with Pan Dulce Venezolano (also known as piñitas), let me introduce you to this delicious sweet bread. It's a popular treat in Venezuela and other Latin American countries, often enjoyed as a snack or dessert. Made with simple ingredients like flour, sugar, eggs, and milk, it's easy to make at home and perfect for sharing with friends and family.
One of the things I love about Venezuelan Pan Dulce is its versatility. You can enjoy it plain or dress it up with your favorite toppings. Some people like to sprinkle sugar and cinnamon on top before baking for added sweetness and flavor. Others prefer to serve it with jam or dulce de leche for an extra indulgent treat.
But no matter how you enjoy your Venezuelan Pan Dulce, one thing is certain: it's always delicious. The soft and tender crumb melts in your mouth while the subtle sweetness satisfies your sweet tooth without being overpowering.
In this blog post, we'll explore the history of Venezuelan Pan Dulce and share our favorite recipe for making it at home. We'll also share some tips and tricks for getting perfect results every time.
So put on your apron and get ready to cook up some delicious Venezuelan Pan Dulce!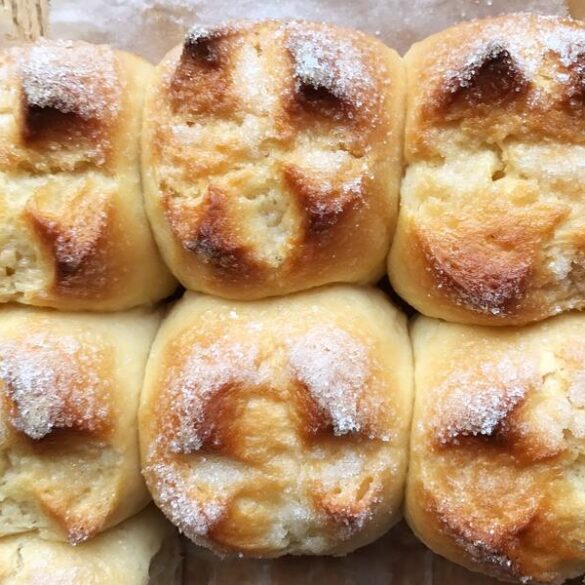 Ingredients
2 pounds of flour
3 tablespoons of butter
2 cups of milk
1 cup of sugar
1 teaspoon of salt
2 teaspoons of vanilla extract
0.7 ounces of instant yeast
1 tablespoon of anise seeds
2 eggs
Instructions
Mix the dry ingredients (yeast, anise, sugar and salt) with the flour. Mix the liquid ingredients (milk, eggs and essence) together.
Form a volcano with the mixture of flour and dry ingredients, add the liquids slowly until you form a soft and homogeneous dough.
Let the dough rise for 45 minutes and then knead lightly to degas it.
Divide the dough into portions of approximately 3.5 ounces each and form balls. Cover with sugar and place them on a greased tray and let them rest until they double in size.
Preheat oven to strong (480ºF) and bake for approximately 15 minutes.
Notes
Make sure all your ingredients are at room temperature before starting.
Activate the yeast by adding it to a small amount of warm milk and letting it sit for 10 minutes.
After letting the dough rise for an hour, knead it again to remove any air pockets.
When forming balls with the dough, make sure they are all of equal size and tightly packed.
Let them rise again for half an hour before brushing them with beaten egg and sprinkling sugar and cinnamon on top.