Hello, friends! I have a treat for you today. Literally.
These are besitos de coco, and they are the most adorable and delicious coconut cookies you will ever meet. They are crispy on the outside, soft and chewy on the inside, and bursting with caramel flavor.
Besitos de coco means "little coconut kisses" in Spanish, and they are a traditional dessert from Venezuela and other Caribbean countries. They are perfect for snacking, gifting, or serving at parties. They are also gluten-free and dairy-free, if that matters to you.
I first learned about besitos de coco from my friend Maria, who is from Venezuela and makes them every year for Christmas. She shared her family recipe with me, and I was hooked. They are so simple but so satisfying. They remind me of macaroons, but with more texture and depth of flavor.
Maria uses panela for her besitos de coco, which is an unrefined cane sugar that has a rich molasses taste. You can find it at some Latin markets or online, or you can use brown sugar instead. Either way, you will end up with sweet and sticky coconut bites that will make your mouth happy.
To make besitos de coco, you just need to mix the ingredients in a bowl until well combined. Then you shape them into small balls (or kisses) and place them on a baking sheet lined with parchment paper. Bake them for about 15 minutes or until golden brown on the edges. Let them cool completely before enjoying or storing them in an airtight container.
That's it! So easy, right? And so yummy!
I hope you give these besitos de coco a try soon. They are one of my favorite treats to make when I want something simple but special. They also make great gifts for your friends and family who love coconut (or who don't know they love coconut yet).
Let me know how you like them in the comments below! Happy baking!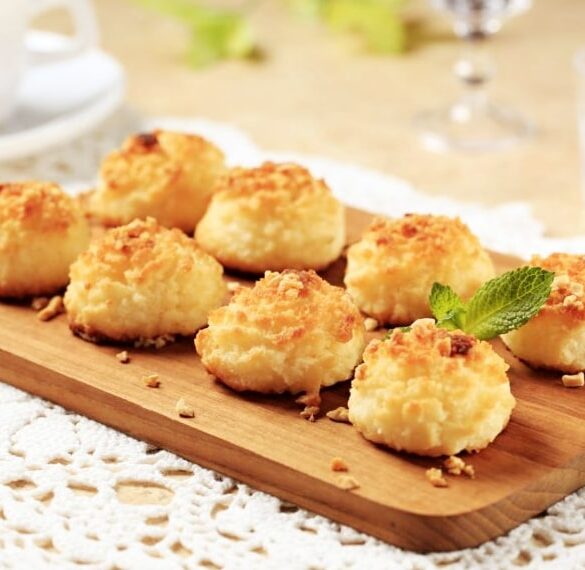 Ingredients
8 oz of panela or piloncillo (unrefined cane sugar)
3 cloves
1 cinnamon stick
1 cup of water
9 oz of shredded coconut
2 eggs
3/4 cup of all-purpose flour
1 teaspoon of baking powder
Instructions
Put the panela or piloncillo, either ground or not, in a pot with the water. Add the cloves and the cinnamon stick. Cook over low heat until the panela dissolves well in the water and there are no lumps.
Remove from heat and let it cool slightly. Remove the cloves and cinnamon and set aside some of the syrup to brush the besitos later.
In a bowl, beat the eggs with a fork or a whisk. Add the shredded coconut and mix well.
Add the flour and baking powder and mix until you get a homogeneous and sticky dough.
Preheat oven to 350°F and grease a baking sheet with butter or oil.
With greased hands, make balls with the dough and place them on the baking sheet, leaving some space between them.
Bake for about 15 minutes or until they are golden on top.
Remove from oven and brush with reserved syrup while still hot.
Let them cool completely before serving.
Notes
Some tips to make besitos de coco more crunchy are: use unsweetened coconut flakes instead of shredded coconut, add some baking soda to the dough to make it lighter and crispier, bake them for a few minutes longer or until they are browned on the edges or let them cool completely on a wire rack before serving.
You can use brown sugar instead of panela, but it will not have the same flavor or texture. Panela is an unrefined cane sugar that has a complex caramel flavor and a moist texture. Brown sugar is refined sugar that has some molasses added back to it. It has a milder flavor and a finer texture than panela.
If you want to use brown sugar, you can substitute it in equal amounts for panela. However, you may lose some of the richness and depth of flavor that panela provides. A better substitute would be another unrefined brown sugar like jaggery, rapadela, kokuto, or sucanat. They have similar properties and taste to panela.