There's something so comforting about a big bowl of hearty stew on a chilly day. And when it comes to stews, sancocho panameño is one that should definitely be on your radar. This traditional Panamanian dish is packed with flavor and will warm you from the inside out.
So what exactly is sancocho panameño? It's a stew made with chicken, root vegetables like cassava and malanga, corn on the cob and flavorful herbs and spices. The result is a rich and satisfying dish that's perfect for any occasion.
One of the things I love about sancocho panameño is how versatile it is. You can easily make substitutions to suit your taste preferences or dietary needs. For example, you could use a different type of meat instead of chicken or swap out some of the root vegetables for ones you have on hand.
But no matter how you make it, one thing's for sure: sancocho panameño is always delicious. The combination of tender meat and root vegetables in a flavorful broth is hard to resist.
In this blog post, we'll take a closer look at sancocho panameño and share a recipe so you can make it at home. Trust me, once you try this hearty stew, it will become a regular in your meal rotation.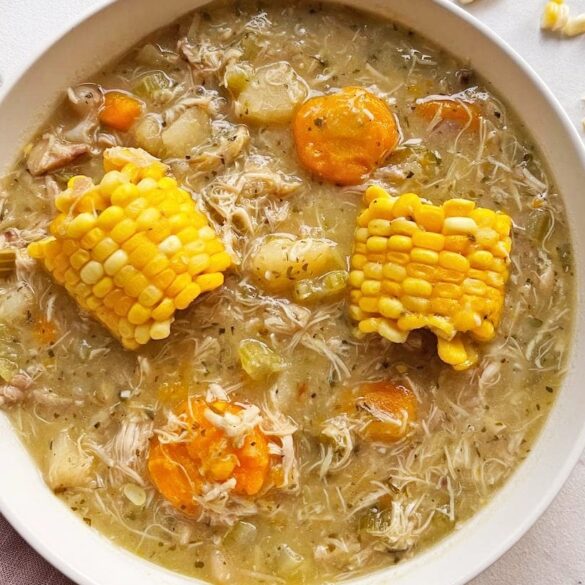 Ingredients
1 Chicken (about 4.4 lbs.)
1.1 lbs. of Cassava
1.1 lbs. of Malanga
2 units of Corn on the cob
2 sprigs of Cilantro
2.2 lbs. of Yam
1 Onion
1 Green pepper
Salt to taste
4 cloves of Garlic, minced
2 teaspoons Oregano
Instructions
Cut the chicken into pieces and place them in a pot, add around 10 cups of water (or enough to cover the chicken), and put it on the stove.
Lower the heat when it starts to boil.
Add malanga, corn, cassava pumpkin and yam and let it cook slowly until softened.
Add onion, peppers, cilantro, garlic and salt and one teaspoon oregano.
Cook for 10 or 15 minutes more. Turn off the heat and add another teaspoon oregano and cover to rest for 10 minutes before serving.
Notes
Malanga is a root vegetable that's commonly used in South America, Africa, and some tropical regions. It has a texture similar to potatoes and is often milled into flour that can be used for cooking. It's a versatile vegetable that can be prepared using various cooking methods such as baking, frying and stewing.
You can certainly substitute some of the ingredients in the recipe for sancocho panameño. For example, you could use a different type of meat instead of chicken or use different root vegetables instead of cassava and malanga.
However, keep in mind that substitutions may alter the taste and texture of the final dish. It's always a good idea to experiment and find what works best for your taste preferences!
There are many root vegetables that you could use as substitutes for cassava and malanga in the sancocho panameño recipe. Some options include potatoes, sweet potatoes, carrots, turnips or parsnips.
These root vegetables have different flavors and textures so you may want to experiment to find which ones you like best in the recipe.
You can add other spices to the sancocho panameño recipe to suit your taste preferences. Some spices that could complement the flavors of the dish include cumin, paprika or chili powder.
You could also add fresh herbs such as thyme or rosemary for additional flavor. Feel free to experiment and find what works best for you!