Lemon blueberry lasagna is one of those desserts that you just can't get enough of. It's creamy, tangy, fruity, and so easy to make. You'll love the layers of lemon cream cheese, blueberry pie filling, and soft ladyfingers that melt in your mouth. Plus, it's no-bake, so you don't have to worry about turning on the oven. Here's how to make this dreamy dessert: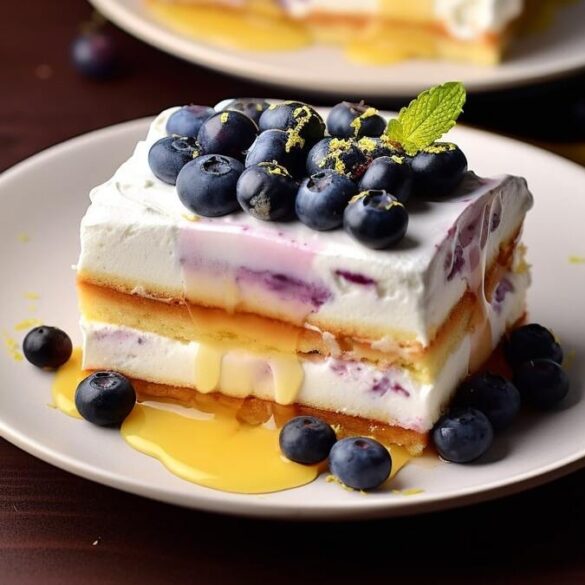 Ingredients
1 package (8 oz) cream cheese, softened

2 cups powdered sugar

2 cups heavy whipping cream

1/4 cup lemon juice

Zest of 1 lemon

1 teaspoon vanilla extract

24 ladyfingers

2 cups blueberry pie filling

Fresh blueberries and mint leaves for garnish
Instructions
In a large bowl, beat the cream cheese and powdered sugar with an electric mixer until smooth and creamy.

In another bowl, whip the heavy cream until stiff peaks form.

Fold in the lemon juice, lemon zest, and vanilla extract into the cream cheese mixture.

Arrange half of the ladyfingers in a single layer in a 9x13 inch baking dish.

Spread half of the lemon cream over the ladyfingers.

Spoon half of the blueberry pie filling over the lemon cream.

Repeat with the remaining ladyfingers, lemon cream, and blueberry pie filling.

Refrigerate for at least 4 hours or overnight to let the flavors meld.

Cut into squares and serve with fresh blueberries and mint leaves if desired.
Notes
Try using fresh lemon juice and zest instead of bottled lemon juice for a more natural and zesty flavor. Adding some lemon extract to the cream cheese mixture will also enhance the lemony goodness.
Make your own blueberry pie filling by cooking fresh or frozen blueberries with some sugar, cornstarch, water, and lemon juice until thickened. This way, the sweetness and consistency of the filling will be to your liking.
Use mascarpone cheese instead of cream cheese for a richer and creamier texture. Mascarpone cheese is an Italian cheese that is similar to cream cheese but has a higher fat content and a smoother texture.
Sprinkle some white chocolate shavings or curls on top of the dessert for a nice contrast and a hint of sweetness. A vegetable peeler or a knife will help you shave some white chocolate from a bar or a block.
Add some chopped nuts, such as almonds, pistachios, or walnuts, to the Oreo crust for some crunch and nuttiness. Toasting the nuts lightly in a skillet or in the oven will bring out more flavor.