Volcano shrimp is a spicy and crispy dish that will make your taste buds explode with flavor. It's easy to make and perfect for a quick and satisfying meal. Here's how you can make it at home.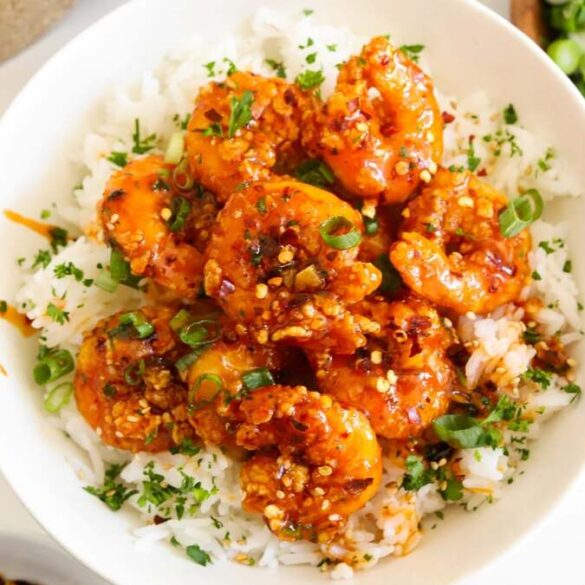 Ingredients
1 pound of large shrimp, peeled and deveined

1/4 cup of all-purpose flour

1/4 cup of cornstarch

1/2 teaspoon of salt

1/4 teaspoon of black pepper

Oil for frying

2 tablespoons of chopped scallions

Sesame seeds or chopped peanuts for garnish (optional)
For the volcano sauce:
1/4 cup of buffalo sauce (such as Frank's Red Hot)

2 tablespoons of light brown sugar

2 tablespoons of rice vinegar

1 tablespoon of honey

1 tablespoon of sriracha

2 teaspoons of minced garlic

2 tablespoons of unsalted butter

1/4 teaspoon of red pepper flakes

2 tablespoons of chopped parsley
Instructions
To make the volcano sauce, combine the buffalo sauce, brown sugar, rice vinegar, honey, sriracha, and garlic in a small saucepan over medium heat. Bring to a boil and then reduce the heat to simmer for about 10 minutes, stirring occasionally, until slightly thickened.

Stir in the butter, red pepper flakes, and parsley and remove from the heat. Transfer to a large bowl and set aside.

To make the shrimp, whisk together the flour, cornstarch, salt, and pepper in a shallow dish. Coat each shrimp with the flour mixture and shake off any excess.

Heat about 2 inches of oil in a large skillet over medium-high heat until it reaches 350°F. Fry the shrimp in batches for about 3 minutes per side or until golden and crisp. Drain on paper towels.

Toss the shrimp with the volcano sauce and sprinkle with scallions and sesame seeds or peanuts if desired. Serve hot with rice and broccoli or your favorite side dish.
Notes
Adding some cornstarch to the volcano sauce will make it thicker and stickier. This will help coat the shrimp better and give them more flavor.
Using panko breadcrumbs instead of flour and cornstarch for the shrimp coating will make them more crunchy and airy.
Adding some lemon juice or zest to the volcano sauce will balance out the spiciness and sweetness. This will also add some freshness and brightness to the dish.
Using coconut oil instead of vegetable oil for frying the shrimp will add some tropical flavor and aroma to the dish.
Garnishing the dish with some fresh cilantro or mint leaves will add some extra color and herbiness. This will also complement the flavors of the volcano sauce.