This blueberry matcha latte is the perfect drink to start your day or enjoy as a midday pick-me-up. It's creamy, frothy, and bursting with blueberry flavor. Plus, it's made with only four ingredients (five if you count the whipped cream) and it takes less than 10 minutes to whip up.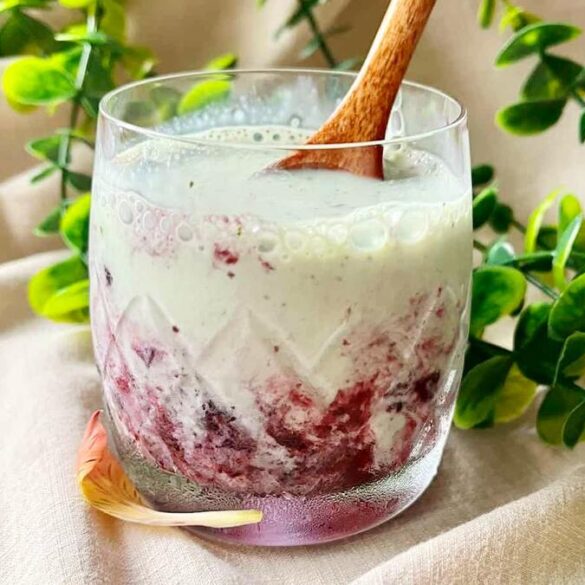 Ingredients
1 cup of unsweetened almond milk
1 teaspoon of matcha powder
2 tablespoons of blueberry syrup
Whipped cream (optional)
Fresh blueberries (optional)
Instructions
In a small saucepan over medium heat, whisk together the almond milk and matcha powder until well combined and frothy.
In a microwave-safe mug, heat the blueberry syrup for about 15 seconds or until warm.
Pour the matcha mixture over the blueberry syrup and stir gently.
Top with whipped cream and fresh blueberries if desired.
Enjoy your delicious Blueberry Matcha Latte!
Notes
A blender or a milk frother will make the almond milk and matcha powder more frothy and smooth.
Homemade blueberry syrup is easy to make by simmering fresh or frozen blueberries, water, and sugar in a small saucepan until thickened. Some lemon juice or vanilla extract will add some extra flavor.
Coconut milk or oat milk will give a creamier and richer texture than almond milk. Some coconut cream or oat cream will enhance the creaminess.
Cinnamon, nutmeg, or cardamom will add a warm and cozy spice to the matcha mixture. Some sprinkled on top of the whipped cream will also look nice.
Honey, maple syrup, or agave nectar are natural and healthier sweeteners than blueberry syrup. The amount of sweetener can be adjusted according to taste.