Hello foodies! I have a confession to make. I have a new love in my life. No, it's not a tall, dark and handsome stranger. It's something much more delicious. It's fried snails from Crete, Greece.
Yes, you heard me right. Fried. Snails. I know what you're thinking. "Ew, gross! Who would eat snails?" But hear me out. These little guys are actually quite tasty when cooked correctly.
I discovered this dish during my recent vacation in Crete, Greece. I was strolling through the local market when I saw a vendor selling snails. At first, I was hesitant to try them. But then I thought, "When in Crete, do as the Cretans do!" So I bought a bag of snails and brought them back to my Airbnb.
I found a recipe for fried snails online and decided to give it a try. And let me tell you, it was love at first bite. The snails were tender and juicy with a crispy exterior. The combination of olive oil, vinegar and rosemary gave them a delicious flavor that was out of this world.
Now, I know what you're thinking. "But how do you even eat snails?" Well, it's actually quite simple. You just use a toothpick to pull the snail out of its shell and pop it into your mouth. Easy peasy!
But not everyone was as adventurous as me. My husband refused to even try the snails. He said they looked too slimy and gross. But I didn't let that stop me from enjoying my new favorite dish.
So if you're feeling adventurous and want to try something new, give fried snails from Crete a try. Trust me, you won't regret it! And who knows? Maybe you'll even convert some skeptics like my husband.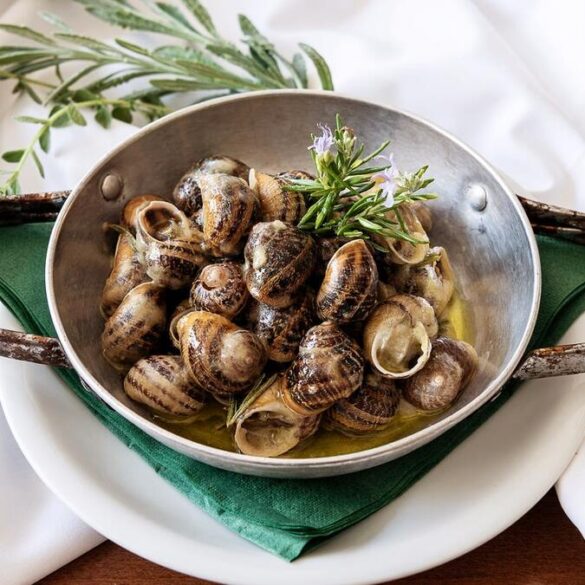 Ingredients
50 snails (preferably alive and kicking)
1/2 cup olive oil (extra virgin, because the snails deserve the best)
1/2 cup vinegar (to give them a little zing)
2 sprigs rosemary (for that fancy touch)
Instructions
Give your snails a spa day by soaking them in a bowl of cold water overnight. One by one they will start to come out of their shell and you can distinguish the living from the dead, if any. (RIP little guys)
Boil the snails in salted water until they begin to foam. Remove froth, rinse with cold water and give them a little mani-pedi by cleaning them carefully with a knife removing all residues present in the shell. Drain them.
Spread some salt in a wide frying pan and heat it up. Place the snails face down (abouboura as they say in Crete). When the snails stop moving pour in the oil and let them fry for 5 minutes over medium heat. (They're getting a tan!)
Add the vinegar and rosemary, increase heat, cover the pan and boil for another 5 minutes. The snails are ready! (And probably a little dizzy)
Serve in a deep platter with all the sauce that remained in the frying pan. (Don't forget to Instagram it!)
Notes
When choosing snails for cooking, it's important to make sure they are fresh and alive. You don't want any zombie snails in your dish!
Depending on where you purchased the snails, they might have been living the high life and fed a special diet of grape leaves.
If you bought a fresh catch rather than a batch from a seafood market, ask the seller when they were harvested so you have an idea of when the snails last ate. You don't want any hangry snails in your dish either!
As for adding other ingredients to the recipe, you can certainly experiment with different herbs and spices to suit your taste. Some recipes suggest adding garlic butter or Gorgonzola cheese to the dish.
You can also try adding other ingredients such as wine or vegetables to the recipe.
Just don't go too crazy, you don't want to end up with a snail smoothie!