As a food blogger, I'm always on the hunt for new and exciting recipes to share with my readers. So when I had the opportunity to visit the beautiful island of Cyprus, I knew I had to bring back something special. And let me tell you, I hit the culinary jackpot with this traditional Cypriot olive pie recipe.
Now, I know what you're thinking. "Olive pie? That sounds… interesting." And trust me, I was skeptical at first too. But after one bite of this savory pie packed with black olives, fresh herbs, and a crispy crust, I was hooked.
I learned this recipe from a lovely Cypriot grandmother who invited me into her kitchen and showed me the ropes. As we cooked together, she regaled me with stories of her childhood and the history of this delicious dish. It was a truly unforgettable experience.
But enough about me, let's talk about this pie. The filling is made with black olives (obviously), fresh onions, coriander, and mint. The crust is crispy and flaky, providing the perfect contrast to the savory filling. And the best part? It's surprisingly easy to make.
One of the things that makes this pie so special is the use of 00 flour in the crust. This finely ground Italian flour creates a delicate and crispy texture that is simply divine. And while you can use all-purpose flour as a substitute, I highly recommend seeking out 00 flour if you can.
Another thing that sets this pie apart is the use of fresh herbs. The combination of coriander and mint adds a bright and refreshing flavor that pairs perfectly with the salty black olives. It's a match made in culinary heaven.
So if you're looking for a new and exciting recipe to try, give this Cypriot olive pie a whirl. Your taste buds (and your dinner guests) will thank you. And who knows? You might just discover a new favorite dish.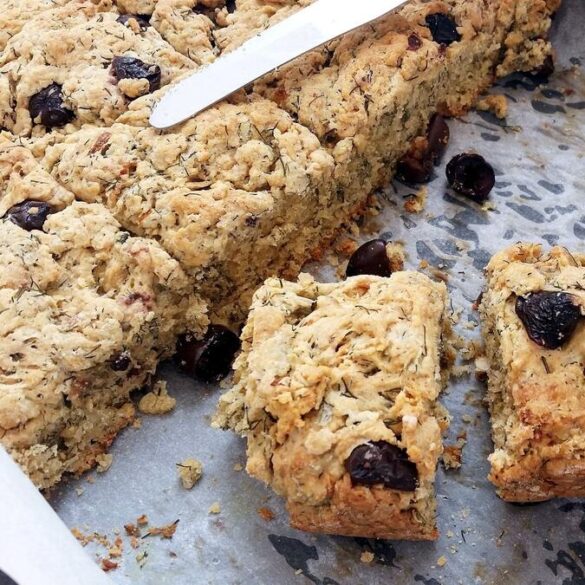 Ingredients
2 cups of black olives, finely chopped
1 cup of fresh onions, finely chopped
1 bunch of fresh coriander, finely chopped
½ cup of fresh mint, finely chopped
½ cup of olive oil
½ cup of sunflower oil
4 ½ cups of flour
3 teaspoons of Baking Powder
2 cups of fresh orange juice
1 teaspoon of dry mint, ground
1 tablespoon of sesame seeds, preferably unpeeled
Instructions
Start by preheating your oven to 350 degrees Fahrenheit.
In a large mixing bowl, combine the flour and baking powder. Make a well in the center of the mixture and pour in the oil.
Using your hands, rub the flour and oil together until well combined. Add in the orange juice and knead until a dough forms.
Add in the fresh and dry mint, coriander, onion and olives to the dough and mix until everything is well combined.
Take a narrow baking dish and spread the dough evenly into it. Sprinkle the top with sesame seeds.
Bake for about 50-60 minutes or until a knife inserted into the center comes out clean.
Serve warm or at room temperature and enjoy!
Notes
The original recipe calls for 00 flour, which is a finely ground Italian flour that is often used in pizza dough and fresh pasta recipes. 00 flour is considered the gold standard for pasta and pizza dough because of its fine grind and protein content.
If you can't find 00 flour, you can use all-purpose flour as a substitute. The texture of the olive pie may be slightly different, but it should still turn out delicious.
Bread flour has a higher protein content than all-purpose flour and can help create a chewy texture in baked goods. However, keep in mind that using bread flour may result in a slightly different texture and flavor than using 00 flour. If you want to achieve a result that is closer to the original recipe, it is recommended to use 00 flour if possible.
You can also experiment with different types of olives or herbs to add different flavors to the pie.
You can add other ingredients to the filling of this olive pie to suit your taste. Some ideas for additional ingredients could include feta cheese, sun-dried tomatoes, roasted red peppers, or capers. You can also experiment with different herbs and spices to add more flavor to the filling.
Keep in mind that substituting ingredients may change the texture and flavor of the final product.