Hi friends!
Today I'm super excited to share with you one of my favorite desserts of all time: ekmek kataifi. If you've never heard of it, let me tell you: it's a Greek dessert that is absolutely divine.
It has three layers of deliciousness: a buttery kataifi base soaked in lemony syrup, a rich and smooth custard flavored with mastiha (a resin from a Greek island that tastes like pine and mint), and a light and airy whipped cream topping sprinkled with pistachios and cinnamon. It's sweet, tangy, nutty, and refreshing all at the same time.
I first tried ekmek kataifi when I visited Greece a few years ago, and I was blown away by how good it was. It was like a cross between baklava and tiramisu, but better.
I couldn't get enough of it. I had it for breakfast, lunch, and dinner (don't judge me). I even brought some back home with me (don't tell the customs).
Ever since then, I've been dreaming of making ekmek kataifi at home. But I was intimidated by the kataifi dough – it's actually shredded phyllo pastry that looks like thin noodles or shredded wheat.
Where do you even find that? And how do you work with it? And what about the mastiha – that mysterious spice that gives the custard its unique flavor? And the whipped cream – how do you make it fluffy and stable?
Well, I'm happy to report that I finally figured out how to make ekmek kataifi at home, and it's actually not that hard. It does take some time and patience, but it's totally worth it.
And the best part is that you can make it ahead of time and refrigerate it overnight, then add the whipped cream before serving. It's perfect for parties, holidays, or any occasion when you want to impress your guests with a stunning dessert.
In this post, I'll show you step by step how to make ekmek kataifi from scratch, with tips and tricks along the way. I'll also share with you where to find the ingredients and how to store them.
And of course, I'll give you the recipe for this amazing dessert that will make you feel like you're in Greece.
Are you ready? Let's get started!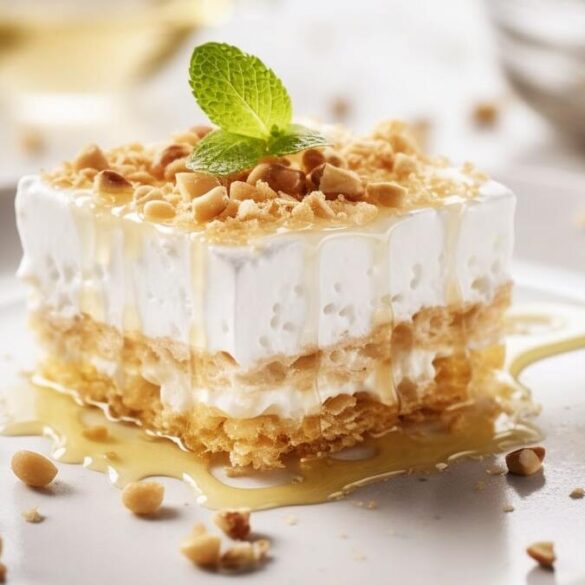 Ingredients
For The Syrup:
2 1/2 cups sugar
3 cups water
1 teaspoon fresh lemon juice
For The Base:
1 lb kataifi dough
1/4 cup unsalted butter, melted
For The Custard:
7 egg yolks
6 cups milk
1 1/2 cups sugar
7 tablespoons fine semolina
4 tablespoons corn starch
1 teaspoon vanilla
2 mastiha crystals, ground with a mortar and pestle
For The Whipped Cream:
2 cups heavy cream
2 or 3 tablespoons powdered sugar
For The Garnish:
1/4 cup pistachios, chopped
A pinch of cinnamon
Instructions
Preheat the oven to 340°F and grease a large rectangular baking pan (about 11x15 inches), making sure it is deep enough to accommodate the layers of dough, custard and whipped cream.
To make the base, take the strands of kataifi and pull them apart slightly with your hands, spreading them out a bit if they clump together, to make them fluffy.
Place them on the bottom of the greased pan - no need to press down on the kataifi strands as they are better left light and fluffy.
Brush the kataifi strands with the melted butter and bake in the oven for about 20 minutes or until golden brown.
Meanwhile, start making the syrup by boiling the sugar with the water in a small saucepan for about 5 minutes. Remove from the heat and stir in the lemon juice, then pour the hot syrup over the baked pastry base.
To make the mastiha-flavored custard, add the sugar and the egg yolks in a medium saucepan and whisk until combined.
Alternating as you go, slowly start adding the semolina, milk and corn starch whisking until well incorporated. Move the saucepan to a burner and set it over medium-low heat.
Cook the mixture stirring constantly and being careful not to scorch it.
When the custard thickens, remove the saucepan from the heat and beat in the vanilla and ground mastiha.
Cool slightly, then pour the custard over the kataifi base.
Let it cool completely before adding the fresh whipped cream topping. (At this point you can cover the dessert and refrigerate overnight if you prefer, simply adding the whipped cream the next day just before serving.)
Just before serving, whip 2 cups of heavy cream and 2 or 3 tablespoons of powdered sugar in a stand mixer bowl (using the whisk attachment) until stiff peaks form.
Spread the whipped cream over the custard and smooth out. Sprinkle with the chopped pistachios and a pinch of cinnamon.
Store the ekmek kataifi in the refrigerator and serve cold.
Notes
Mastiha is a natural resin that comes from a tree called Pistacia lentiscus, which grows only on the Greek island of Chios. It has a unique pine-like flavor and aroma, and it is used in many Greek desserts and drinks. Mastiha is sold as hard drops that can be ground into a powder and mixed with sugar or salt to use as a spice.
You can buy mastiha online from various retailers, such as Amazon, or from specialty stores that sell Greek or Mediterranean products.
You can also look for it in upscale supermarkets or spice shops. It is usually refrigerated, so check the fridge section first. Mastiha can be pricey, depending on the purity and origin, so compare prices before buying.
Mastiha is a very unique and distinctive spice that is hard to substitute. It gives the recipe a special pine-like flavor and aroma that is characteristic of Greek desserts.
If you can't find mastiha, you can either omit it or try to use a very small amount of almond extract with a touch of star anise or fennel seed and cardamom. However, these substitutes will not replicate the exact taste of mastiha.