Have you ever had a food experience that was so good, it left you dreaming about it for weeks afterwards? That's what happened to me when I tried fried burritos (aka chimichangas) for the first time on a trip to Arizona. I mean, what's not to love about a crispy, golden tortilla filled with all your favorite ingredients and fried to perfection? It's like a burrito and a deep-fried dream had a baby and named it chimichanga.
Since that fateful day in Arizona, I've been on a mission to recreate the perfect fried burrito at home. And let me tell you, it hasn't been easy. There have been some mishaps along the way (like the time I accidentally used flour instead of cornstarch in the batter and ended up with a gloopy mess), but I'm happy to report that I've finally nailed it.
In this blog post, I'm going to share my recipe for the ultimate fried burrito with you. It's crispy, it's cheesy, it's packed with flavor – and best of all, you can make it at home without any fancy equipment or hard-to-find ingredients.
But before we get to the recipe, let me tell you a little bit more about my love affair with fried burritos. It all started on that trip to Arizona. I was visiting some friends and they took me to this little hole-in-the-wall restaurant that served the most amazing Mexican food. And when I say amazing, I mean AMAZING. The kind of food that makes you want to lick your plate clean (which I may or may not have done).
One of the dishes we ordered was a plate of fried burritos. And let me tell you, they were love at first bite. The tortilla was crispy and golden brown on the outside, and the filling was cheesy and delicious. It was like all my favorite flavors had come together in one perfect bite.
After that meal, I knew I had to try making chimichangas at home. And so began my quest to recreate that perfect fried burrito. It took some trial and error (and more than a few trips to the grocery store), but I finally came up with a recipe that I'm proud to share with you.
So if you're ready to take your burrito game to the next level, keep reading! Because in this blog post, we're going to fry up some deliciousness together.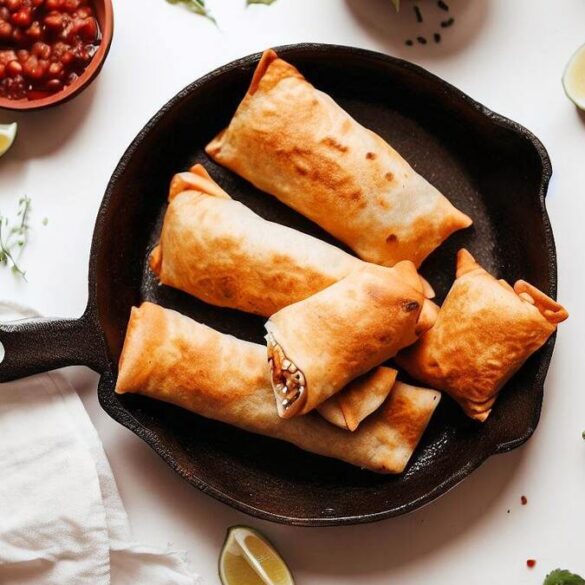 Ingredients
4 large flour tortillas
1 cup of cooked shredded chicken
1/2 cup of black beans
1/2 cup of shredded cheddar cheese
1/4 cup of salsa
Oil for frying
Instructions
Start by warming up your tortillas in the microwave for just a few seconds - this will make them easier to work with.
Next, assemble your chimichangas by placing a scoop of shredded chicken in the center of each tortilla.
Add a spoonful of black beans and a sprinkle of shredded cheddar cheese on top of the chicken.
Finish it off with a dollop of salsa.
Now it's time to roll! Fold the sides of the tortilla inward and roll tightly to form a burrito.
Heat up some oil in a deep pan over medium-high heat - you'll want about an inch of oil in the pan.
When the oil is hot and shimmering, carefully add the chimichangas and fry until they're golden brown and crispy - this should take about 2-3 minutes on each side.
Use a slotted spoon to remove the chimichangas from the oil and place them on paper towels to drain any excess oil.
Serve your chimichangas hot with all your favorite toppings - think guacamole, sour cream, and extra salsa.
Notes
You can use other types of meat in this recipe! Some popular options include shredded beef or pork, ground beef or turkey, or even cooked and diced shrimp. Just substitute the cooked shredded chicken with your preferred meat and follow the rest of the recipe as written.
Fried burritos are very versatile and you can add a variety of ingredients to customize them to your taste. Some ideas for additional fillings include:

Cooked rice or quinoa
Sautéed or grilled vegetables such as bell peppers, onions, zucchini, and mushrooms
Corn or black beans
Fresh herbs such as cilantro or parsley
Spices such as cumin, chili powder, or smoked paprika