Today I'm going to share with you one of my favorite recipes ever: sauteed calamari. Yes, you heard me right. Calamari. Those squishy, rubbery, tentacled creatures that some people love and some people hate. Well, I'm here to tell you that if you're in the latter group, you're missing out big time. Because sauteed calamari is one of the most delicious and easy dishes you can make at home. And I'm going to show you how.
But first, let me tell you how I discovered this recipe. It was a few years ago, when I was backpacking through Italy with my best friend. We were in a small coastal town, looking for a place to eat after a long day of sightseeing. We stumbled upon a cozy little restaurant that had a sign outside that said "Calamari Fritti e Saltati". We didn't know what that meant, but we were hungry and curious, so we decided to give it a try.
We were greeted by a friendly waiter who explained to us that calamari fritti e saltati meant fried and sauteed calamari. He said they were the specialty of the house and that we should definitely order them. He also warned us that they were very addictive and that we might end up ordering more than one plate. We laughed and said we would take our chances.
We ordered a bottle of white wine and waited for our food. When it arrived, we were amazed by the generous portions and the mouthwatering aroma. The calamari fritti were crispy and golden, served with a tangy lemon wedge. The calamari saltati were tender and juicy, cooked with garlic, parsley, and white wine. They were both so good that we couldn't stop eating them. We ended up ordering two more plates and finishing them all.
We were so impressed by the dish that we asked the waiter if he could share the recipe with us. He smiled and said he would be happy to do so. He brought us a piece of paper and a pen and wrote down the ingredients and the steps for making sauteed calamari. He said it was very simple and that we could easily replicate it at home. He also gave us some tips on how to choose and clean the calamari, how to season them properly, and how to avoid overcooking them.
We thanked him profusely and left him a generous tip. We also took a picture of him holding the paper with the recipe and promised to send it to him when we got back home. We left the restaurant feeling full and happy, with a new culinary discovery in our pockets.
That night, we decided to name our trip "The Calamari Adventure". We made it our mission to try different calamari dishes in every town we visited. We had calamari in tomato sauce, calamari stuffed with cheese, calamari grilled on skewers… You name it, we tried it. But none of them could beat the sauteed calamari from that first night.
When we got back home, we kept our promise and sent the picture to the waiter. He replied with a thank you note and said he was glad we enjoyed his recipe. He also invited us to come back anytime we wanted more calamari.
Since then, I've made sauteed calamari many times at home. It's become one of my go-to dishes when I want something quick, easy, and satisfying. It's also a great way to impress my guests and make them think I'm a master chef.
So today I'm going to share this recipe with you, my dear readers. I hope you'll love it as much as I do. And who knows, maybe you'll start your own calamari adventure too!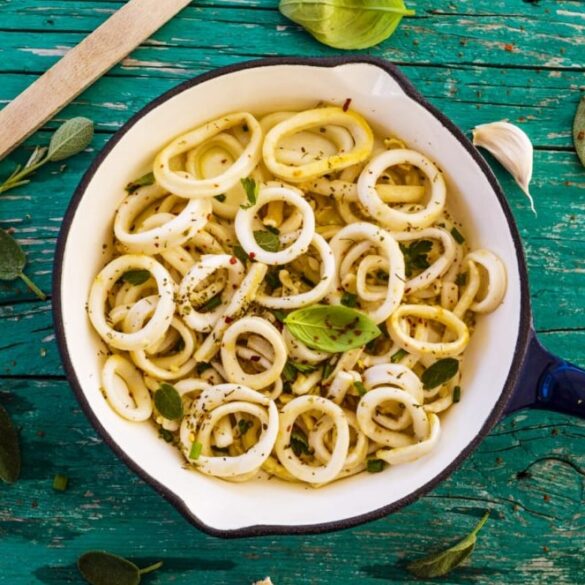 Ingredients
1.8 lbs of fresh calamari
1/2 cup of white wine
1 clove of garlic
olive oil as needed
fresh parsley, chopped as needed
salt and pepper to taste
Instructions
Clean the calamari inside and out and rinse them under cold running water to remove any traces of guts.
Pat them dry and cut them into rings.
In a non-stick skillet, heat some oil and add the garlic clove.
Pour in the wine and, as soon as the liquid starts to boil, add the calamari.
Saute them for 4-5 minutes, not more to avoid them becoming tough.
Season with salt and pepper.
Plate with a sprinkle of parsley and enjoy!
Notes
This recipe is super simple and quick, but it does take some time to clean the calamari, especially if you've never done it before. You can ask your fishmonger to do it for you or buy frozen ones that are already cleaned (just follow the instructions on the package for thawing).
If you like a more saucy dish, you can try adding some tomato sauce to the calamari while they cook. You can also add some capers or olives for extra flavor.
You can serve this dish with a side of vegetables or a salad, or with some crusty bread to soak up the juices. A glass of white wine would also go well with it.