Hey there, foodies! Today I want to share with you my latest culinary adventure: recreating Olive Garden's Stuffed Ziti Fritta at home. Yes, you heard that right. I'm taking on the challenge of making one of my favorite restaurant appetizers in my own kitchen. And let me tell you, it's been quite the journey.
It all started when I went to Olive Garden for a friend's birthday dinner. We ordered a bunch of appetizers to share, and one of them was the Stuffed Ziti Fritta. I took one bite and was instantly hooked. The crispy exterior, the gooey cheese filling, the perfect combination of marinara and alfredo sauce for dipping… it was love at first bite.
I knew I had to have more. But going to Olive Garden every time I had a craving for Stuffed Ziti Fritta just wasn't practical (or good for my wallet). So I decided to take matters into my own hands and learn how to make this delicious dish at home.
At first, I thought it would be easy. I mean, how hard could it be? It's just pasta stuffed with cheese and fried until crispy, right? Well, let me tell you, it's not as easy as it sounds.
There were a lot of failed attempts along the way. Like the time I accidentally used salt instead of sugar in the cheese filling (pro tip: always label your containers). Or the time I overcooked the pasta and ended up with a mushy mess.
But with some trial and error (and a lot of cheese), I finally nailed it. And now I'm here to share my journey with you. In this post, I'll take you through all the steps to make perfect Stuffed Ziti Fritta at home. From choosing the right pasta to getting the cheese filling just right, I'll share all my tips and tricks along the way.
So grab a glass of wine (or two), put on your apron, and let's get cooking! Trust me, once you taste homemade Stuffed Ziti Fritta, you'll never want to go back to the restaurant version again.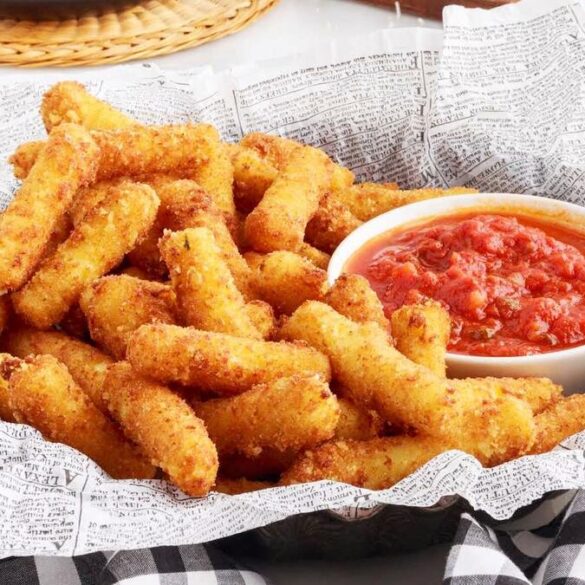 Ingredients
1 lb Rigatoni or Ziti
9 oz Ricotta Cheese
9 oz shredded Mozzarella Cheese
7 oz Cream Cheese
3.5 oz grated Parmesan Cheese
3.5 oz shredded Romano Cheese
2 beaten Eggs
1 cup All-purpose Flour
1 cup Italian Breadcrumbs
Salt to taste
Canola or Vegetable Oil for frying
Instructions
Cook the pasta: Bring a large pot of salted water to a boil and cook the pasta until it's al dente. Drain and rinse with cold water to stop the cooking process.
Make the cheese filling: In a bowl, mix together the cream cheese, ricotta, shredded mozzarella, parmesan and romano until well combined. Spoon the mixture into a piping bag with a wide tip or a sturdy plastic bag with one corner cut off.
Stuff the pasta: Fill each pasta tube with the cheese mixture by gently squeezing it into the tube from the piping bag.
Bread the pasta: Set up a breading station with three shallow dishes - one with flour, one with beaten eggs and one with breadcrumbs. Coat each filled pasta tube first in flour, then dip in egg and finally coat in breadcrumbs.
Fry the pasta: Heat about an inch of oil in a deep frying pan over medium heat. Once hot, carefully add the breaded pasta tubes to the oil and fry until golden brown and crispy.
Serve hot with marinara and alfredo sauce for dipping.
Notes
You can use other types of pasta that are similar in shape and size to Rigatoni or Ziti. Some good options include Penne, Mostaccioli or even large shells. Just make sure the pasta you choose has a large enough opening to be filled with the cheese mixture.
There are many different fillings you can use to stuff your pasta. Here are some ideas to get you started:

Spinach and Ricotta: Mix together cooked spinach, ricotta cheese, an egg, and some grated Parmesan cheese for a delicious and healthy filling.
Meat and Cheese: Brown some ground beef or sausage and mix it with ricotta cheese, an egg, and some grated Parmesan cheese for a hearty and satisfying filling.
Pesto and Cheese: Mix together some prepared pesto, ricotta cheese, an egg, and some grated Parmesan cheese for a flavorful and aromatic filling.
Mushroom and Cheese: Sauté some sliced mushrooms in butter or olive oil until they release their liquid and start to brown. Mix the cooked mushrooms with ricotta cheese, an egg, and some grated Parmesan cheese for a rich and earthy filling.

These are just a few ideas to get you started. Feel free to experiment with different fillings to find the one that you like best!