Bonjour, mes amis! Today, I want to share with you one of my all-time favorite desserts: French blueberry pie. There's just something about the combination of juicy, sweet blueberries and a flaky, buttery crust that makes my heart sing.
I first fell in love with French blueberry pie when I was studying abroad in Paris. I remember walking through the winding streets of the city, taking in all the sights and smells, when I stumbled upon a quaint little patisserie. The smell of freshly baked goods wafted out the door and drew me inside.
As I perused the display case, my eyes landed on a beautiful blueberry pie. The crust was golden brown and perfectly flaky, and the filling was bursting with plump, juicy blueberries. I knew I had to try it.
I took my slice of pie to a nearby park and savored every bite. The crust was buttery and melt-in-your-mouth delicious, and the blueberries were sweet and bursting with flavor. It was love at first bite.
Ever since that day, I've been on a mission to recreate that perfect French blueberry pie at home. And after many attempts (and many delicious failures), I think I've finally nailed it.
In this blog post, I want to share with you my recipe for French blueberry pie. It's simple, delicious, and sure to impress your friends and family. So grab your apron and let's get baking!
First things first: the crust. A good pie crust is the foundation of any great pie, and this recipe is no exception. The key to a flaky, buttery crust is to use cold butter and work quickly. You don't want the butter to melt before it hits the oven.
Next up: the filling. For this recipe, I like to use fresh blueberries. They're sweet, juicy, and bursting with flavor. If you can't find fresh blueberries, frozen will work in a pinch (just be sure to thaw them first).
To make the filling, simply mix together the blueberries, sugar, cornstarch, lemon juice, and salt. The cornstarch will help thicken the filling as it bakes, while the lemon juice adds a bright burst of flavor.
Once you've got your crust and filling ready to go, it's time to assemble the pie. Roll out your pie dough and place it in a pie dish. Pour in the filling and top with another layer of dough (or get fancy with a lattice crust if you're feeling adventurous).
Bake the pie until the crust is golden brown and the filling is bubbling. Then comes the hardest part: waiting for it to cool before digging in.
Trust me when I say that this French blueberry pie is worth the wait. It's sweet, juicy, and oh-so-delicious. Serve it with a dollop of whipped cream or a scoop of vanilla ice cream for an extra indulgent treat.
So there you have it: my recipe for French blueberry pie. I hope you'll give it a try and let me know what you think. Bon appétit!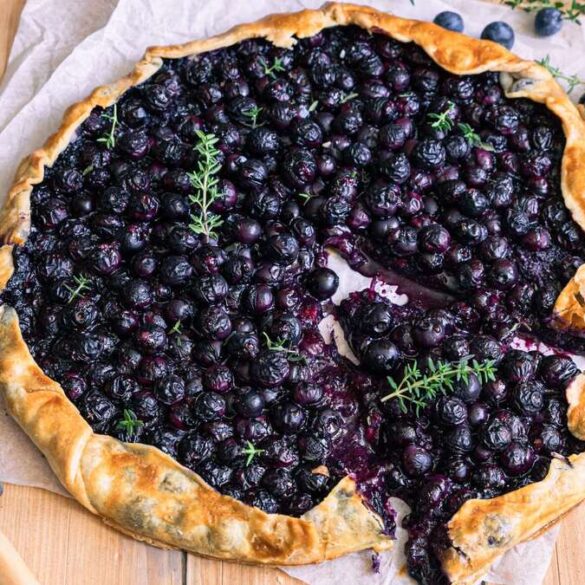 Ingredients
1 pie crust
1.1 lbs of fresh blueberries
0.22 lbs of granulated sugar
2 tablespoons of cornstarch
1 tablespoon of lemon juice
1 pinch of salt
Instructions
Preheat your oven to 390°F.
Roll out the pie crust in a pie dish and prick the bottom with a fork.
In a bowl, mix the blueberries, sugar, cornstarch, lemon juice, and salt.
Pour the mixture over the crust.
Bake for about 45 minutes, or until the crust is golden and the filling is bubbling.
Let it cool before serving.
Notes
Add a crumb topping: For an extra layer of texture and flavor, consider adding a crumb topping to your blueberry pie. Simply mix together some flour, sugar, and butter until crumbly, then sprinkle it over the top of the pie before baking.
Use a lattice crust: Instead of a traditional top crust, try using a lattice crust for a more decorative and visually appealing pie. Simply cut strips of pie dough and weave them together over the top of the filling.
Add some spices: Blueberries pair well with warm spices like cinnamon, nutmeg, and allspice. Try adding a pinch of one or more of these spices to the filling for added depth of flavor.
Use a mix of berries: Instead of just using blueberries, try using a mix of different berries for a more complex flavor profile. Raspberries, blackberries, and strawberries all work well in combination with blueberries.
Add some lemon zest: In addition to the lemon juice, try adding some lemon zest to the filling for an extra burst of bright, citrusy flavor.
Serve with whipped cream or ice cream: Blueberry pie is delicious on its own, but it's even better when served with a dollop of whipped cream or a scoop of vanilla ice cream. The cool creaminess pairs perfectly with the warm, juicy filling.