French vanilla pudding is one of those classic desserts that never goes out of style. It's creamy, delicious, and oh so comforting. Whether you're serving it at a dinner party or just enjoying it as a sweet treat, French vanilla pudding is always a hit.
I have to admit, I have a bit of a soft spot for French vanilla pudding. It reminds me of my childhood and the countless times my mom would make it for me as a special treat. There's just something about the smooth texture and rich vanilla flavor that brings back so many happy memories.
But here's the thing: French vanilla pudding isn't just a dessert for kids. It's a sophisticated and elegant dessert that can be enjoyed by people of all ages. And the best part? It's incredibly easy to make.
In this blog post, I'm going to share with you my favorite recipe for French vanilla pudding. It's simple, delicious, and sure to impress your friends and family. So grab your apron and let's get started!
First things first: let's talk about the ingredients. To make French vanilla pudding, you'll need sugar, cornstarch, egg yolks, milk, vanilla extract, and unsalted butter. These are all basic ingredients that you probably already have in your kitchen.
Now, let's talk about the process. Making French vanilla pudding is actually quite simple. You start by whisking together the sugar and cornstarch in a small saucepan off the heat. Then you add the egg yolks and some of the milk and mix everything together until it's well combined.
Next, you stir in the remaining milk and vanilla extract and bring the mixture to a boil over medium heat. You'll need to stir constantly and scrape the bottom and sides of the pan to make sure everything thickens up nicely.
Once the mixture has thickened, you remove it from the heat and strain it through a sieve to remove any lumps. Then you stir in the butter until everything is smooth and creamy.
Finally, you pour the pudding into a bowl and cover it with plastic wrap. You'll need to let it cool for a bit before refrigerating it for at least 6 hours. This will allow the pudding to firm up and become completely chilled.
And that's it! When you're ready to serve your French vanilla pudding, just give it a quick stir with a spatula to loosen it up. You can serve it as is or top it with some fresh fruit or whipped cream.
I hope this recipe inspires you to make your own French vanilla pudding at home. It's such a delicious and satisfying dessert that's perfect for any occasion. And once you try it, I'm sure you'll agree that there's nothing quite like homemade French vanilla pudding.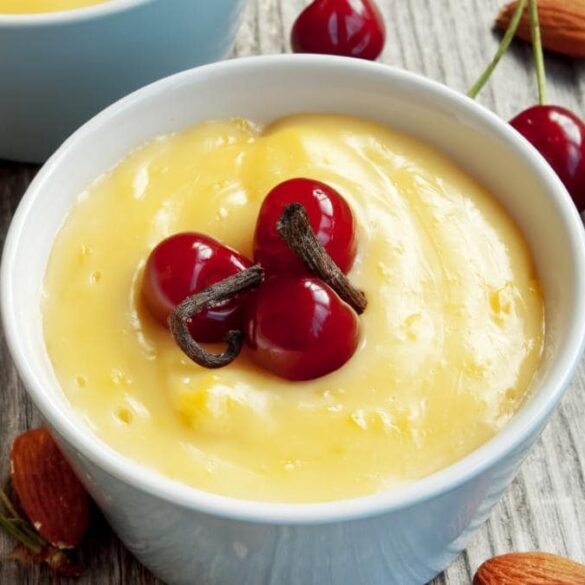 Ingredients
1/2 cup of sugar
1/4 cup of cornstarch
2 egg yolks
2 cups of milk
1 teaspoon of vanilla extract
2 tablespoons of unsalted butter, diced
Instructions
In a small saucepan off the heat, whisk together the sugar and cornstarch.
Add the egg yolks and 1/4 cup of milk and mix well.
Stir in the remaining milk and vanilla.
Bring to a boil over medium heat, stirring constantly and scraping the bottom and sides of the pan until the mixture thickens.
Remove from heat.
Strain the pudding through a sieve to remove any lumps, if necessary.
Stir in the butter until the mixture is smooth.
Pour the pudding into a bowl.
Cover the surface of the pudding directly with plastic wrap.
Let cool, then refrigerate for 6 hours or until the pudding is firm and completely cooled.
Notes
One way to improve this French vanilla pudding recipe is to use high-quality ingredients. For example, using organic milk and eggs can enhance the flavor of the pudding and make it even more delicious.
Another way to improve this recipe is to experiment with different types of vanilla extract. There are many different varieties available, each with its own unique flavor profile. Try using a high-quality Madagascar bourbon vanilla extract for a rich and complex flavor.
You could also try adding other flavors to the pudding to give it a unique twist. For example, you could add a touch of almond extract or a splash of rum for a more sophisticated flavor.
If you want to make this recipe even more indulgent, try serving it with a dollop of whipped cream or a drizzle of caramel sauce. This will add an extra layer of richness and sweetness to the pudding.
Another way to improve this recipe is to serve it with fresh fruit. Sliced strawberries, raspberries, or blueberries would all be delicious additions that would add a pop of color and freshness to the dish.
Finally, you could try experimenting with different serving vessels for the pudding. Instead of serving it in a bowl, try spooning it into individual ramekins or parfait glasses for an elegant presentation.