As a woman from Trás-os-Montes now living in the US, there are few things that make me feel closer to home than the smell of freshly baked Folar Transmontano. This savory Easter bread filled with meats is a staple in my hometown and brings back memories of family gatherings and celebrations.
I learned how to make Folar Transmontano from my mother, who passed down her recipe and techniques to me. Every time I make it, I am transported back to my childhood kitchen, watching her expertly knead the dough and layer it with delicious meats.
Folar Transmontano is more than just a bread – it's a tradition that has been passed down through generations. It's a symbol of friendship and reconciliation and is often given as a gift during Easter.
Making Folar Transmontano may seem daunting at first, but with some practice and patience, anyone can master this delicious dish. In this blog post, I'll share with you my mother's recipe and tips for making perfect Folar Transmontano.
But before we get into the recipe, let me tell you a little more about the history and tradition behind this delicious bread. Folar comes from the Latin word "folia," which means "leaves." This refers to the layers of dough and meat that make up the bread.
Folar has been made in Portugal for centuries and can be found in many different forms throughout the country. In Trás-os-Montes, where I'm from, Folar is typically made with meats such as ham, chorizo sausage, and bacon.
Making Folar Transmontano is a labor of love that requires time and patience. The dough must be kneaded well then left to rise before being layered with meats and baked until golden brown.
But all that effort is worth it when you take your first bite of warm Folar Transmontano fresh out of the oven. The combination of tender bread and savory meats is truly irresistible.
For me, making Folar Transmontano is not just about creating something delicious to eat – it's about keeping my family's traditions alive even though I'm far away from home. Every time I make it, I feel connected to my roots and grateful for the rich culinary heritage that has been passed down to me.
I hope that by sharing my mother's recipe with you today, I can inspire you to try making Folar Transmontano for yourself. Whether you're of Portuguese heritage or simply a lover of good food, this delicious bread is sure to become a favorite in your home.
So gather your ingredients and roll up your sleeves – it's time to make some Folar Transmontano! Follow along as I share with you the secrets to making this delicious traditional dish. And who knows – maybe it will become a new tradition in your family too.
In the following sections of this blog post, I'll walk you through the recipe step-by-step and share tips and tricks for getting the best results. By the end, you'll be a Folar Transmontano pro and ready to impress your friends and family with your culinary skills.
So let's get started on our journey to making delicious Folar Transmontano!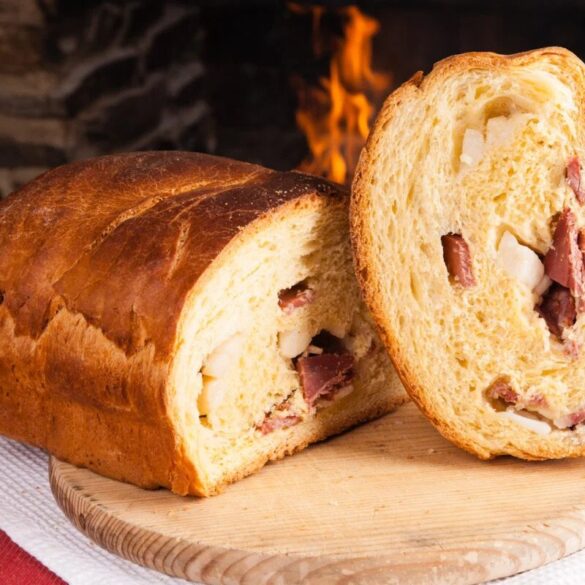 Ingredients
6 room temperature eggs + 1 egg yolk
1 oz of baker's yeast
4.5 cups of flour
2 tablespoons of olive oil
2 oz of lard
2 oz of butter
2 cups of tepid water
1 chorizo sausage
10.5 oz of ham
7 oz of bacon
Instructions
Mix yeast with warm water and a pinch of salt. Cover with flour and let sit for 15 minutes.
In a large bowl, make a well in the center of the flour and pour in yeast mixture. Mix well.
Add olive oil, lard, and warm butter to bowl and mix.
Add eggs one at a time while stirring dough and adding water as needed until dough comes away from bottom of bowl.
Form dough into ball, cover with cloth and let rise for two hours in warm place until tripled in volume.
Grease baking dish(es) with lard while dough rises.
Divide dough into two parts after rising. Place half on bottom part of dish.
Distribute meats evenly over dough then place remaining dough on top (or mix meats into total dough).
Let rise for another hour then preheat oven to 350°F.
Brush top with beaten egg yolk then bake for 30-40 minutes.
Notes
Be generous with the quantity and quality of meats used in the filling. The flavor of the dough is highly influenced by the sausages used.
The fat characteristic of sausages will make the dough more flavorful and tender.
Make sure to knead the dough very well until it comes away from your hands and work surface.
After placing a layer of dough on bottom part of dish, cover with meats then another layer of dough until finished with a layer of dough. Let rise again for about half an hour before brushing top with beaten egg yolk mixed with a little water then baking for about 40 minutes.
After removing from oven, brush top with olive oil to give it shine and flavor.