Mexican picadillo is a dish that's all about comfort and flavor. It's a classic stew made with ground meat, potatoes, chilies and tomato sauce that's sure to warm you up from the inside out. The beauty of this dish is its versatility – there are so many regional variations and ways to serve it that you'll never get bored.
In this blog post, we're going to dive into the world of Mexican picadillo and explore its origins, regional variations and how to make it at home. We'll also share some tips on how to serve it and what dishes it pairs well with.
But first, let me tell you a little bit about my love for Mexican cuisine. I've always been a huge fan of the bold flavors and fresh ingredients that are characteristic of this amazing cuisine. From tacos al pastor to chiles rellenos, there's just something about Mexican food that gets me every time.
And picadillo is no exception. This comforting stew is packed with flavor and is perfect for feeding a crowd or enjoying as a cozy meal at home. The combination of ground meat, potatoes and tomato sauce creates a rich base for the dish while the addition of chilies adds just the right amount of heat.
One of the things I love most about picadillo is how easy it is to customize. Depending on where you are in Mexico (or even within different households), you'll find different variations of this dish. Some people add carrots or olives while others might include almonds or raisins.
So if you're ready to explore the delicious world of Mexican picadillo, then let's get started!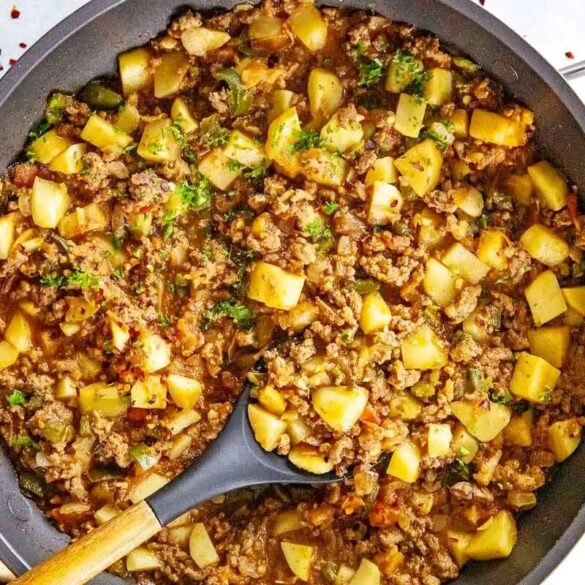 Ingredients
1 lb ground beef
1/2 cup onion, diced
1 green bell pepper, diced
2 cups potato, peeled and diced
4 cloves garlic, minced
8 ounces tomato sauce
1½ cup beef broth
1 tsp salt
¼ tsp ground black pepper
1 tsp ground cumin
1 tsp ground coriander
1 bay leaf
Instructions
Heat a large skillet over medium heat and add the ground beef. Cook over medium heat while breaking up the meat. Cook until mostly browned then drain the grease and return to heat.
Add in diced onion, green bell pepper and potatoes. Continue to cook over medium heat until onion and peppers are softened.
Add garlic and cook an additional 30 seconds.
Pour in tomato sauce and beef broth. Add in seasonings: salt, pepper, cumin, and coriander. Stir to combine then add bay leaf.
Reduce heat to low and simmer for about 20 minutes or until most of the liquid is absorbed.
Notes
There are many variations of Mexican picadillo throughout the country. Some regional versions include ingredients like carrots, olives, almonds and raisins.
Another version of picadillo that is more common in the south part of Mexico includes raisins, capers and green olives.
You can also make picadillo using ground chicken or turkey meat instead of beef.
The recipe can vary from region to region adding different ingredients that can be found locally.
Mexican picadillo is a versatile dish that can be used in many ways. It is a popular filling for gorditas, tacos and other types of Mexican food that are collectively called "antojitos".
Picadillo gorditas or tamales are favorites in many households. You can also serve it with rice or tortillas for a complete meal.