Hey friends! Today I want to introduce you to one of my favorite sweet treats: dulce de membrillo. If you're not familiar with it, dulce de membrillo is a sweet and tangy quince paste that's popular in many countries, particularly in Spain where it's often served with cheese as part of a tapas spread.
But dulce de membrillo is so much more than just a cheese accompaniment. This versatile ingredient can be used in a variety of sweet and savory dishes, from pastries and cakes to sandwiches and meat dishes. And the best part? It's super easy to make at home!
Quinces are a fruit that's related to apples and pears, but they have a unique flavor all their own. They're tart and slightly astringent when raw, but when cooked they transform into something truly magical. The fruit takes on a deep amber color and develops a rich, sweet flavor that's unlike anything else.
Making dulce de membrillo at home is a simple process that involves cooking quinces with sugar until they form a thick paste. The paste is then cooled and can be sliced or spread as desired. It's a great way to preserve the flavor of quinces and enjoy them all year round.
In this blog post, we'll show you how to make dulce de membrillo at home and share some of our favorite ways to use it. Whether you're serving it with cheese, spreading it on toast, or using it as an ingredient in your baking, we know you're going to love this sweet and tangy treat.
One of the things I love most about dulce de membrillo is its versatility. It pairs perfectly with both sweet and savory flavors, making it an ideal ingredient for all kinds of dishes. For example, try spreading some dulce de membrillo on a slice of crusty bread and topping it with creamy goat cheese for a delicious snack. Or use it as a filling for pastries or tarts for a sweet treat that's sure to impress.
Dulce de membrillo also makes a great addition to charcuterie boards or cheese platters. Its sweet and tangy flavor pairs perfectly with sharp cheeses like Manchego or cheddar. And because it's so easy to make at home, you can always have some on hand for impromptu gatherings or snacks.
So let's dive in and discover the delicious world of dulce de membrillo! We'll show you how to make this tasty treat at home and share some of our favorite ways to use it in your cooking.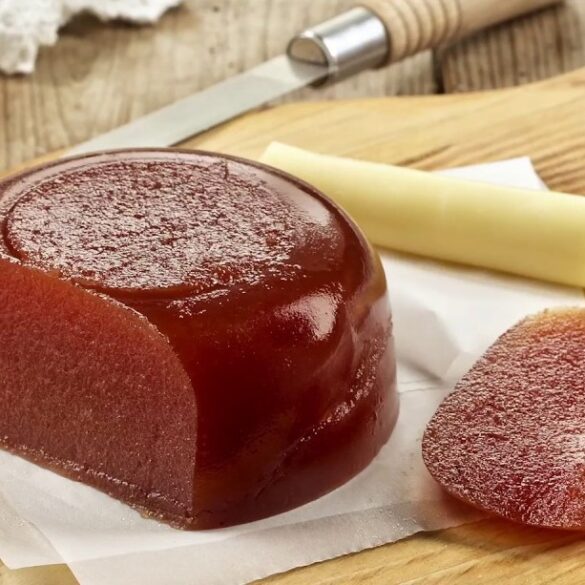 Ingredients
2.2 pounds of ripe, yellow quinces
1.76 pounds of white sugar (that's 80% of the weight of the pulp)
Instructions
Start by giving your quinces a good wash and placing them in a large pot.
Cover them with water and bring to a boil.
Lower the heat to medium and let cook for about 40/45 min (depending on the size of the quinces).
Carefully remove the quinces from the pot and let them cool for a bit so you don't burn yourself.
Peel the quinces, remove the core, and cut the pulp into small pieces.
Weigh the resulting pulp and use 80% of that weight in sugar.
Next, place the pulp and sugar in a pot and cook over medium heat until the sugar has dissolved and the mixture begins to thicken.
Make sure to stir constantly to prevent sticking.
When the mixture reaches the desired cooking point (you can check it by placing a wooden spoon in the center of the pot - if it stands upright it's ready), remove from heat and pour quickly into containers.
Let cool completely, cover with a little parchment paper, cover and refrigerate. This way it will keep for many months.
Notes
You can add a variety of ingredients to your quince paste to give it a unique flavor. Some options include spices such as cinnamon or nutmeg, a splash of lemon juice, or even a bit of vanilla extract.
You could also experiment with adding other fruits such as apples or pears to the mixture. It's all about finding the flavor combination that you enjoy the most!
There are many variations of quince paste recipes. Some recipes include additional ingredients such as spices like cinnamon or nutmeg, lemon juice, or vanilla extract. Others incorporate other fruits such as apples or pears into the mixture.
There are also variations in cooking methods, with some recipes calling for cooking the quince paste in a slow cooker or using a pressure cooker to speed up the process. You can experiment with different ingredients and methods to find the variation that you enjoy the most!
Quince paste can last for several months if stored properly. Once the paste has cooled completely, it should be covered with parchment paper and stored in an airtight container in the refrigerator. This will help to preserve its flavor and texture. If you notice any changes in the appearance, smell, or taste of the quince paste, it's best to discard it and make a fresh batch.
Quince paste is a versatile ingredient that can be served in many different ways. One of the most popular ways to serve quince paste is as part of a cheese platter.
The sweet and slightly tart flavor of the quince paste pairs well with a variety of cheeses, particularly sharp and salty ones like Manchego or cheddar.
Quince paste can also be served as a condiment alongside meats such as ham or pork, or spread on toast or crackers as a sweet snack. It can also be used as an ingredient in baking, such as in pastries or cakes.