Shrimp Veracruz is a zesty and satisfying dish that you can make in less than 30 minutes. It's loaded with plump shrimp, juicy tomatoes, briny olives and capers, and a hint of sweetness from raisins. Serve it over fluffy rice for a complete meal that will make you feel like you're on vacation in Mexico. Here's how to make it: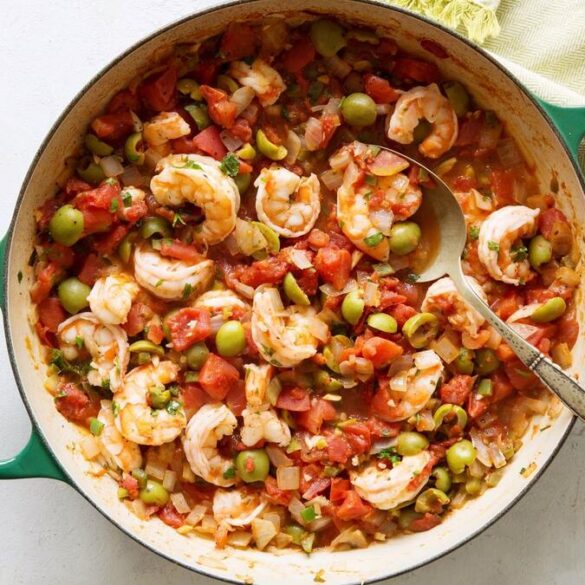 Ingredients
1 pound of large shrimp, peeled and deveined

2 tablespoons of olive oil

1/4 cup of sliced green onions

2 cloves of garlic, minced

1 jalapeño pepper, seeded and minced

1 (14.5-ounce) can of diced tomatoes, with juice

1/4 cup of pitted green olives, sliced

2 tablespoons of capers, drained

2 tablespoons of golden raisins

1 teaspoon of dried oregano

Salt and black pepper, to taste

2 tablespoons of fresh cilantro, chopped

Juice of 1 lime

Cooked white rice, for serving
Instructions
In a large skillet over medium-high heat, heat the olive oil. Add the shrimp and cook for about 4 minutes, turning once, until pink and opaque. Transfer to a plate and keep warm.

In the same skillet over medium heat, add the green onions, garlic, and jalapeño. Cook for about 5 minutes, stirring occasionally, until soft.

Add the tomatoes with their juice, olives, capers, raisins, oregano, salt, and pepper. Bring to a boil, then reduce the heat and simmer for about 10 minutes, until slightly thickened.

Stir in the cilantro and lime juice. Return the shrimp to the skillet and toss to coat with the sauce.

Serve over cooked rice, garnished with more cilantro if desired.
Notes
Adding some white wine to the sauce will enhance the flavor and acidity. Just add 1/4 cup of white wine after sautéing the peppers and garlic, and let it reduce slightly before adding the tomatoes and other ingredients.
Using fresh oregano instead of dried oregano will add more freshness and aroma. Just add 2 teaspoons of chopped fresh oregano along with the cilantro and lime zest at the end of cooking.
Adding some corn kernels to the rice will give some sweetness and texture. Just add 1 cup of frozen corn kernels to the rice after adding the broth, and cook as directed.
Garnishing the dish with some crumbled queso fresco or cotija cheese will provide some creaminess and saltiness. Just sprinkle 1/4 cup of cheese over the shrimp and rice before serving.
Serving the dish with some warm tortillas or tortilla chips will add some crunch and help to soak up the sauce. Just warm up some corn or flour tortillas in a skillet over low heat, or bake some tortilla chips in the oven until crisp.