Have you ever heard of Tarta de Santiago? If not, let me introduce you to this delicious traditional dessert from Galicia, a region in the northwest of Spain. Made with almonds, sugar and eggs, this cake is simple yet oh-so-satisfying. And the best part? It's super easy to make at home!
Tarta de Santiago, also known as Torta de Santiago in Galician, literally means "cake of St. James". The cake is named after the patron saint of Spain, whose remains are said to be buried in the Cathedral of Santiago de Compostela in Galicia. The cake has been enjoyed by pilgrims on the Camino de Santiago for centuries and is now enjoyed by people all over the world.
The cake is typically round and decorated with a dusting of powdered sugar, with the silhouette of the Cross of Saint James (cruz de Santiago) on top. The cross gives the cake its name and adds a touch of elegance to this simple dessert.
But enough about the history and tradition – let's talk about the taste! Tarta de Santiago has a moist and dense texture, with a rich almond flavor that's perfectly balanced by the sweetness of the sugar. The addition of lemon zest and cinnamon adds a subtle hint of freshness and warmth to the cake.
And did I mention how easy it is to make? All you need are a few simple ingredients and a little bit of time. In less than an hour, you can have a delicious Tarta de Santiago ready to serve to your friends and family.
So if you're looking for a new dessert to try or want to impress your guests with something different, give Tarta de Santiago a try. Trust me – one bite and you'll be hooked!
I hope this introduction has piqued your interest in Tarta de Santiago. Keep reading to learn more about this delicious dessert and how to make it at home.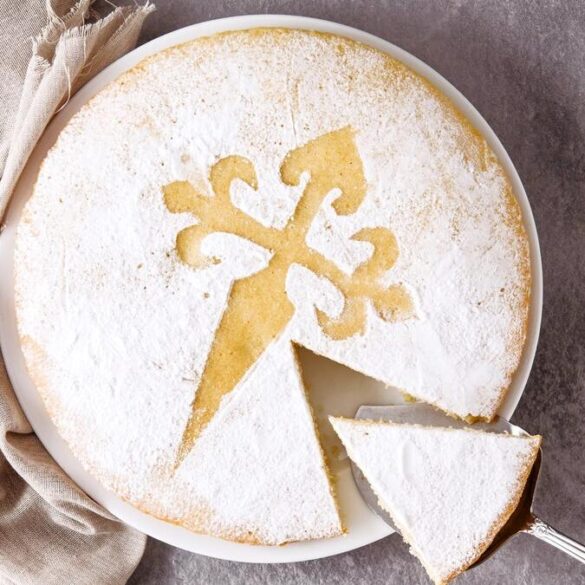 Ingredients
8.8 oz of raw ground almonds
5 large eggs
8.8 oz of white sugar
The zest of 1/2 lemon
1/2 teaspoon of ground cinnamon
A small piece of butter to grease the mold
1/2 shot of herbal brandy or your favorite liquor
1.8 oz of powdered or glass sugar to decorate the cake
Instructions
Preheat the oven to 350ºF and get excited because you're about to make a delicious Tarta de Santiago!
In a bowl, mix the sugar, ground almonds, cinnamon, liquor and lemon zest. Take a deep breath and enjoy the sweet aroma.
Add the eggs one by one while beating vigorously until you get a fine dough. Feel free to do a little dance while you're at it.
Pour the mixture into a mold previously greased with butter and give yourself a pat on the back for making it this far.
Bake for about 30 minutes and take this time to relax and imagine how amazing your cake is going to taste.
Once cooked, sprinkle with powdered sugar to decorate and admire your beautiful creation.
Notes
There are some variations of the Tarta de Santiago recipe. The authentic recipe consists of almonds, sugar and eggs and does not contain flour, except in the case of the "tarta forrada" (a variant with a base of puff pastry or shortcrust pastry). Some recipes also include additional flavorings such as lemon zest, sweet wine, brandy or grape marc.
You can substitute some of the ingredients in the Tarta de Santiago recipe. For example, you can use a sugar substitute such as honey or agave syrup instead of white sugar.
You can also use a different type of ground nuts such as hazelnuts or walnuts instead of almonds. Additionally, you can experiment with different flavorings such as orange zest or vanilla extract instead of lemon zest and cinnamon.
You can use almond flour instead of ground almonds in the Tarta de Santiago recipe. Almond flour is made from finely ground blanched almonds and has a similar texture to ground almonds. You can substitute almond flour for ground almonds in a 1:1 ratio.
Keep in mind that using almond flour may result in a slightly different texture and flavor compared to using ground almonds. Almond flour is finer and more uniform in texture than ground almonds, which can result in a smoother and more delicate crumb.
Additionally, since almond flour is made from blanched almonds (almonds with the skin removed), it may have a milder flavor than ground almonds made from unblanched almonds.
You can make the Tarta de Santiago without liquor. The liquor adds flavor to the cake, but it is not essential to the recipe. You can simply omit the liquor from the recipe or replace it with another liquid such as milk or orange juice to add moisture to the cake.
It's important to note that making substitutions may change the texture and flavor of the cake. I would recommend starting with small changes and adjusting to your taste.