Have you ever heard of Chechebsa? If not, you're in for a treat! Chechebsa is an Ethiopian breakfast flatbread that is easy to make and packed with flavor. It's made from sliced flatbread with add-ons and can be as varied as pancakes. In this blog post, we'll explore the delicious world of Chechebsa and show you how to make it at home.
Chechebsa is a traditional Ethiopian dish that has been enjoyed for centuries. It's a staple in the Oromia region of Ethiopia and is commonly made using teff flour, a gluten-free flour that is high in protein and minerals. The flatbread is sliced and mixed with spices and clarified butter (or oil for a vegan option) to create a tasty and satisfying breakfast dish.
One of the great things about Chechebsa is its versatility. You can use different types of flour to make the flatbread and add various toppings to suit your taste. Some popular toppings include yogurt, honey, and strawberries. You can also add spices such as mitmita, berbere or paprika to give it an extra kick.
Making Chechebsa at home is easy and fun. All you need are a few simple ingredients and about 30 minutes of your time. The result is a delicious breakfast dish that will transport your taste buds to Ethiopia.
In this blog post, we'll show you step-by-step how to make Chechebsa at home. We'll also explore the different ingredients you can use and give you some tips for making it your own. So grab your apron and let's get started!
NOTE: If you enjoyed making and eating Chechebsa, there are many other delicious Ethiopian dishes to try. Some popular dishes include Injera (a sourdough flatbread), Shiro Wot (a spicy chickpea stew), Doro Wot (a spicy chicken stew), and Kitfo (raw minced beef). Ethiopian cuisine is rich in flavor and history, so be sure to explore all it has to offer.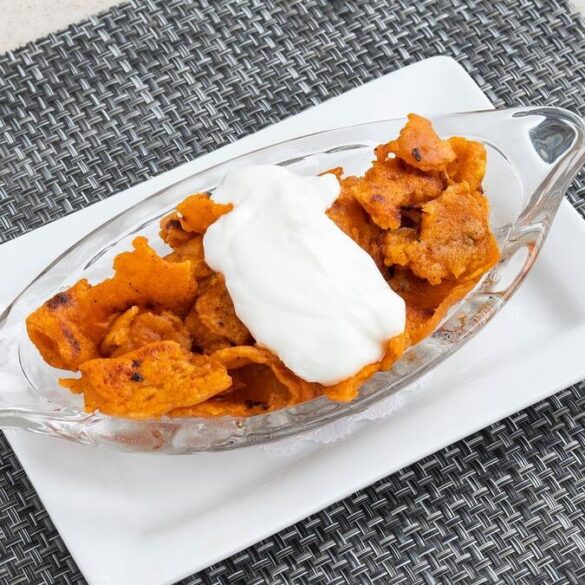 Ingredients
1 cup all-purpose flour
1/2 cup water
1/2 teaspoon salt
1 tablespoon oil
1 tablespoon kibe (use two tablespoons vegetable oil for vegan option)
1 teaspoon turmeric powder (if you use oil instead of kibe)
1 teaspoon mitmita/berbere/paprika (optional)
Honey for dressing (optional)
Instructions
In a small bowl, mix together the all-purpose wheat flour and salt.
Slowly add water to the flour mixture, mixing thoroughly with your hands until a medium-hard dough forms.
Cover the dough with a thin layer of kitchen plastic and let it sit for about half an hour.
On a clean surface dusted with flour, roll out the dough until it is very thin.
Heat some oil in a frying pan over medium heat and carefully place the dough flat on the pan.
Cook for two to three minutes on each side until light-brown spots appear on the surface of the Kita.
Remove the Kita from the pan and set it aside to cool.
Making the Chechebsa:
Once the Kita has cooled down, shred it into small pieces using your hands and place them onto a plate.
In a frying pan over medium heat, melt together niter kibbeh and berbere for about a minute.
Add the shredded Kita to the pan and mix everything together until all pieces of Kita are uniformly soaked in the niter kibbeh and berbere mixture.
Serve hot on a plate.
Notes
In addition to the ingredients listed in the recipe above, you can also use other types of flour to make Chechebsa. For example, you can use brown teff flour or gluten-free flour of your choice.
You can also add toppings such as yogurt or strawberries for extra flavor.
If you prefer a vegan option, you can use vegetable oil instead of kibe.
You can also add spices such as mitmita, berbere or paprika to taste.