As a food blogger, I'm always on the lookout for new and exciting dishes to try. So when my neighbors, a lovely family with Mexican origins, invited me over for dinner and served up a steaming hot plate of Mexican Discada, I knew I had hit the culinary jackpot.
For those of you who aren't familiar with this dish (don't worry, I wasn't either until that fateful dinner), Mexican Discada is a traditional dish from Northern Mexico that combines a variety of meats and vegetables in a delicious and flavorful mix. Think of it as a Mexican stir-fry, if you will.
Now, I know what you're thinking. "Meat and vegetables? That doesn't sound very exciting." But trust me when I say that this dish is anything but boring. The combination of flavors and textures is truly something special. And the best part? It's super versatile and can be customized to suit your taste.
But back to my story. As I sat there devouring my plate of Discada (and trying not to embarrass myself by licking the plate clean), I knew that I had to learn how to make this dish myself. So I did what any self-respecting food blogger would do – I begged my neighbors to teach me their secrets.
And let me tell you, it was totally worth it. Not only did I learn how to make an amazing dish that has quickly become a staple in my household, but I also got to spend time with some truly wonderful people and learn more about their culture and traditions.
So without further ado, let me share with you the recipe for Mexican Discada that has changed my life (okay, maybe that's a bit dramatic, but it's really good!). And don't worry if you're not a master chef – this recipe is super easy to follow and can be made by even the most novice of cooks.
But before we dive into the recipe, let me give you a little bit of background on this dish. Discada originated in the northern states of Mexico and is named after the "disco" or plow disc that is traditionally used to cook it. The dish typically includes a variety of meats such as beef, pork, bacon, ham, and sausage, as well as vegetables like onions, tomatoes, and peppers.
One of the things I love about this dish is how versatile it is. You can really make it your own by adding or substituting ingredients to suit your taste. For example, if you're not a fan of pork, you could use chicken instead. Or if you like things spicy, you could add some jalapeño peppers to the mix.
But enough talking – let's get cooking! Here's the recipe for Mexican Discada that my lovely neighbors were kind enough to share with me. I hope you enjoy it as much as I do!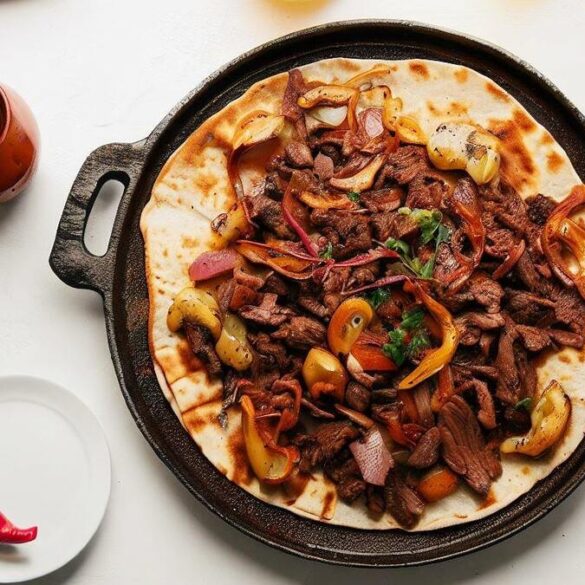 Ingredients
4.4 lbs of beef pulp
2.2 lbs of pork leg
1.1 lbs of smoked bacon
1.1 lbs of smoked ham
1.1 lbs of Vienna sausages
1.1 lbs of pork chorizo
3 onions
3 cloves of garlic
6 tomatoes
1 bunch of cilantro
½ teaspoon of cumin
½ teaspoon of black pepper
1 teaspoon of thyme
1 teaspoon of oregano or marjoram
2 cans of beer
Oil
Instructions
Start by prepping your meat and veggies. Cut all the pieces of meat into small pieces. Blend half the onion, half the tomato, cumin, pepper, thyme and marjoram along with the garlic cloves and enough water until you get a uniform sauce.
Heat up a large pot with enough oil and fry the bacon and pork until it is half done.
Then add the beef with a little salt.
When the beef is half cooked, add the beer along with the other half of the onion, half the tomato, ham, sausage and chorizo and finally add the mixture we have previously blended.
Cook everything for about 20 minutes.
Serve your Northern Discada in tacos with wheat or corn tortillas. You can accompany it with Northern Charro beans or any other type of beans.
Notes
You can add other ingredients to your Mexican Northern Discada to suit your taste. Some common additions include bell peppers, jalapeño peppers, and cheese.
You can also experiment with different types of meat or sausages. The beauty of this dish is that it is very versatile and can be customized to your liking.
You can definitely substitute some of the ingredients in the Mexican Northern Discada recipe to suit your taste or dietary needs.
For example, you could use turkey bacon instead of pork bacon, or chicken sausage instead of pork sausage.
You could also use different types of meat or vegetables. The key is to experiment and find the combination of ingredients that works best for you.
If you're looking to make a vegetarian version of Mexican Northern Discada, there are several substitutes for meat that you can use.
Some options include using meat substitutes like tofu, tempeh, or seitan, which can be marinated and cooked in a similar way to the meat in the original recipe.
You could also use a variety of vegetables like mushrooms, eggplant, zucchini, or squash to add texture and flavor to the dish.
Another option is to use legumes like lentils or beans as a protein source. With these substitutes, you can still enjoy the delicious flavors of Discada while following a vegetarian diet.