As a food blogger and a mom to a little baby and a toddler, I'm always on the hunt for healthy and tasty recipes that my whole family will love. And let me tell you, it's not always easy! Between picky eaters and busy schedules, finding meals that everyone will enjoy can be a real challenge.
But one recipe that always hits the spot is my grandmother's spinach and carrot soup. My grandmother was a Portuguese woman who knew her way around the kitchen, and her soup recipes were legendary. This spinach and carrot soup is no exception – it's packed with nutrients and flavor, and it's always a hit with my little ones.
Now, I know what you're thinking – "Soup? For babies and toddlers? Are you crazy?" But hear me out! Soup is actually a great meal for little ones. It's easy to eat (no chewing required!), it's packed with nutrients, and it's a great way to introduce new flavors and textures.
Plus, this spinach and carrot soup is super easy to make. All you need are a few simple ingredients (most of which you probably already have in your kitchen), and in just 30 minutes, you'll have a delicious and healthy meal that the whole family will love.
But the best part? This soup is totally customizable. You can add in some cooked chicken or sausage for extra protein, or throw in some cooked grains like rice or quinoa to make it more filling. The possibilities are endless!
So if you're looking for a healthy and tasty meal that your whole family will love, give this spinach and carrot soup recipe a try. Trust me, your taste buds (and your little ones) will thank you!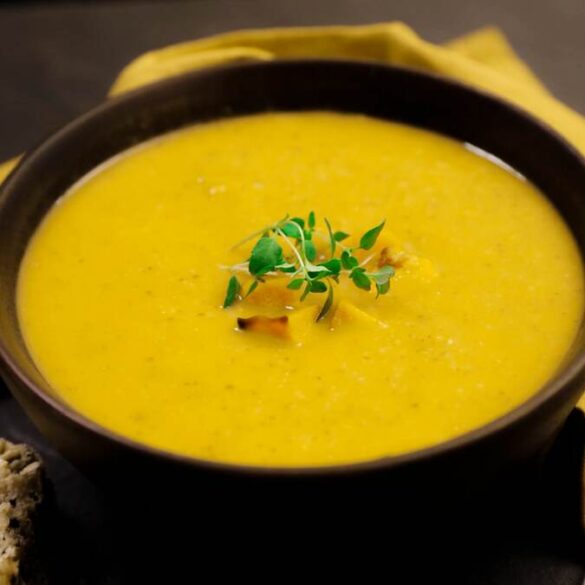 Ingredients
5 cups of fresh spinach leaves
4 large peeled and chopped carrots
4 cups of water
1 chopped onion
2 cloves of chopped garlic
1 tablespoon of olive oil
Salt and pepper to taste
Instructions
Start by heating a pan with the olive oil. Add the onion and garlic and cook until soft.
Next, add the water and carrots to the pan. Season with salt and pepper, give everything a good stir, and let it cook for 20 minutes.
Once the carrots are tender, add the spinach leaves to the pan. Stir everything together and let it cook for another 2 minutes.
Finally, remove the pan from heat and blend everything together using an immersion blender until smooth. Serve hot and enjoy!
Notes
One way to improve this soup is by adding some protein. You can add some cooked chicken, sausage, or even tofu to the soup for extra protein and flavor. Another way to make the soup more filling and satisfying is by adding some cooked grains like rice, quinoa, or barley.
Experimenting with different herbs and spices can also help give the soup more depth of flavor. Some ideas include thyme, rosemary, cumin, or paprika. For a creamier texture, try adding some heavy cream, coconut milk, or even a dollop of sour cream to the soup.
Topping the soup with some croutons, toasted nuts, or even some crispy bacon can add crunch and texture. Finally, a splash of lemon juice or vinegar can help brighten up the flavors of the soup and add a touch of acidity.
When making soup for babies and toddlers, it's important to use a low-sodium broth since their sodium needs are lower than adults. Including a variety of colorful vegetables in the soup can also help provide your little one with a range of nutrients. Some good options include carrots, sweet potatoes, peas, and green beans.
Adding some protein to the soup can help keep your little one feeling full and satisfied. Some good options include cooked chicken, turkey, or lentils. For younger babies who are just starting solids, blending the soup until smooth can make it easier for them to eat.
It's also important to stick to whole, natural ingredients when making soup for babies and toddlers and avoid adding any processed ingredients or added sugars. These are just a few ideas to get you started - feel free to experiment with different ingredients and flavors to create a healthy and delicious soup for your little one!