As a food blogger and a mom, I'm always on the lookout for delicious and healthy recipes that my kids will love. And let me tell you, it's not always an easy task! But one dish that never fails to please is a good old-fashioned bowl of soup. There's just something so comforting and satisfying about a warm bowl of soup on a chilly day.
Growing up in a small village in the north of Portugal, soup was a staple in my diet. My grandmother would often make traditional Portuguese soups for me and my siblings, and I have such fond memories of sitting around the table with my family, enjoying a steaming bowl of soup.
Now that I have kids of my own, I want to pass on that love of soup to them. But let's be real, getting kids to eat their veggies isn't always easy. That's why I love this Creamy Potato and Carrot Soup recipe. It's packed with nutritious veggies like carrots and potatoes, but it's also creamy and delicious, so even the pickiest eaters will love it.
One thing I love about this recipe is how easy it is to make. With just a few simple ingredients and 30 minutes of your time, you can have a delicious and healthy meal on the table. Plus, it's a great way to sneak in some extra veggies into your kids' diets.
But enough about the practical stuff, let's talk about the taste! This soup is seriously delicious. The combination of carrots and potatoes creates a naturally sweet and creamy base, while the leeks and thyme add depth of flavor. And let's not forget about the toppings! A sprinkle of thyme and some crusty bread for dipping take this soup to the next level.
So if you're looking for an easy and delicious way to get your kids to eat their veggies (or if you just want to enjoy a comforting bowl of soup), give this Creamy Potato and Carrot Soup recipe a try. Trust me, you won't regret it!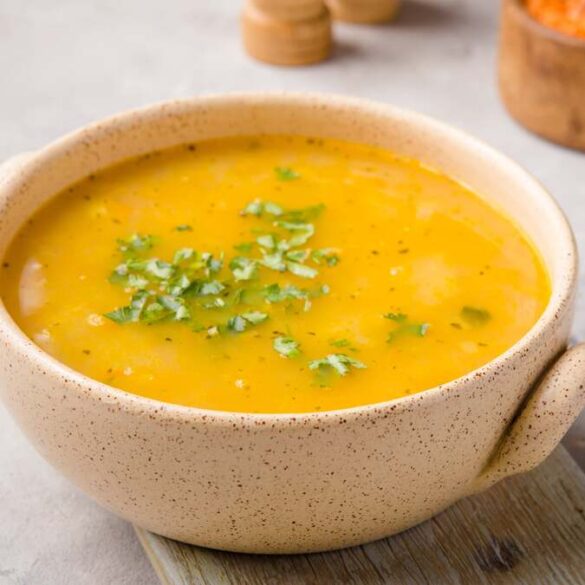 Ingredients
2 tablespoons olive oil
3.5 oz diced onion
2.5 oz sliced leeks
10.5 oz grated carrots
1 teaspoon salt
22 fl oz water
10.5 oz potatoes
Thyme
Instructions
In a large pot, heat the olive oil over medium-high heat. Add the diced onion, sliced leeks, and grated carrots. Sprinkle with salt and stir to combine.
Pour in the boiling water, cover the pot, and bring to a boil.
Peel the potatoes and cut them into small cubes. Add them to the pot with the other vegetables.
Let everything cook for another 15 minutes over medium heat.
Using an immersion blender, blend the soup until it becomes a creamy consistency. Sprinkle with thyme and serve hot.
Notes
There are many ways to improve this Carrot and Potato Soup recipe by adding other ingredients or substituting some of the original.
For example, you could add some diced ham or cooked bacon for a smoky flavor. Using chicken or vegetable broth instead of water can also add more depth of flavor to the soup.
Adding some diced celery and/or bell peppers can provide extra texture and flavor. For a richer and creamier soup, you could stir in some heavy cream or coconut milk at the end.
Adding spices like cumin, paprika or curry powder can give the soup a different flavor profile.
Topping the soup with some croutons or shredded cheese before serving can also enhance the dish.
Finally, adding some cooked grains like quinoa or rice can make the soup more filling.