As a food blogger, I've had my fair share of delicious meals and unforgettable culinary experiences. But there's one dish that stands out in my memory as a true game-changer: Sképasti Pita.
I first tried this mouthwatering Greek sandwich during a friend's wedding in Greece. The ceremony was running late and my stomach was growling louder than the music. So, my friends and I snuck away to a nearby street food vendor to grab a quick bite.
And that's when I saw it: Sképasti Pita. A warm, toasted pita bread stuffed with juicy pancetta, tangy tzatziki and melted cheese. It was love at first bite.
I knew I had to learn how to make this delicious sandwich at home and share it with all of you. So, after some recipe testing (and a lot of taste testing), I'm excited to share my Sképasti Pita recipe with you today.
But before we dive into the recipe, let me tell you a little more about this amazing dish. Sképasti Pita is a popular street food in Greece, often enjoyed as a quick and satisfying meal on the go. The name "Sképasti" means "covered" or "hidden" in Greek, referring to the way the filling is tucked inside the pita bread.
And let me tell you, the filling is what makes this sandwich so special. Tender pancetta, creamy tzatziki and melted cheese come together in perfect harmony to create a flavor explosion in every bite.
So, without further ado, let's get cooking and make some Sképasti Pita! Trust me, once you try this sandwich, you'll be hooked for life.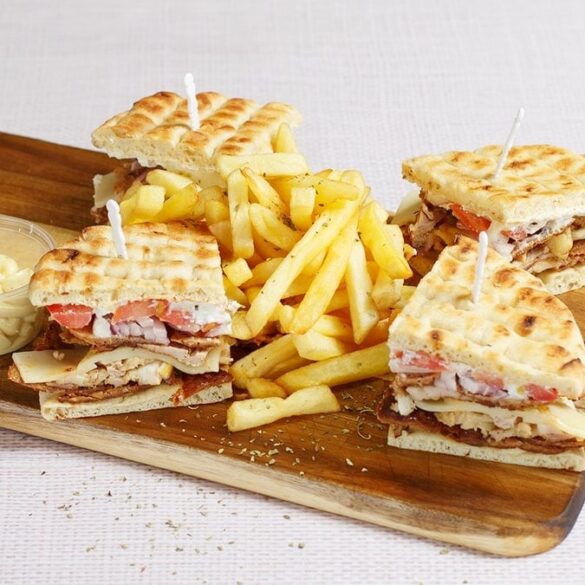 Ingredients
For the pitas:
10.6 oz strained yogurt
10.6 oz self-rising flour
1 tsp oregano
Salt
2 tbsp olive oil
For the pancetta:
17.6 oz boneless pancetta
3 tbsp white wine vinegar
2-3 tbsp olive oil
1 tsp oregano
1 tbsp smoked paprika
Salt and pepper
For the tzatziki:
1 cucumber
Salt
3 tbsp white wine or apple cider vinegar
10.6 oz strained yogurt
1/3 clove garlic
2 tbsp olive oil
1/4 bunch dill
Pepper
Instructions
To make the pitas, put the yogurt, flour, oregano, salt and olive oil in a large bowl and mix with a spoon until a dough forms.
Remove the dough from the bowl, wrap it in plastic wrap and set it aside to rest for 20-30 minutes.
Divide the dough into 6 equal pieces.
Roll out each piece of dough on a work surface with a rolling pin to a diameter of about 6 inches. Optionally, you can flour the work surface before rolling out the dough pieces.
Place a frying pan over medium heat to heat up and add 1 tsp of olive oil. Line a plate with paper towels and set it aside.
Place one pita in the frying pan and cook for 2 minutes on each side until it is browned and cooked through.
Remove the pita from the frying pan and place it on the plate with the paper towels.
Repeat this process with all of the pitas using all of the olive oil. Set the pitas aside until needed.
To make the pancetta, cut it into very small cubes about 0.2 inches in size.
Put the pieces in a medium bowl and add 2 tbsp of vinegar. Mix well with a spoon.
Add the olive oil, oregano, paprika, salt and pepper. Mix well again with a spoon and set the bowl aside to marinate for 5-10 minutes at room temperature.
Place a frying pan over high heat to heat up. Add the pancetta to the frying pan and cook for 2-3 minutes until browned and crispy. Be careful not to stir too much during cooking so that the pancetta cooks properly and does not boil.
Deglaze the pancetta with 1 tbsp of vinegar and stir with a spoon.
Remove the pancetta from the frying pan and set it aside on a plate until needed.
To make the tzatziki, peel the cucumber and grate it on the coarse side of a grater. Put the grated cucumber in a clean, dry kitchen towel that has been placed in a bowl.
Add some salt and 1 tbsp of vinegar and strain the cucumber very well using the towel inside the bowl.
In another bowl, mix together the strained yogurt, garlic, olive oil, dill and pepper.
Add the strained cucumber to the yogurt mixture and mix well. Taste and adjust seasoning with salt and pepper if needed.
To assemble Sképasti Pita, you will need to have prepared pitas, pancetta and tzatziki according to recipe instructions above as well as additional ingredients: 5.3 oz of cheese mix (such as feta or gouda), one tomato sliced, one onion sliced.
Preheat your oven to 356°F (180°C) with fan on.
Take one pita bread and spread some tzatziki on top then add some cheese mix, pancetta slices, onion slices, tomato slices on top then sprinkle more cheese on top then cover with another pita bread that has also been spread with tzatziki.
Repeat this process with remaining ingredients to make more Sképasti Pitas.
Place Sképasti Pitas on baking tray lined with parchment paper then bake in preheated oven for about ten minutes until cheese has melted.
Notes
Sképasti Pita is a delicious and satisfying meal on its own, but you can serve it with a variety of side dishes to make it even more enjoyable.
Some popular options include Greek salad, roasted vegetables, french fries or roasted potatoes, and dips such as hummus or baba ghanoush.
You could also serve it with some olives and feta cheese on the side for a more traditional Greek experience.
You can add or substitute ingredients to customize your Sképasti Pita to your liking. Some options include adding spinach, roasted red peppers or mushrooms to the filling.
For a vegetarian version, you can omit the pancetta and add more vegetables or use a meat substitute such as grilled tofu or tempeh.
To make the perfect Sképasti Pita, make sure to use fresh ingredients and cook the pitas and pancetta until they are crispy and browned.