Are you ready for a taste of Spain? This Spanish Seafood Salad is the perfect dish to transport your taste buds to the sunny shores of the Mediterranean. Made with a variety of fresh seafood and crisp vegetables, this salad is bursting with flavor and is sure to impress.
One of the things I love about this salad is how versatile it is. You can use whatever seafood you have on hand or whatever is in season. Prawns, mussels, crab, scallops, clams, squid or octopus all work well in this dish. The key is to use fresh, high-quality seafood for the best flavor.
In addition to the seafood, this salad also features a variety of fresh vegetables such as spring onion, green pepper and red pepper. These add crunch and freshness to the salad and complement the flavors of the seafood perfectly.
But what really brings this salad together is the dressing. Made with extra virgin olive oil and vinegar, it's simple yet flavorful and adds just the right amount of tanginess to the dish.
This Spanish Seafood Salad is perfect for a light lunch or dinner and is sure to impress your guests. Serve it with some crusty bread and a glass of white wine for a complete meal that's both healthy and delicious.
So why not bring a taste of Spain to your table with this easy and flavorful Spanish Seafood Salad recipe? It's sure to become a new favorite in your recipe collection.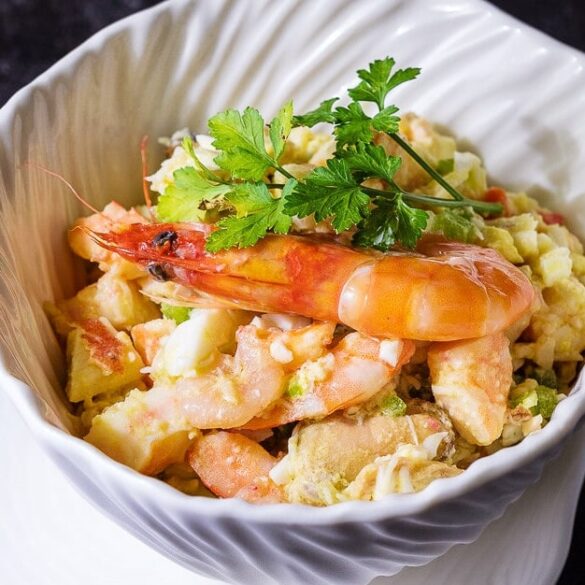 Ingredients
1 Edible crab or spider crab
15 Prawns
4 Eggs
1 Spring onion
1 Italian green pepper
0.5 Red pepper
5.07 fl oz Extra virgin olive oil
4.06 fl oz Vinegar
6 Mussels
Fresh parsley to taste
1 Bay leaf
Instructions
Start by cooking the edible crab or spider crab in a saucepan with water, salt and a bay leaf for 17 minutes if it weighs up to 2.2 lbs (12 minutes for the spider crab). Let it cool.
Next, cook the eggs until they are done. Cool and set aside.
Boil plenty of water with salt, add the prawns and cook for two minutes from when they start to boil again. Peel and set aside.
Steam the mussels until their shells open, set aside.
Finely chop the green pepper, red pepper and spring onion, add to a bowl.
Open and finely chop the meat of the spider crab or edible crab, as well as the prawns, reserving some to put whole.
Peel the eggs and cut them into small pieces.
Mix all the ingredients together.
Season with salt and vinaigrette made from oil and vinegar.
Chill in the refrigerator until ready to serve.
Notes
Add more variety of seafood: This recipe calls for prawns, mussels, and edible crab or spider crab. However, you can add other types of seafood such as scallops, clams, squid or octopus to make the salad even more flavorful and interesting.
Use fresh herbs: Fresh herbs such as parsley, cilantro, dill or basil can add a burst of flavor to the salad. Finely chop the herbs and mix them in with the other ingredients.
Add some heat: If you like a bit of heat in your dishes, you can add some finely chopped chili peppers or a dash of hot sauce to the salad.
Make a homemade vinaigrette: Instead of using store-bought vinaigrette, you can make your own by mixing extra virgin olive oil, vinegar, mustard, honey and some herbs and spices. This will give the salad a more personal touch and you can adjust the flavors to your liking.
Serve with avocado: Avocado adds creaminess and healthy fats to the salad. You can dice the avocado and mix it in with the other ingredients or serve it on top of the salad.
Add some crunch: To add some texture to the salad, you can add some chopped nuts such as almonds or walnuts or some croutons. This will give the salad a nice crunch and make it even more satisfying.