Mediterranean cuisine has always held a special place in my heart. The fresh ingredients, bold flavors, and simple yet elegant dishes never fail to impress me. One of my favorite dishes from this region is Spanish clams in green sauce. Made with fresh clams, garlic, parsley, and white wine, it's a dish that's bursting with flavor and perfect for any occasion.
I first discovered this dish while traveling through Spain a few years ago. I was wandering through the streets of San Sebastian, taking in the sights and smells of the local markets when I stumbled upon a small restaurant tucked away in a side street. The aroma of garlic and seafood wafting from the kitchen drew me in, and I knew I had to try whatever was cooking.
I ordered the clams in green sauce and was blown away by the depth of flavor in such a simple dish. The clams were plump and juicy, and the sauce was rich and savory with just the right amount of heat from the cayenne pepper. I knew I had to learn how to make this dish at home.
Since then, I've experimented with different recipes and techniques to perfect my own version of Spanish clams in green sauce. It's become one of my go-to dishes for dinner parties or special occasions, and it always receives rave reviews from my guests.
In this blog post, I'm excited to share my recipe for Spanish clams in green sauce with you. It's an easy and delicious dish that's sure to impress your friends and family. So grab a glass of white wine, put on some flamenco music, and let's get cooking!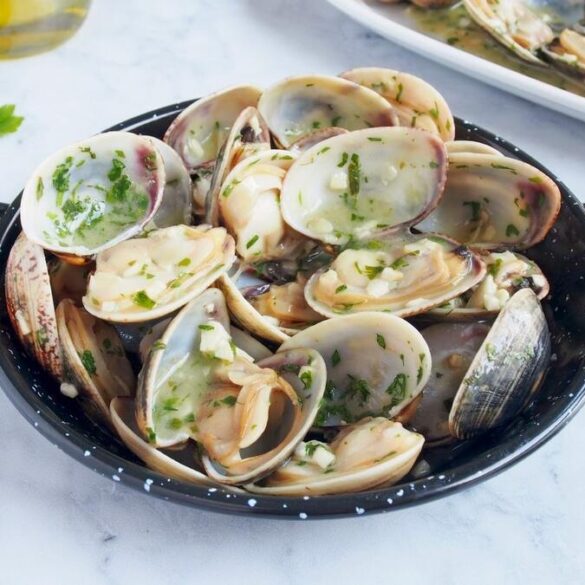 Ingredients
1.1 lb of fresh clams
2 cloves of garlic
4 sprigs of fresh parsley
1 cayenne pepper
A splash of white wine
Wheat flour (optional)
Fish stock or fumet (or water)
Salt
Extra virgin olive oil
Instructions
To make the clams in green sauce, start by washing the clams and letting them drain.
In a shallow casserole dish, pour a little olive oil and the cayenne pepper. Sauté the finely chopped garlic and parsley.
Next, add the splash of white wine and let the alcohol evaporate by turning up the heat.
Add a little flour, stir with a whisk so that it cooks, and gradually pour in the water or stock while continuing to stir.
Finally, add the clams, shake the casserole dish and let everything cook for about 10 minutes at most.
Remove the cayenne pepper and serve immediately.
And that's it! Super easy and delicious clams in green sauce. Enjoy!
Notes
One way to enhance the flavor of this dish is to use high-quality ingredients. Make sure to use fresh clams from a reputable source and extra virgin olive oil for the best taste. Also, using a good white wine that you enjoy drinking can make a big difference in the flavor of the sauce.
Another way to improve this recipe is to add more depth of flavor by incorporating additional ingredients into the sauce. For example, you could sauté some diced onions or shallots along with the garlic and parsley for added sweetness and complexity.
You could also experiment with different herbs and spices to give the dish your own personal touch. For example, you could try adding some fresh thyme or rosemary to the sauce, or even a pinch of smoked paprika for a subtle smoky flavor.
To make the dish even more indulgent, you could try adding some heavy cream or crème fraîche to the sauce to make it richer and creamier. Just be sure to add it towards the end of cooking and heat it gently so it doesn't curdle.
Another way to elevate this dish is to serve it with some crusty bread or garlic bread on the side for dipping into the delicious sauce. You could also try serving it over a bed of pasta or rice for a more substantial meal.
Finally, don't be afraid to get creative with presentation! Try serving the clams in individual bowls or ramekins and garnishing them with some fresh parsley or lemon wedges for an elegant touch.