I still remember the first time I tried German stuffed cabbage rolls. It was during a vacation in Munich, and I was exploring the city's vibrant food scene. I stumbled upon a cozy little restaurant tucked away on a side street, and decided to give it a try. The menu was full of traditional German dishes, but one in particular caught my eye: Kohlrouladen.
I had never heard of Kohlrouladen before, but the description sounded delicious: tender cabbage leaves stuffed with a savory mixture of ground meat, spices, and rice, all simmered in a rich tomato sauce. I decided to give it a try, and I'm so glad I did. The dish was absolutely delicious – hearty, comforting, and packed with flavor.
Since that first taste of Kohlrouladen in Munich, I've been hooked. I've tried the dish at several other restaurants during my travels in Germany, and each time it's been just as delicious as the first. But as much as I love eating Kohlrouladen at restaurants, there's something special about making it at home.
There's something almost meditative about the process of preparing the cabbage leaves, mixing the filling, and carefully wrapping each roll. And the smell that fills the kitchen as the rolls simmer on the stove is simply mouthwatering.
But what I love most about making Kohlrouladen at home is being able to share it with my friends and family. There's something special about gathering around the table to enjoy a hearty meal together, especially when it's a dish that has so much history and tradition behind it.
In this blog post, I'm excited to share my recipe for classic German stuffed cabbage rolls with you. This recipe is based on the traditional version of the dish that I first tried in Munich, but with a few personal touches that I've added over the years.
I hope you'll give this recipe a try and discover for yourself just how delicious Kohlrouladen can be. And who knows – maybe it will become a new favorite in your home too! 😊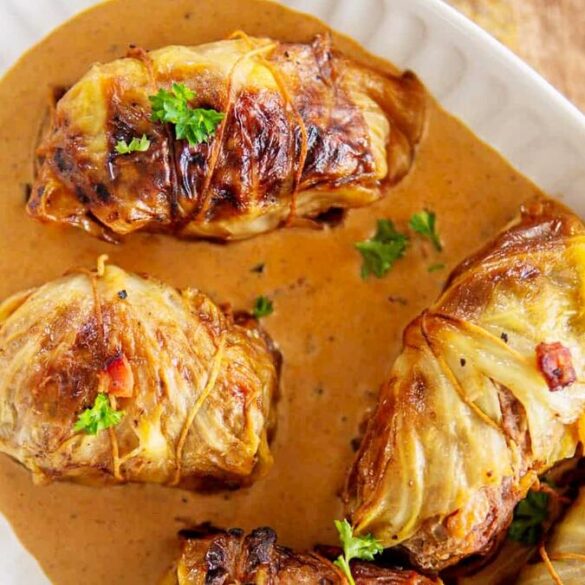 Ingredients
1 white cabbage (about 2.6 lbs)
2 tablespoons caraway seeds
Salt
1 bread roll (stale, about 1.4 oz)
1 onion (about 3.2 oz)
1.1 lbs ground meat (mixed)
1 egg (size M)
1 teaspoon ground caraway
Pepper
8 tablespoons neutral oil
1 tablespoon tomato paste
3 tablespoons cornstarch
Additionally: kitchen twine
Instructions
First things first: let's prep that cabbage. Remove the outer leaves and cut out the stalk in a wedge shape. Then put the cabbage and caraway seeds in a large pot with plenty of salted water. Cover it up, bring it to a boil, and let it simmer for about 20 minutes over low heat.
Next, lift the cabbage out of the water with a slotted spoon and let it cool for about 10 minutes. Strain the cooking water through a sieve, collect it and set it aside.
While the cabbage is cooling, let's make the filling. Soak the bread roll in water until it is completely soaked. Cut the onion into very fine cubes and squeeze out the bread roll well.
Now it's time to get your hands dirty! Knead the ground meat with bread roll, onions, egg and ground caraway. Season it with salt and pepper and set it aside.
Carefully remove 12 large leaves from the cabbage and drain them on a kitchen towel. Pat them dry with kitchen paper and carefully remove any adhering caraway seeds.
Cut out thick midribs from the leaves and place two leaves slightly overlapping on top of each other.
Divide the minced meat mixture into 6 portions and place one portion in the middle of the lower third of the cabbage leaves, leaving some space on each side.
Fold the cabbage from below over the filling, then fold in the sides over the filling and roll up the leaves from below.
Tie stuffed cabbage rolls crosswise with kitchen twine.
Heat up some oil in a large pan and fry stuffed cabbage rolls on each side for 4-5 minutes over medium heat until browned.
Remove rolls from pan and place them in a roasting pan.
Deglaze pan drippings with cooking water from cabbage, cook for 2 minutes over low heat and pour into roasting pan with rolls.
Braise stuffed cabbage rolls in preheated oven at 350°F (Gas Mark 4, Convection 320°F) for about two hours.
And there you have it! Delicious stuffed cabbage rolls that are sure to be a hit with your family or guests. Enjoy! 😊
Notes
Add some extra flavor to the filling: While the filling in this recipe is already delicious, you could add some extra flavor by including some minced garlic, diced bell peppers, or even some diced bacon. Experiment with different ingredients to find the perfect combination for your taste.
Use a different type of meat: This recipe calls for mixed ground meat, but you could also try using ground beef, ground pork, ground turkey, or even ground chicken. Each type of meat will bring its own unique flavor to the dish.
Make a sauce: While these stuffed cabbage rolls are delicious on their own, you could also serve them with a sauce. A simple tomato sauce would work well, or you could try something more adventurous like a mushroom sauce or a creamy dill sauce.
Add some heat: If you like your food with a bit of a kick, try adding some heat to the filling. You could include some diced jalapeño peppers or a pinch of red pepper flakes to give the dish a bit of a spicy edge.
Serve with a side: These stuffed cabbage rolls are hearty and filling on their own, but you could also serve them with a side dish. Some boiled potatoes or mashed potatoes would work well, or you could try serving them with some buttered noodles or spaetzle.