If you are a fan of Scooby Doo and his appetite for giant sandwiches, you will love this recipe. A Scooby Doo sandwich is a huge sandwich that can feed a whole family or a hungry dog. It is loaded with cheese, ham, salami, lettuce, tomato, onion, pickle, mustard, and mayonnaise. It is easy to make and fun to eat. Here is how you can make your own Scooby Doo sandwich at home: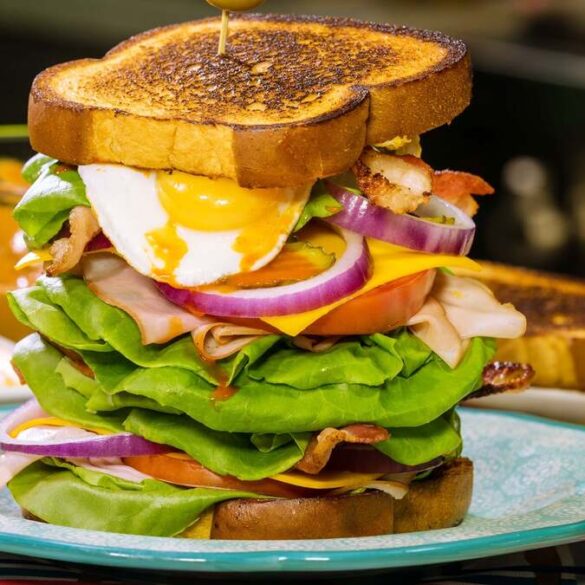 Ingredients
2 loaves of bread

Sliced cheese

Sliced ham

Sliced salami

Lettuce leaves

Tomato slices

Onion rings

Pickle slices

Mustard

Mayonnaise

Toothpicks
Instructions
Cut off the ends of each loaf of bread and set them aside. You will use them later to close the sandwich.

Spread mustard on one side of one loaf of bread and mayonnaise on one side of the other loaf of bread.

Start stacking the ingredients on top of the mustard-covered loaf of bread. You can use any order and amount of ingredients you like, but make sure to cover the whole surface of the bread with each layer.

Place the mayonnaise-covered loaf of bread on top of the stack, with the mayonnaise side facing down.

Cut the sandwich into four equal pieces and secure each piece with toothpicks.

Use the bread ends to close the gaps between the pieces and make the sandwich look like one giant loaf.

Enjoy your Scooby Doo sandwich with a glass of milk or juice. Be careful not to choke on it!
Notes
You can use any kind of bread you like, such as white, wheat, rye, or sourdough.

Add other ingredients to your sandwich, such as bacon, chicken, turkey, avocado, cucumber, olives, or peppers.

Toast the bread before spreading the mustard and mayonnaise for a crispier texture.

Cut the sandwich into smaller pieces if you want to share it with more people or save some for later.

Serve the sandwich with some chips, fries, salad, or soup for a complete meal.