Caprese chicken saltimbocca is one of those dishes that makes you feel like you're eating at a fancy Italian restaurant, but it's actually super easy to make at home. It's basically chicken stuffed with cheese, basil, and prosciutto, cooked in a sweet and tangy balsamic sauce, and topped with fresh tomatoes. YUM!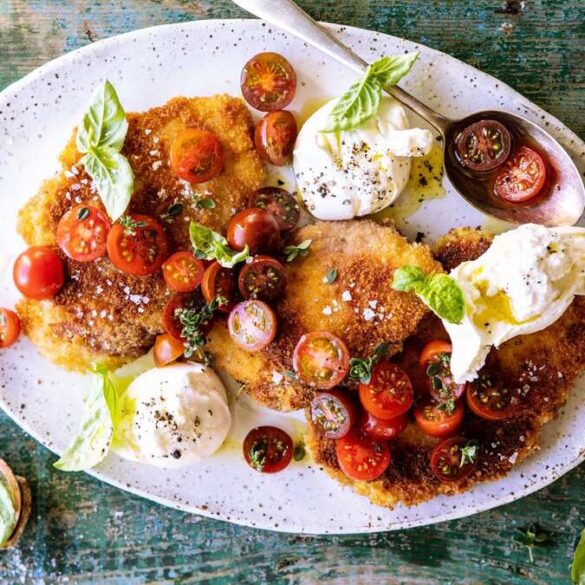 Ingredients
4 thin-sliced chicken cutlets (about 1 pound)
Salt and black pepper, to taste
8 thin slices of prosciutto
8 fresh basil leaves
4 slices of fresh mozzarella cheese
2 tablespoons of olive oil
1/4 cup of balsamic vinegar
1/4 cup of chicken broth
2 teaspoons of honey
1/4 teaspoon of dried oregano
2 medium tomatoes, diced
Instructions
Season the chicken cutlets with salt and pepper on both sides. Lay a slice of prosciutto over each cutlet, then top with a basil leaf and a slice of mozzarella. Fold the cutlets in half and secure with toothpicks.
Heat the olive oil in a large skillet over medium-high heat. Add the chicken and cook for about 15 minutes, turning once, until golden and cooked through.
In a small saucepan, whisk together the balsamic vinegar, chicken broth, honey and oregano. Bring to a boil, then reduce the heat and simmer until slightly thickened, about 10 minutes.
To serve, spoon some of the balsamic sauce over the chicken and sprinkle with diced tomatoes. Enjoy!
Notes
Use fresh oregano instead of dried oregano for a more aromatic and flavorful sauce. Just chop up some fresh oregano leaves and add them to the saucepan along with the other ingredients.
Add some garlic and onion to the skillet when you cook the chicken for some extra flavor and texture. Just mince some garlic and dice some onion and sauté them in the olive oil before adding the chicken.
Use cherry tomatoes instead of diced tomatoes for a more colorful and juicy topping. Just halve some cherry tomatoes and toss them with some salt, pepper, and olive oil, then roast them in the oven until they are soft and blistered.
Serve the caprese chicken saltimbocca with some pasta, rice, or bread to soak up the delicious balsamic sauce. You can also add some salad or roasted vegetables on the side for a balanced meal.
Sprinkle some grated parmesan cheese over the chicken before serving for some extra cheesiness and saltiness. You can also garnish the dish with some more fresh basil leaves for a pop of green color.