This Cannelloni al Forno is the ultimate comfort food for cozy nights in. It's cheesy, meaty, saucy, and oh-so-delicious. Plus, it's easy to make with simple ingredients and pantry staples. You'll love how the pasta tubes are stuffed with a creamy ricotta mixture and topped with a hearty beef and tomato sauce. Then, everything is baked until bubbly and golden. Serve it with a green salad or some crusty bread and enjoy!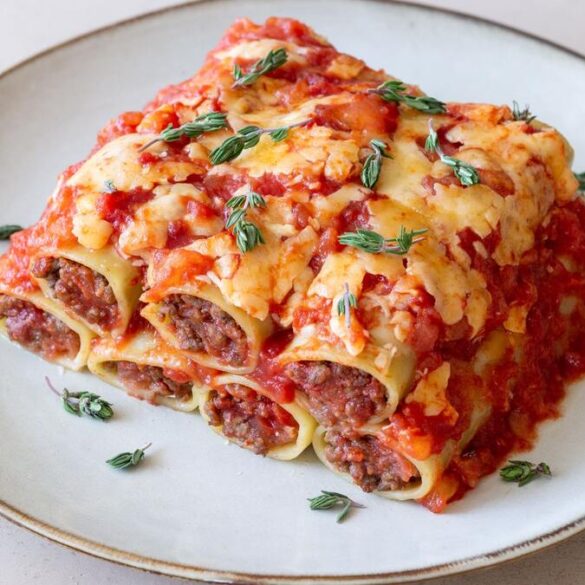 Ingredients
12 cannelloni tubes (about 8 oz)

1 cup of ricotta cheese

1 1/2 cups of shredded mozzarella cheese, divided

1/4 cup of grated parmesan cheese, plus more for topping

2 eggs

Salt and pepper to taste

2 tablespoons of olive oil

1 onion, diced

2 garlic cloves, minced

1 lb of ground beef

1 teaspoon of dried oregano

1 teaspoon of dried basil

15 oz of tomato sauce

Fresh parsley, chopped, for garnish
Instructions
Preheat oven to 350°F and spray a 9x13 inch baking dish with cooking spray.

In a medium bowl, whisk together ricotta, 1 cup of mozzarella, parmesan, eggs, salt and pepper until well combined. Set aside.

In a large skillet over medium-high heat, heat olive oil and sauté onion and garlic until soft, about 10 minutes. Add ground beef and cook, breaking it up with a wooden spoon, until browned and cooked through, about 15 minutes. Drain excess fat and stir in oregano, basil, salt and pepper.

Spread a thin layer of tomato sauce over the bottom of the prepared baking dish. Fill each cannelloni tube with the ricotta mixture using a spoon or a piping bag and arrange them in a single layer over the sauce. Pour the remaining sauce over the cannelloni and sprinkle with the remaining 1/2 cup of mozzarella cheese and some more parmesan cheese if you like.

Bake for 25 to 30 minutes or until the cheese is melted and bubbly.

Sprinkle with parsley and serve hot.
Notes
You can use fresh or frozen cannelloni tubes for this recipe. If using frozen, thaw them first before filling them.

You can also use different kinds of cheese for the filling, such as cottage cheese, cream cheese, or mascarpone cheese.

You can make this dish ahead of time and refrigerate it until ready to bake. Just add an extra 10 minutes to the baking time.

You can also freeze this dish for up to 3 months. Thaw it overnight in the fridge before baking.