Rissóis de camarão have always held a special place in my heart. As a woman from Portugal now living in the US, making these delicious shrimp rissoles brings back so many memories of my childhood. I can still remember the smell of the dough frying and the sound of my mother's voice as she taught me how to make them.
Growing up in Portugal, rissóis de camarão were a staple at family gatherings and parties. My mother would spend hours in the kitchen preparing them, carefully folding the dough over the creamy shrimp filling and expertly crimping the edges. I would watch in awe as she transformed simple ingredients into these little pockets of deliciousness.
As I grew older, my mother passed down her recipe to me and I began to make rissóis de camarão on my own. Every time I make them, I am transported back to my childhood kitchen, watching my mother work her magic. The smell of the frying dough and the taste of the creamy shrimp filling never fail to bring a smile to my face.
Now, living in the US, rissóis de camarão have become a way for me to connect with my Portuguese heritage and share it with others. Whenever I make them for friends or family, they are always a hit. There's just something about the combination of the crispy dough and the savory shrimp filling that is irresistible.
In this blog post, I want to share with you my mother's recipe for rissóis de camarão. It's a recipe that has been passed down through generations and holds so much meaning for me. Making rissóis de camarão is not only a delicious treat but also a way to connect with my past and keep my Portuguese heritage alive.
I hope that by sharing this recipe with you, you too can experience the joy of making and eating rissóis de camarão. Whether you have a connection to Portugal or are simply looking for a delicious appetizer to serve at your next party, these shrimp rissoles are sure to impress. So let's get started and bring a little taste of Portugal into your kitchen!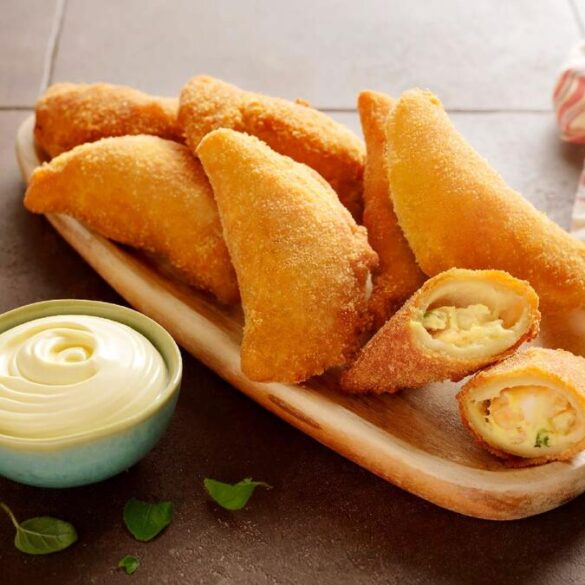 Instructions
First up, the filling: Cook the shrimp meat in salted water for 2 minutes, then drain and reserve the water.
In a saucepan over medium heat, melt the margarine, add the flour and stir for 1 minute.
Add the boiling shrimp cooking water gradually, stirring constantly until a smooth cream is obtained.
Add the cooked shrimp meat, parsley, lemon juice and a pinch of pepper, stir well, adjust salt to taste, remove from heat and let cool.
Now onto the dough: In a saucepan over medium heat, bring water, salt and margarine to a boil and without removing from heat, add all the flour at once and stir well until the dough pulls away from the pan.
Remove from heat, place on a work surface, let cool slightly, work the dough lightly and with a rolling pin roll it out to a thin thickness.
Place spoonfuls of filling on top of the dough, fold over, press firmly so that the dough sticks well together and cut out the rissoles.
Coat them in beaten egg then in bread crumbs and fry in hot oil until golden brown.
Remove them from oil, drain them and serve hot or cold.
Notes
You can make some substitutions in this recipe. For example, you can use butter instead of margarine in both the filling and the dough. You can also experiment with different herbs and seasonings in the filling to suit your taste. If you have any specific ingredients in mind that you would like to substitute, let me know and I can give you more specific suggestions.
The original recipe calls for all-purpose flour without yeast, but you can experiment with other types of flour such as whole wheat flour or gluten-free flour blends.
Keep in mind that using a different type of flour may affect the texture and taste of the dough and may require adjustments to the amount of liquid used. It's always a good idea to start with a small batch to test the results before making a larger batch.
Instead of shrimp, you can try using crab meat, lobster meat, or even a mixture of different types of seafood. Just make sure to adjust the cooking time and seasoning accordingly to ensure that the seafood is cooked through and flavorful.
You can bake the rissoles instead of frying them. To do this, preheat your oven to 400°F (200°C) and line a baking sheet with parchment paper. Place the coated rissoles on the baking sheet and brush them with a little oil or melted butter. Bake for 15-20 minutes or until golden brown and crispy. Baking the rissoles is a healthier alternative to frying and can still result in a delicious and satisfying dish.
You can store cooked rissoles in the refrigerator for up to 3 days. Make sure to store them in an airtight container to prevent them from drying out. To reheat, you can either bake them in the oven or heat them in a frying pan until they are hot and crispy again.
You can freeze the rissoles. To do this, place the uncooked, coated rissoles on a baking sheet lined with parchment paper and freeze until solid. Once frozen, transfer them to a freezer bag or airtight container and store in the freezer for up to 3 months. When you're ready to cook them, you can either fry them directly from frozen or bake them in the oven until they are hot and crispy. Freezing the rissoles is a great way to make them ahead of time and have a quick and easy meal on hand.