If you're a fan of seafood and comfort food, then you're going to love Bacalhau à Brás. This classic Portuguese dish is made with shredded salted codfish, shoestring potatoes, onions, garlic, and eggs. It's a simple dish that packs a ton of flavor and is perfect for a cozy night in or for entertaining guests.
Bacalhau à Brás has its origins in the Bairro Alto neighborhood of Lisbon and has become a beloved dish throughout Portugal and beyond. The combination of the salty codfish with the crispy potatoes and creamy eggs is truly irresistible. Plus, it's easy to make and can be on the table in under an hour.
In this blog post, we'll explore the history of Bacalhau à Brás and share our favorite recipe for making it at home. We'll also give you some tips for choosing the best salted codfish and how to prepare it for this recipe. So grab a glass of wine and let's dive into the delicious world of Bacalhau à Brás!
Salted codfish, or bacalhau as it's known in Portuguese, has been a staple in Portuguese cuisine for centuries. The process of salting and drying the fish was used as a way to preserve it before refrigeration was available. This allowed the fish to be transported long distances and kept for extended periods of time without spoiling.
Today, salted codfish is still widely used in Portuguese cooking and is the star ingredient in many traditional dishes, including Bacalhau à Brás. The fish is soaked in water for several days to remove the excess salt and rehydrate it before being used in recipes.
Our recipe for Bacalhau à Brás is easy to follow and uses simple ingredients that you can find at most grocery stores. We start by soaking the codfish overnight and then preparing the other ingredients. The onions and garlic are cooked until golden brown and then the codfish is added to the pan. Finally, the potatoes and eggs are added and everything is cooked together until the eggs are set.
The result is a delicious dish that's perfect for sharing with friends and family. Serve it with a green salad and some crusty bread for a complete meal. We hope you enjoy making Bacalhau à Brás at home as much as we do!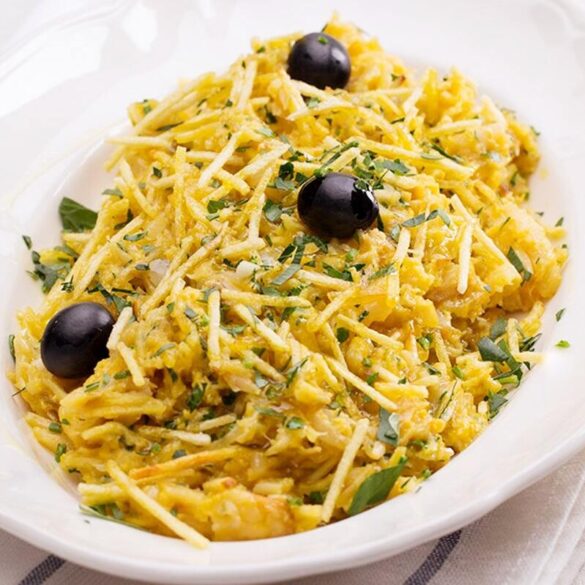 Ingredients
14 oz of shoestring potatoes
6 eggs
1.1 lb of shredded cod
2 onions
3 cloves of garlic
Parsley to taste
0.4 cups of milk
0.2 cups of olive oil
Salt and pepper to taste
Olives to taste
Instructions
Start by soaking the cod overnight.
Next, peel and wash the onions and cut them into thin half-moons. Peel and wash the garlic cloves and chop them finely.
Beat the eggs with the milk.
In a pan, heat the olive oil, add the onions and garlic and let it cook until golden brown.
Then add the cod and let it cook a little longer until it looks cooked.
Then add the potatoes, mix well and pour in the eggs. Let it cook, stirring constantly.
Remove from heat and adjust seasoning.
Sprinkle with chopped parsley and olives. Decorate to taste and serve.
Notes
When choosing salted codfish for Bacalhau à Brás, it's important to look for a few key things. First, make sure the fish is firm and has a consistent texture.
The flesh should be white or slightly yellowish in color and should not have any dark spots or discoloration. Also, check the smell - it should have a mild, salty scent and should not smell overly fishy or unpleasant.
If you're buying pre-packaged salted codfish, make sure to check the expiration date and choose a package that is well within its shelf life.
If you're buying from a fish market or specialty store, don't be afraid to ask the staff for their recommendations and advice on choosing the best salted codfish for your recipe.
You can always experiment with adding other ingredients to the recipe to suit your taste. Some ideas could be adding bell peppers, mushrooms, or even some spicy chorizo for an extra kick of flavor.
Just keep in mind that adding additional ingredients may change the cooking time and the overall flavor of the dish. Have fun experimenting and let me know how it turns out!