Salada de Atum, or Portuguese tuna salad, is everything you need in your life right now. It's fresh, flavorful, and packed with protein. Plus, it's super easy to make!
In Portugal, Salada de Atum is a popular dish that can be found in many homes and restaurants. It's a versatile dish that can be enjoyed on its own or served as a side dish to accompany other dishes. The combination of the hearty tuna and black-eyed peas with the fresh vegetables and tangy dressing makes for a satisfying and flavorful meal.
One of the great things about Salada de Atum is how easy it is to make. With just a few simple ingredients and some basic cooking skills, anyone can whip up a delicious Portuguese tuna salad in no time. And because it's so versatile, you can easily customize the recipe to suit your tastes by adding different vegetables or using a different type of bean.
In this blog post, we'll show you how to make a delicious Salada de Atum in the style of Pinch of Yum. We'll walk you through the steps and provide tips and tricks to help you create the perfect Portuguese tuna salad. So grab your apron and let's get started!
First, let's talk about the ingredients. For this recipe, you'll need some canned tuna in olive oil, cooked black-eyed peas, red onion, vine tomatoes, vinegar, arugula, eggs, water, and salt. These ingredients are easy to find at any grocery store and are relatively inexpensive.
When choosing your tuna, make sure to look for tuna that is packed in olive oil rather than water. The olive oil will add extra flavor to the salad and help keep the tuna moist. You can also use fresh tuna if you prefer, but canned tuna is more convenient and works just as well.
The black-eyed peas add a hearty element to the salad and provide a good source of protein. If you can't find black-eyed peas or don't like them, you can easily substitute them with another type of bean like chickpeas or kidney beans.
The red onion adds a nice crunch to the salad and provides a mild onion flavor that complements the other ingredients. If you don't like raw onion or find it too strong, you can soak the chopped onion in cold water for a few minutes before adding it to the salad to mellow out the flavor.
The vine tomatoes add a burst of freshness to the salad and provide a nice contrast to the other ingredients. Make sure to choose ripe tomatoes that are firm but give slightly when pressed. You can also use cherry tomatoes if you prefer.
The vinegar adds a tangy element to the salad and helps bring all the flavors together. You can use any type of vinegar you like, but we recommend using red wine vinegar or apple cider vinegar for this recipe.
The arugula adds a peppery flavor to the salad and provides some extra nutrition. If you don't like arugula or can't find it, you can use another type of leafy green like spinach or mixed greens.
Finally, the eggs add some extra protein to the salad and provide a nice contrast in texture. You can boil the eggs to your desired level of doneness, but we recommend boiling them for 7-8 minutes so that they are fully cooked but still have slightly soft yolks.
We hope you enjoy making and eating this delicious Salada de Atum as much as we do. Don't forget to experiment with different ingredients and flavors to make it your own. Happy cooking!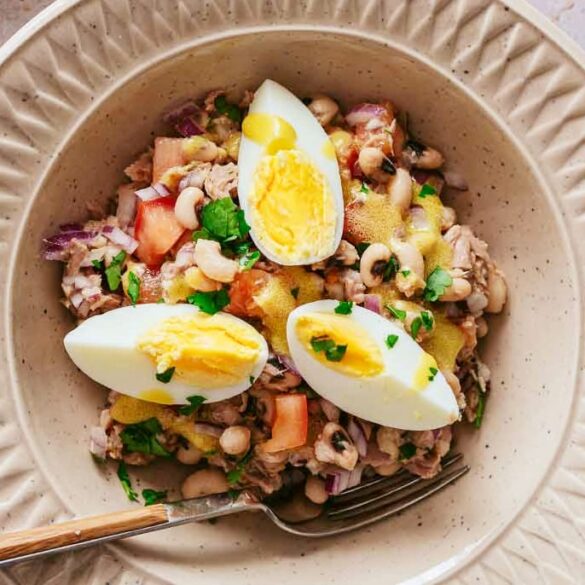 Ingredients
3 small eggs
Water as needed
1 teaspoon of salt
1 small can of cooked black-eyed peas
2 small cans of tuna in olive oil
1 red onion
3 vine tomatoes
2 tablespoons of vinegar
1 package of arugula (optional)
Instructions
Boil the eggs for 7 to 8 minutes in salted water. Rinse them with cold water and peel them. Set aside.
Mix the well-drained black-eyed peas with the tuna, add the finely chopped onion and the tomato cleaned of seeds and cut into cubes.
Add the vinegar and mix well.
Spread the arugula on a deep plate and place the prepared mixture on top.
Sprinkle with chopped boiled eggs.
Notes
You can add other ingredients to this salad to make it your own. Some suggestions could be adding some chopped bell peppers, cucumber, or avocado for some extra crunch and creaminess.
You could also try adding some fresh herbs like parsley or cilantro for added flavor. The possibilities are endless, so feel free to get creative and experiment with different ingredients to find what you like best!
You can make this salad without arugula or substitute it with another leafy green of your choice. Some good options could be spinach, kale, or mixed greens.
You could also try using a different type of lettuce like romaine or butterhead. It's all about finding what you like and what works for you!
Try to make this salad with a different kind of beans. Some good options could be chickpeas, kidney beans, or cannellini beans. Just make sure to drain and rinse the beans well before adding them to the salad. You could also try using lentils or another type of legume if you prefer.