Hello, my fellow foodies! It's your favorite food blogger here, ready to share another delicious recipe with you. Today, we're talking about one of my all-time favorite soups: pumpkin and leek.
Now, I know what you're thinking. "Pumpkin and leek? That doesn't sound very Mediterranean." And you're right, it's not. But hear me out. My mother and grandmother always cooked Mediterranean food when I was growing up. And while I love it (and still cook it all the time), sometimes you just need to branch out and try something new.
And let me tell you, this pumpkin and leek soup is worth branching out for. It's creamy, comforting, and packed with flavor. Plus, it's super easy to make. What more could you want in a soup?
But before we get into the recipe, let me tell you a little story. When I first tried pumpkin and leek soup, I was skeptical. I mean, pumpkin in soup? That just sounded weird to me. But my friend insisted that I try it, so I did.
And oh my goodness, it was love at first bite. The creaminess of the pumpkin combined with the subtle sweetness of the leek was just perfection. I couldn't believe I had been missing out on this deliciousness for so long.
So now, I make this soup all the time. And every time I do, I think of my friend who introduced me to it. (Thanks, friend!) It's become one of my go-to recipes for when I want something warm and comforting.
But enough about me. Let's get to the recipe so you can try this delicious pumpkin and leek soup for yourself!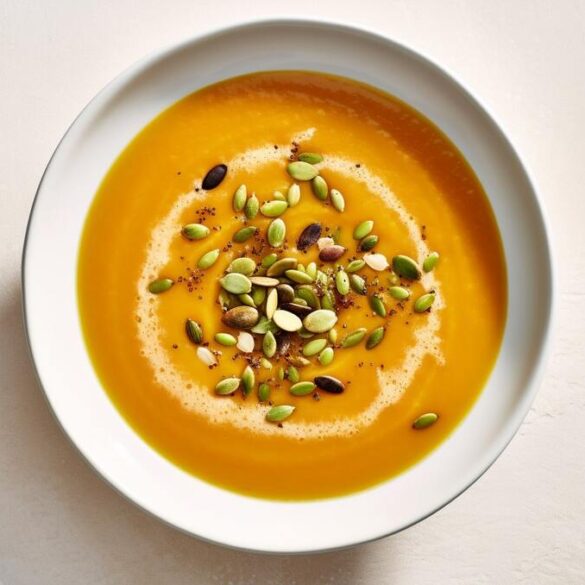 Ingredients
2.2 lbs of pumpkin cut into cubes
14 oz of leek cut into slices
4 potatoes
1 onion
1 chayote
Salt to taste
Olive oil to taste
Instructions
In a large pot, place all the peeled and cubed vegetables.
Season with salt and cover with water.
Bring to a boil until the vegetables are cooked.
Blend everything very well and drizzle with olive oil.
Stir and serve.
Notes
You can also make this soup using vegetable broth instead of water. You can serve it with some pumpkin seeds on top. After blending, add more water if you think it is too thick.
One way to add extra flavor to this pumpkin and leek soup is by adding some spices like cumin or curry powder. For a creamier texture, try using coconut milk instead of water. Roasted garlic can also add a deeper flavor to the soup.
If you're looking for a salty crunch, try topping the soup with crumbled bacon. For extra protein, you can add some cooked chicken or sausage. And for added creaminess, serve the soup with a dollop of sour cream or Greek yogurt.