As a food blogger and mom to a rambunctious toddler, I'm always on the hunt for healthy and delicious recipes that my little one will actually eat. And let me tell you, it's not always an easy feat. But one recipe that never fails to please both my taste buds and my toddler's is this Celery and Leek Soup with Cilantro.
Now, I know what you're thinking. "Soup? For a toddler? Are you crazy?" But hear me out. In Europe, it's very common to give soup to toddlers as a way to introduce them to new flavors and textures.
And this soup is packed with flavor and nutrition, making it the perfect way to sneak in some veggies that my little one might not otherwise eat. Plus, it's easy to make and can be whipped up in no time.
But the real reason I love this soup so much is that it reminds me of my childhood. Growing up in a Portuguese family, we ate a lot of healthy and delicious food. My grandmother and mother were both amazing cooks, and they instilled in me a love for fresh ingredients and simple yet flavorful dishes.
This Celery and Leek Soup with Cilantro is exactly that. It's made with simple ingredients that you probably already have in your kitchen, and it's packed with flavor thanks to the celery, leek, and cilantro. Plus, it's healthy and hearty, making it the perfect meal for a chilly day.
But enough about me and my love for this soup. Let's get to the recipe! Trust me, once you try this Celery and Leek Soup with Cilantro, you'll be hooked. And who knows, maybe your little ones will love it too!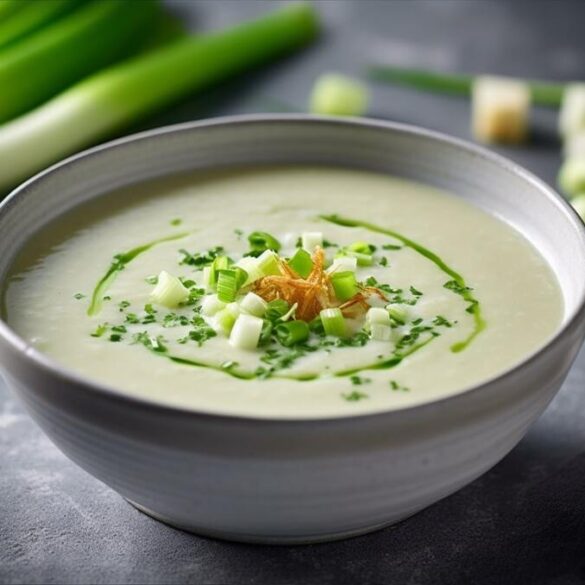 Ingredients
1 large onion
1 chayote
14 oz of leek without the green top
4 celery stalks
1 small zucchini with skin
1 sprig of cilantro
Salt
Olive oil
Chopped cilantro
Instructions
Start by peeling the onion and chayote. Then, cut the leek, the four celery stalks, and the small zucchini with skin into bite-sized pieces and place them in a saucepan.
Add a sprig of cilantro to the saucepan and cover the vegetables with water. Season with salt and bring to a boil. Let it cook until the vegetables are tender.
Before blending the soup, add olive oil to taste. After the vegetables are blended, let it boil and remove from heat. Serve the soup with cilantro or leek slices.
Notes
For a heartier soup, you could add some diced potatoes. Potatoes are a great source of carbohydrates and can help thicken the soup.
If you want more flavor, try substituting half of the water with chicken or vegetable broth. Broth adds depth of flavor and can make the soup more savory.
Adding some diced carrots can also add extra sweetness and nutrition to the soup. Carrots are a great source of vitamins and minerals and can add a pop of color to the soup.
If you're looking for a smoky flavor, try adding some diced ham or bacon. Ham and bacon can add a rich, smoky flavor to the soup and can also add some protein.
For a creamier texture, you could add some heavy cream or coconut milk. Heavy cream adds richness and creaminess to the soup while coconut milk adds a subtle sweetness and creaminess.
Finally, garnishing the soup with croutons or toasted nuts can add some crunch. Croutons are a great way to add texture to the soup while toasted nuts add both crunch and flavor. You could try using almonds, walnuts, or pecans for added flavor.