Portuguese cuisine is a beautiful blend of fresh ingredients, bold flavors, and traditional cooking techniques. From the coastal seafood dishes to the hearty stews of the countryside, there is something for everyone to enjoy. One dish that truly captures the essence of Portuguese cuisine is garlic shrimp. This simple yet flavorful dish is a staple in many Portuguese homes and restaurants, and for good reason.
Garlic shrimp, or "camarão ao alho" as it's known in Portugal, is a dish that celebrates the natural sweetness of fresh shrimp. The shrimp are cooked with plenty of garlic and olive oil, creating a rich and aromatic sauce that is perfect for mopping up with crusty bread. It's a dish that is easy to make, yet packed with flavor.
One of the things I love about this dish is its versatility. It can be served as an appetizer or a main course, and can be easily adapted to suit your taste. You can add a little heat with some red pepper flakes, or a touch of acidity with a squeeze of lemon juice. The possibilities are endless.
In this blog post, I'll be sharing my take on this classic Portuguese dish. My recipe uses plump and juicy shrimp, plenty of garlic, and good quality olive oil. I like to finish the dish with a sprinkle of fresh parsley for added freshness and color. It's a simple recipe that delivers big on flavor.
It's interesting to note that this dish has many similarities with the Spanish recipe for "gambas al ajillo." Both dishes feature shrimp cooked with garlic and olive oil, and both are popular in their respective countries.
The main difference between the two dishes lies in the preparation and presentation. In Portugal, the shrimp are usually cooked whole with the shell on, while in Spain they are often peeled before cooking. Additionally, the Spanish version often includes a splash of sherry or white wine for added depth of flavor.
Despite these differences, both dishes are delicious in their own right and showcase the wonderful flavors of the Iberian Peninsula. So if you're looking to bring a taste of Portugal (or Spain!) to your table, give this garlic shrimp recipe a try. It's sure to become a new favorite in your home.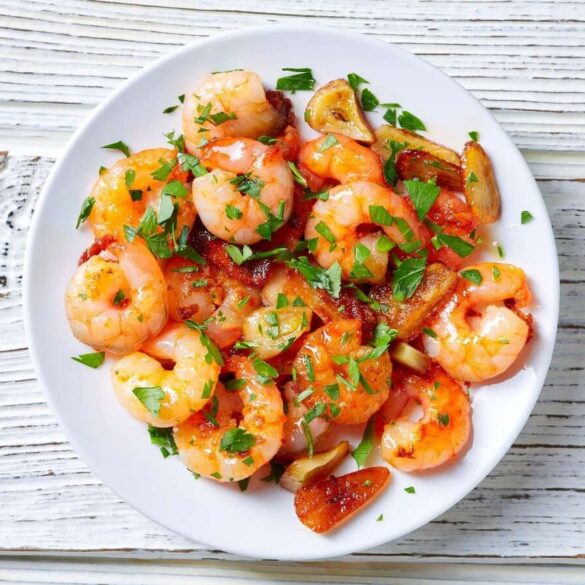 Ingredients
14 oz of frozen shrimp with shell
4 tablespoons of olive oil
4 cloves of garlic, minced
1 pinch of red pepper flakes
1 sprig of parsley or cilantro, chopped
Instructions
Begin by thawing the shrimp slightly and peeling them, leaving only the tip of the tail intact.
In a large skillet, heat the olive oil over medium heat. Add the shrimp and cook until they turn pink and opaque, stirring occasionally.
Stir in the minced garlic and red pepper flakes and cook for an additional minute until fragrant.
Serve the shrimp hot, garnished with chopped parsley or cilantro and accompanied by slices of crusty bread.
Notes
There are many delicious side dishes that can be served with garlic shrimp. Some popular options include mashed potatoes, garlic bread, steamed vegetables such as broccoli, asparagus, or green beans, rice pilaf, roasted vegetables, and cauliflower rice. You could also try serving it with pesto pasta, focaccia bread, spring pea risotto, jalapeno cheddar grits, or a butter lettuce salad. The possibilities are endless!
Yes, you can definitely add other ingredients to the garlic shrimp recipe to suit your taste. Some ideas could be adding lemon juice for a tangy flavor, chili peppers for some heat, or white wine for a more complex flavor.
You could also try adding other herbs such as thyme or rosemary, or even some diced tomatoes or bell peppers for added texture and flavor. Feel free to experiment and make the recipe your own!
You can make this recipe using prawns instead of shrimp. Prawns and shrimp are very similar in taste and texture, and can often be used interchangeably in recipes. Just keep in mind that prawns are usually larger than shrimp, so you may need to adjust the cooking time slightly to ensure that they are cooked through.