Portuguese milk tarts, or "queijadas de leite" as they are known in their native language, are a delicious and traditional dessert that has been enjoyed for generations. These sweet and creamy tarts are made with simple ingredients like milk, sugar, eggs, and flour, but the result is nothing short of magical.
One of the things that makes milk tarts so special is their delicate texture. The custard filling is smooth and creamy, with just the right amount of sweetness. The crust is light and flaky, providing the perfect contrast to the rich filling. And the best part? They're surprisingly easy to make at home!
In addition to milk tarts, or "queijadas de leite", Portugal is also known for its wide variety of other delicious queijadas. These sweet tarts come in many different flavors and are made with a range of ingredients.
One popular type of queijada is the "queijadas de Sintra", which originates from the town of Sintra near Lisbon. These tarts are made with fresh cheese, sugar, eggs, and flour, and are known for their rich and creamy texture. They're often enjoyed as a dessert or a sweet snack and are a must-try for anyone visiting Sintra.
Another type of queijada that is popular in Portugal is the "queijada de Vila Franca do Campo", which comes from the Azores. These tarts are made with fresh cheese, sugar, eggs, butter, and flour, and are flavored with cinnamon and lemon. They have a unique texture that is both creamy and crumbly and are a delicious treat to enjoy any time of day.
Another popular type of queijada in Portugal is the "queijadas de nata", which is similar to the famous "pastel de nata" or custard tart. These tarts are made with a creamy egg custard filling that is flavored with cinnamon and lemon and baked in a flaky pastry crust. They're often enjoyed warm, with a sprinkle of cinnamon on top, and are the perfect treat to enjoy with a cup of coffee.
In Portugal, milk tarts are often enjoyed as a dessert or a sweet snack. They're perfect for any occasion, whether you're celebrating a special event or just indulging in a little treat. And while they're delicious on their own, they're also great served with a dollop of whipped cream or a drizzle of honey.
But what really sets milk tarts apart is their unique flavor. The combination of milk, sugar, and eggs creates a custard that is rich and satisfying, while the addition of lemon peel and cinnamon adds depth and complexity. It's no wonder that these tarts have been beloved for so many years!
In this blog post, we'll show you how to make Portuguese milk tarts at home. Our recipe is easy to follow and uses simple ingredients that you probably already have in your kitchen. So why not give it a try and discover the sweet taste of Portugal for yourself?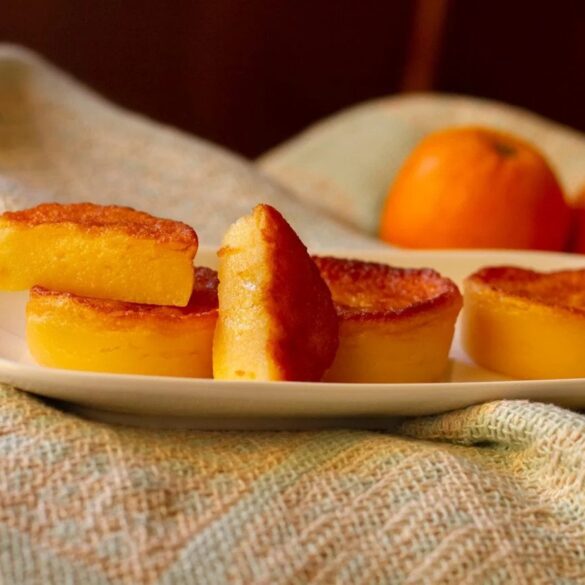 Ingredients
2 cups of half-fat milk
1 cup of sugar
1 cinnamon stick
1 lemon peel
7 tablespoons of margarine
4 medium eggs
1 cup of all-purpose flour
Instructions
Start by heating up a saucepan with milk, sugar, cinnamon stick and lemon peel. Let it come to a boil.
Once boiling, remove from heat and stir in the margarine until melted.
Take out the cinnamon stick and lemon peel.
Crack in the eggs and give it a good whisk.
Add in the flour and mix until smooth.
Pour the mixture into greased smooth molds.
Bake at 350°F on a baking sheet for 20 minutes.
Let it cool before unmolding. Serve and enjoy!
Notes
You can experiment with adding other ingredients to the milk tarts recipe. Some ideas could be adding vanilla extract or almond extract for additional flavor, or incorporating some citrus zest for a fresh twist.
You could also try adding some spices like nutmeg or cardamom. It's all about personal preference and creativity in the kitchen!
Milk tarts are best enjoyed fresh, but they can be stored in the refrigerator for up to 3 days. Make sure to cover them tightly with plastic wrap or store them in an airtight container to prevent them from drying out or absorbing any unwanted flavors from the fridge.
If you want to enjoy them at a later time, you can also freeze them for up to 3 months. Just make sure to thaw them in the refrigerator before serving.
Milk tarts are typically served chilled or at room temperature, so reheating them is not necessary. However, if you prefer to enjoy them warm, you can gently reheat them in the oven. Preheat the oven to a low temperature (around 200-250°F) and place the tarts on a baking sheet.
Heat them for just a few minutes until they are warmed through. Be careful not to overheat them as this can cause the custard filling to curdle or separate.