The Portuguese sandwich Francesinha was born in Porto, gained national fame and is now beginning to delight foreign tourists. A little more and it will end up becoming one of the most successful exports in Portugal. 🙂 And it all started with the talented hands of Daniel David Silva, in the 50s of the last century.
The idea was to copy the famous French croque monsieur but adapt it to Portuguese tastes. Thus was invented Francesinha à moda do Porto, which had its first appearance in the restaurant "A Regaleira". From there to becoming a national symbol was a small step.
The big secret to preparing it is in the sauce. And let's be honest: all sauces from the most famous restaurants are secret. But you can recreate it in your home until you reach perfection. 🙂 Learn how to make Porto-style Francesinha sandwich with this original and old recipe.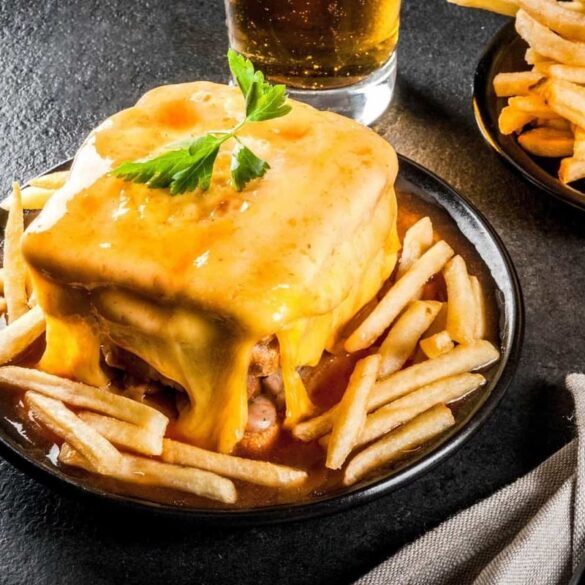 Ingredients
6 slices of bread
8 slices of cheese
2 small veal steaks
2 fresh sausages
2 sausages
2 slices of ham
salt
pepper
1 onion
1.7 cups of beer
3 tablespoons of tomato puree
0.2 cups of brandy
0.2 cups of Port Wine
1 tablespoon of margarine
1 tablespoon cornstarch flour
1 beef bouillon cube
1 bay leaf
milk
salt
Peri peri sauce
Instructions
Start by preparing the sauce: peel the onion and roughly chop it.
Put it in a pan with a small amount of margarine and a bay leaf. Cook it until becomes golden.
Add the tomato pulp, beer and meat broth. Let it boil a little.
In another pot, dissolve the cornstarch in a small amount of milk.
Add this milk and cornstarch preparation to the pan that is on the fire, in a wire and stirring constantly.
Season with a little bit of salt and pepper and stir.
Add the brandy and port wine and let it boil a little longer.
Remove from the heat and pass the sauce through a strainer to remove the lumps and make it thinner.
Bring it back to low heat to warm up a bit.
Prepare the francesinha: cut the sausages in half (horizontally) and again in half (vertically). Season them with salt and pepper.
Cut the sausage in the same way.
Season the steaks with salt and pepper.
Grill the sausages, sausage and steaks.
Lightly toast the slices of bread and place them on plates.
Cover the bottom slice with ham, followed by the steak and a new slice of bread.
Add the sausage, sausage and top with a slice of cheese, followed by the last slice of bread.
Finally, place 3 more slices of cheese on top of the francesinha.
Take it to the oven at 390ºF until it melts.
Remove from the oven and serve the francesinhas still warm and drizzled with the sauce.
Notes
If you like, you can also put a fried egg on top of the francesinha, after taking it out of the oven.
Do not try to replace the oven with the microwave! The result is not the same.
It's impossible to guess all the secret ingredients of francesinha Porto style sauce. The best you can do is practice until you find a flavor you like.
If you want to change the sauce, you can add a little white wine or a teaspoon of Worcestershire sauce, for example.
You can use chilli instead of peri peri.
You can substitute brandy for whiskey.
Some restaurants add clam chowder and oxtail soup to make the sauce. The remaining ingredients are the same.
You can also enhance the flavor of the sauce with fresh parsley, minced garlic, paprika or cumin, for example.
Eat with fries, of course! 🙂