Camarão à guilho is a portuguese version of a traditional Spanish dish of shrimp cooked with garlic, olive oil and chili peppers. It is a popular tapa found in many bars and restaurants across Spain. It is also easy to make at home with simple ingredients and a skillet. In this article, we will show you how to prepare gambas al ajillo step by step and give you some tips on how to serve it and enjoy it.
The origins of camarões à guilho could be more precise, but some sources trace it back to "al ajillo", a typical condiment in the cuisines of the Spanish-speaking world. Al ajillo means "with garlic" and refers to dishes cooked with garlic and chili peppers. The Spanish version of "al ajillo" uses paprika as the main spice, while the Mexican version uses guajillo chili peppers. Gambas al ajillo may have originated in Mexico and then spread to Spain through colonization.
Gambas al ajillo is one of the most typical tapas in Spain, especially in the south and center of the country. Tapas are small dishes served as appetizers, snacks, and drinks. They are usually shared among friends or family members and offer a variety of flavors and textures. Gambas al ajillo is a perfect example of a simple yet delicious tapa.
To make camarão à guilho, you will need fresh or frozen shrimp, garlic cloves, olive oil, paprika (preferably smoked), lemon juice, salt and parsley. You will also need a large skillet or cazuela (a clay pot) to be heated over high heat. The key to this dish is to cook the shrimp quickly over high heat to retain their juiciness and crispiness. You will also want to infuse the oil with garlic flavor by frying the garlic cloves until golden before adding the shrimp.
Once your camarão à guilho is ready, you can serve it hot or warm with some crusty bread on the side. The bread is useful for dipping into the flavorful oil that remains in the pan. For freshness and color, you can also sprinkle some chopped parsley over the shrimp. Gambas al ajillo goes well with a cold beer or white wine.
Camarão à guilho is a dish that will impress your guests with its simplicity and taste. It is also a great way to enjoy one of Spain's most iconic tapas at home. Follow our recipe below and discover how easy it is to make this delicious dish.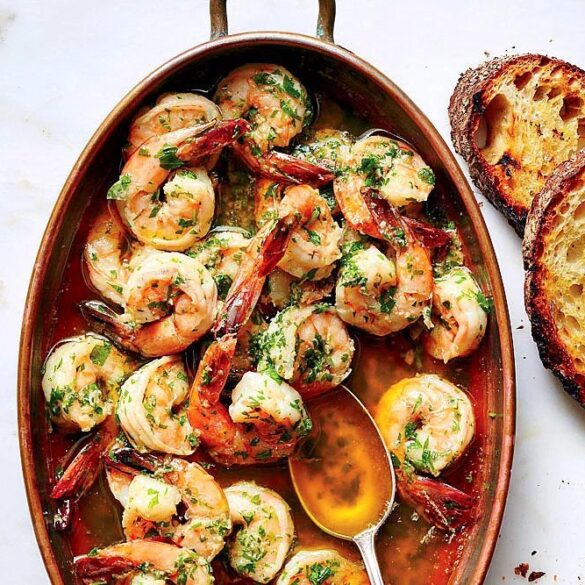 Ingredients
2 pounds of shrimp
4 garlic cloves
olive oil
1 lemon
whiskey
chili
Instructions
Put a pan with water and salt on high heat and wait until it boils.
When it starts to boil, add the prawns slowly.
Let cook until they change color and remove from heat.
Remove the water from the shrimps and let them cool a little.
Peel the prawns and reserve them.
Cut the garlic into slices and add plenty of oil to a frying pan. Take it to the fire.
When it starts to boil, add the prawns, stirring constantly and slowly.
Add the lemon juice slowly and little by little. Also add a little whiskey and cover for 2 minutes, shaking the pan slowly.
Season with spices and serve with toast with garlic butter and a good vinho verde.
Notes
Prawns and shrimp are not exactly the same thing! 🙂 But it is also possible to make this recipe with prawns.
The secret of guilho prawns is garlic. However, there are those who prefer to add more condiments or spices.
If you prefer, you can add a little Worcestershire sauce to the prawns. There are also those who sprinkle the prawns with sweet pepper before taking them to the fire.
If you want to give a more refreshing aroma to the guinea-style prawns, you can add a little finely chopped parsley.
As for the preparation, and if you use previously cooked peeled shrimp (you can even use frozen shrimp, as it is a dish rich in flavors conferred by the seasonings), you should start by reserving this delicacy in a bowl.